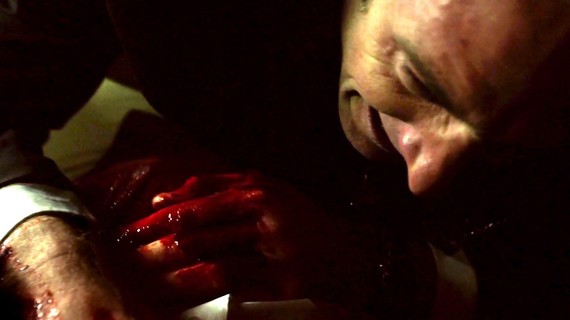 Amos Gitai. If you can recall when Vincent D'Onofrio was sexy, Gitai has that sort of confrontational charm. He turns you on while he sets you on edge, even at age 66.
One of Israel's most prolific directors, this constant provocateur has let loose with over 80 shorts, documentaries and narratives since 1972, many of them exploring Israel in an acutely critical manner, from Orthodox misogyny (Kadosh (1999)) to his war experiences during which he was wounded (Kippur (2000) ), to a story of a residence, from its Arab owners to the Israelis who took ownership (House (1980)). The latter documentary was made for Israeli TV but was deemed inappropriate, and if Gitai hadn't smuggled it out of the station, it would have been destroyed.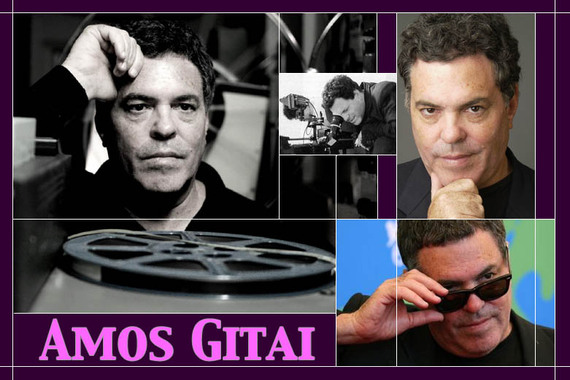 But since House, no government would think of messing with Gitai and his work, especially since his oeuvre has been acclaimed at such world-class venues as Cannes and the Venice Film Festival. "It's good record, you know," Gitai notes in an empty restaurant at the Warwick New York Hotel on a Friday afternoon.
Other Israeli directors have been nominated maybe once at those festivals, Gitai shares. He's been so honored ten times. "You should use these kind of big 'glorious events,' but not fall in love with the red carpets. Use them. Really use them in order to deter censorship. So [this way the government] knows that it's not productive for it to mess around too much with you." With such acclaim, you can "also encourage the younger generation of filmmakers to continue to do critical works."
Now, this week Gitai's hard-to-categorize Rabin, The Last Day arrives on American shores after winning two major awards at Venice and mostly cheers from the critics. Screen Daily: "stands as one of his most ambitious and compelling works yet." The Hollywood Reporter: "seamless story-telling that builds excitement as it takes the viewer where no camera could really go." And indieWire proffered the following adjectives: "powerful . . . provocative . . . deeply absorbing, intelligent . . . [and] meticulously detailed."
At two-and-a-half hours, the docu-drama, composed of actual footage and reenactments, painstakingly reconstructs the assassination of Prime Minister Yitzhak Rabin on November 4, 1995 at a peace rally in Tel Aviv. The culprit: right-wing student Yigal Amir. Like our own Kennedy assassination, conspiracies abounded and still abound along with the conceptualizing of what could have been if Rabin had lived. Would there now have been a cessation of hostilities in the Middle East?
Gitai has a laundry list of villains who might have been involved the in the elimination of a man he considers a visionary--including folks who created a climate inviting such a butchering: rabbis who placed a curse on Rabin, fundamentalist settlers, and, of course, Netanyahu, who at the time spoke out vehemently against the Oslo Peace process. In fact, posters of Netanyahu on a city street end Rabin: The Last Day on a deeply despairing note.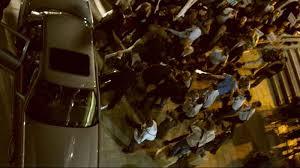 The moment of the assassination.
Not surprisingly, mention Netanyahu, and Gitai's adrenalin slightly rises. One person can, "you know, manage to convert the culture of a country," Gitai insists. "I would say that Thatcher changed the Brits. And in my mind, not for the better. They became much more money oriented. Consequently, much more daring works [of art] became more and more rare. Berlusconi changed Italy, and sometimes you find a Berlusconi attitude even on the left. About Putin, I can't even say that because Russia was always ruled by autocratic forces from the Tsar to the Communist party, so I'm not even sure he's converting Russia. But Netanyahu is changing Israel, and he is re-emphasizing tendencies which are really problematic."
An example of this can be seen by how Netanyahu's "current Minister of Culture wants to menace young directors dealing with more fragile subjects. She's also closing the only Arab theater in Haifa. . . . I really hope that some of this young group of directors, with whom I'm in contact with all of the time, will resist. For me, it's easier to resist because I've done a quantity of work. . . . When I make cinema it's like touching some sort of exposed nerve so it's legitimate that some people don't like it, but we have to do what we have to do."
Politics aside, what's patently fascinating about Gitai's films is how his architectural background is reflected in how he structures his work. His father, Munio Weinraub, was a well-known architect who studied at the Bauhaus school, while Gitai himself holds a PhD in Architecture from the University of California, Berkeley. In fact, watching Rabin is like entering a structure. Each scene is a separate room connected by deliberate passageways to other separate rooms, and you could enter in the middle or the end and step in any direction, and your experience would be noticeably the same. Does Gitai agree?
"Yes, it's like building a house and then exploding it," he laughs. "I really think it's about an explosion because the assassination of Rabin, in my mind, explodes certain parameters, or let's say the values of the Israeli society. I didn't have any other choice but to explode even the narrative. So a bit starts, and then it goes stuttering back and forth, meandering between the hallucinating rabbis with the hatred section from some sort of vague Talmudic reference, and then the strong lobbies of the settlers, and the public meeting of the right wing against Rabin, and then the investigative commission. In a way, it's a kind of a construction where you almost lose the chronology of the events, and you remain amidst the explosion of Israeli society."
So how does Gitai respond to critics who say that his works are a bit too "explosive" considering what Israel is currently going through? "I think the best works of art, paintings, cinema and so on are critical works," Gitai responds. "and by doing critical works when you love the place you come from, you make an homage to your culture. The best homage an artist can do is to want things to be better."
(Rabin, The Last Day is scheduled to open in New York on Friday, January 29, 2016, at the Lincoln Plaza Cinema in New York City, followed by a national roll out.)
Calling all HuffPost superfans!
Sign up for membership to become a founding member and help shape HuffPost's next chapter