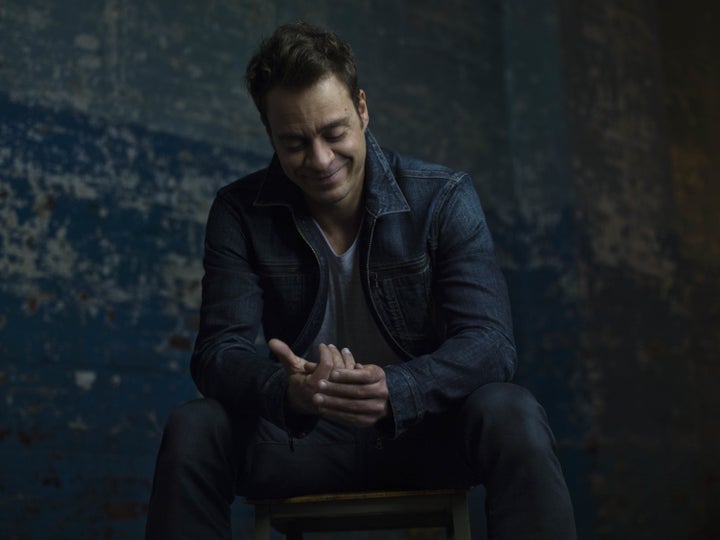 When Amos Lee was 21 years old, his mother gave him a very important birthday present: a gift certificate to a recording studio in Philadelphia.
The aspiring singer-songwriter didn't have access at the time to a professional studio. Back then, whipping up a song on ProTools on a home computer wasn't the norm. So the gift card, his mom hoped, would do the trick. It was there that Lee recorded some of what would eventually appear on his 2005 self-titled debut album. 
He entered the studio armed with tracks he had been working on while in college, including "Arms of a Woman," a song he recalls writing on an air mattress in a house in South Carolina in the late '90s. 
"That was one of the first songs I ever remember every laying down and getting a reaction to people outside of my family," Lee, 39, told The Huffington Post. "Because the folks that were there at the recording studio were like, 'Uhhhh, that's a great song. Who are you?' I was like, 'I'm nobody, really. I'm here. I got a gift certificate. I'm just doing my thing. I'm finishing school.' And that was that."
Although a label offered Lee a spec deal on the spot, Lee turned it down. He didn't feel ready. He wanted to hone his craft more. And so, it would take nearly five years before he would release an album.
"Arms of a Woman" has since taken on a life of its own. It showed up in the 2006 film "The Last Kiss," has turned into a popular wedding song, and, of course, is now a concert staple.
"It's been something that's brought a lot of peace to a lot of people that I know and I'm really grateful to have written it … It wasn't autobiographical in that it was romantic. It was probably autobiographical in that I think we all long for that feeling … I remember singing that song to my Uncle Jerry when he was passing. I went to his room and that is what he wanted to hear. There are different ways that people can be touched by it. To me, it's more of a song of the basic comforts of another human being. Nothing more and nothing less."
Uncle Jerry inspired "With You," one of the songs on Lee's new album, "Spirit," which surfaced in August. 
Less stripped down than some previous albums, Lee's latest release includes songs with R&B and gospel flavor, a sound Lee and his band have injected into their shows in recent years. That sound can definitely be heard on on new songs such as "Highways and Clouds" and "One Lonely Light." 
"There's celebration. There's remembrance. There's a lot of stuff that I think is thematically joined in some of the styles rather than lyrically," he said. "But there's a lot of love. There's a lot of figuring it out. That's what I write about a lot. I'm trying to figure it out. But there's also this undertone of, 'I don't know if I'm going to, and I don't really care.' It's not really about getting to the end. It's mostly about trying to be present where I am."
The Huffington Post receives a percentage from the purchase of tickets bought via a link on this page.
REAL LIFE. REAL NEWS. REAL VOICES.
Help us tell more of the stories that matter from voices that too often remain unheard.
BEFORE YOU GO