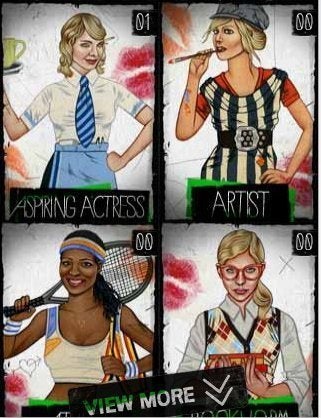 Watch video below

Pepsi has just come out with an iPhone app called "AMP UP Before You Score" that offers to help guys "get lucky" with 24 different "types" of women -- and then brag about it.
For each type of girl, a guy can get a crib sheet of info, pickup lines, and more to help him "know what makes her tick before you open your mouth, so she'll like what she hears when you do," according to the iTunes description.
UPDATE: Following the outpouring of criticism that greeted the release of the app, Pepsi and AMP offered an apology over Twitter to irate consumers. AMPwhatsnext wrote:
Our app tried 2 show the humorous lengths guys go 2 pick up women. We apologize if it's in bad taste & appreciate your feedback. #pepsifail
(Read more about Pepsi's apology below)
The "AMP UP Before Your Score" app, which was released to promote Pepsi's AMP energy drink, presents hopeful guys with cartoon drawings of each of the female "types."
Among the 24 types, there's the "Rebound Girl" who's got mascara tear-tracks and clutches a a carton of ice cream, the "Aspiring Actress" who's dressed like a waitress, the "Artist" who's pictured chewing on a paintbrush, and 21 more, including "Married," "Twins," "Women's Studies Major," "Cougar," and "Foreign Exchange Student."
Click on a type, and the app will provide you with "lines" intended to help you score, along with a crib sheet of sorts to dupe the woman into thinking you share her interests. The "punk girl" type will take you to a Wikipedia entry about punk, the "treehugger" type will provide you with your fake carbon footprint number or a tutorial on how to be a hippie.
According to its description on the iTunes store, not only does the app promise to be a "roadmap to success with your favorite kinds of women," it also lets guys create "Brag Lists" of girls they've gotten "lucky" with ("include a name, date and whatever details you remember") and encourages them to "flaunt" conquests and share details of the hook up with their friends:
"You got it? Flaunt it. Keep your buddies in the loop on email, Facebook or Twitter."
Reviewers' reactions to the app were mixed on iTunes. One (Deadpanwalking) raved,
My girlfriend just left me... Because this app is so cool! I'm typing this from the bottom of a pile of Dallas cowboy cheerleaders, I can't breath [sic], and I don't even care! And why should I? Believer, this app will change your life in ways that will lead to you traveling with extra underwear. Trust me, I've been there!
Another user (Raven Zachary) wrote,
Dear Pepsico, your iPhone app, AMP UP Before You Score, is offensive and is a great new case study for branded apps gone wrong.
Twitter users have railed against Pepsi (and AMP) for the app. Some of the reactions, which can be followed at #pepsifail:
@summertweet IF?? Didn't pull app, did they? @mashable Pepsi& We Apologize IF Our App Was In Bad Taste
@StayVertical Does Pepsi's new iPhone app for AMP mean Pepsi is ok with denigrating women? "before you score" sexism is alive and well at #pepsifail
@prudencebrady @pepsi I don't even drink sodas, but today I will buy a @CocaCola product #pepsifail
WATCH:
Related
Popular in the Community