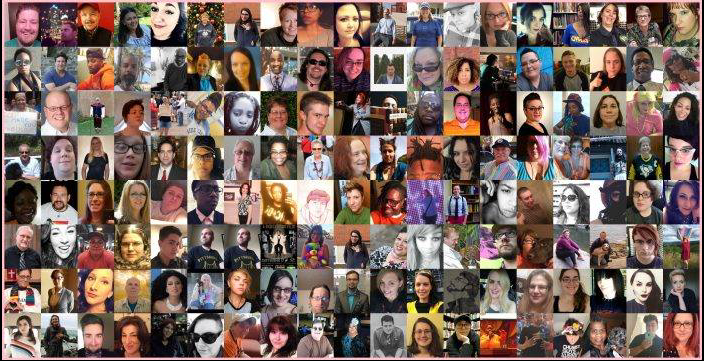 Since 2015, Sue Kerr's #AMPLIFY project has been documenting the lives and experiences of LGBTQ neighbors in Western Pennsylvania. Published on her Pittsburgh Lesbian Correspondents blog, #AMPLIFY is equal parts storytelling project, community art project, and historical archive. It couldn't be more important for queer lives in Pittsburgh.
Pittsburgh is often hailed as a progressive place for LGBTQ rights. However, like so much of what is really true about this "most livable city," Pittsburgh's politics are only good for some ― namely, white, cis individuals. An example of this was when Iggy Azalea was invited to headline 2015's Pride festival despite her history of racist and homophobic statements. Iggy Azalea eventually pulled from the event, but that example is emblematic of how much work still needs to be done to support underrepresented members of the queer community.
One of the reasons that #AMPLIFY is so important is that the project demonstrates that the queer community of this region is much more complex than a single narrative. These diverse stories, told in individuals' own words, are living records of how identity impacts day to day experiences in this region.
In recognition of the 200th milestone post of this project, Sue took a turn answering some questions about the project, its accomplishments, and the work that remains to be done.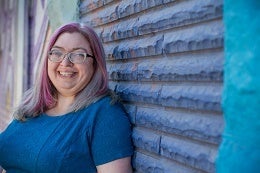 March 23rd's profile of Rev Leonard was your 200th post profiling the life of an LGBTQ individual in Southwest Pennsylvania. What did it mean for you to reach this milestone?
It is humbling to consider both the number of contributions and the robust picture they paint in terms of who has been responding. I'm proud of the many types of identities a reader will find in our existing archive.
The milestone is remarkable when you consider the daunting prospect of asking 200 folks to take 30 or more minutes to answer questions about their personal lives. It takes about 6 to 8 hours of my personal time to generate one new Q&A and that's mostly time spent recruiting participants, not editing the actual Q&A.
Why did you start the #Amplify project?
As part of an "artist in residence" project with Most Wanted Fine Art, I had to create a blog based community art project. I was interested in the idea of signal boosting other people's words as well as tapping into the popularity of my previous Q&A format posts. People have been reading my words and my spin on things for 12 years ― it was an opportunity to pass the mic and still leverage my resources & privilege to promote the posts.
How did you go about deciding what questions to include in profiling folks for Amplify? To what extent was it important to balance the political issues facing the queer community with personal stories?
I started with the basics and asked each contributor to suggest a new question. Finding that balance remains important because this is a snapshot into the personal life of someone which inevitably reflects that larger political picture. It is important to me to give people an opportunity to talk about their priorities, their perspective on resources and their "agenda." I think we've demonstrated very clearly that LGBTQ folks prioritize statewide non-discrimination protections. That energy, passion and commitment ― and frustration ― are untapped potential for statewide groups.
Could you choose the most important questions from the AMPLIFY survey and answer them yourself?
I think the most important question is "How do you describe your identity?" because it is rarely posed as an open ended question. Some people respond with one or two words, others give me paragraphs.
I'm intentionally not putting my voice into the answers. I'll submit a Q&A on the day we end the project to be included in the final archives, but really there are 12 years of my answers to these questions and more on the blog.
What have you learned in the course of those 200 posts? Were there things about queer life in this region that surprised even you?
I have a new appreciation for the experiences of the bi communities because of how many people have have shared their story ― nearly 50 at this point. The themes of feeling isolated, uncertain of their value to the LGTQ community and the endless erasure of their identity are significant. I wish we could invest in a bi-led organization to turn that around.
One thing that did surprise me because it challenges a long held belief is how many LGBTQ folks want to live in rural communities, small towns and otherwise "not in Pittsburgh or any city." They understand the trade-off ― there can't be a community center in every town ― but would like the fundamental rights and freedoms their neighbors have.
I'm also surprised how many people decline to talk about experiencing discrimination. My general impression is that they do experience microagressions, but we are conditioned to those so they don't seem "as bad" as more overt and violent experiences.
What are your goals for the project now?
Our goal continues to obtain contributions from every county so that will be a shifting focus now - building relationships in the underrepresented areas (Cameron, Elk, Forest, McKean, Jefferson, Clearfield, Greene and Somerset counties). We also want to focus on audio recording the Q&A with community elders and other who do not have access to the Internet. Eventually, we'd like to take a closer look at including youth voices. And all along we will continue to work with archivists to prepare the entire project to be accessible as long as possible.
What challenges have you faced with this project?
I find that a personal invitation is the best way to solicit a contribution and that is a very time consuming aspect of the project - me inviting people, one by one. Or me asking other people to invite their friends, one by one. I've calculated that it takes about 8 hours of my time to generate one completed post and a fraction of that time is spent on the actual editing and layout of the post. And that does not account for time spent on other activities such as tabling, grant writing, responding to requests for information and referrals, etc.
Having to invest that amount of time into the counties where I don't have established connections and resources will require a significant financial investment and I'm unsure where we'll find those resources.
Another challenge is that we are not conveying the connection between storytelling and social change effectively. People think of archives as historical, dusty things not vibrant living resources. We are fortunate to have a professional archivist on our advisory team who has been amazing in helping us think about these issues now.
These both feed into the challenge of fundraising. We've had private donations and some grants, but it has been a struggle to get our project considered for local fundraisers even though we have a formal fiscal sponsor (the Persad Center).
What can people do to support you and your work, and what would this support mean for the queer community here?
Read the posts. The site is setup to lead you from one to another similar post and there's an index as well. That's our end goal. Share your own story. Even if you feel uncertain that it will have an impact, know that it will - it will strengthen the entire project. Your investment of 30 minutes of time to complete the Q&A will generate dozens of hours of people reading the larger archive.
I would love to see local fundraisers take us on as a beneficiary, both to raise funds and awareness of the project. I'd like more community leaders to share their stories to encourage their members to do the same.
For the queer community, more support means more opportunity for voices to be included that might not participate in a video or oral history project. It means the archive will remain accessible as we continue to upgrade to the latest technology. Eventually, it means that the blog archive will be part of a formal collection and make the declarative statement that we the people control the narrative of what life was like for the LGBTQ commnity in the late 20th and early 21st centuries.
What feedback have you received from the community about the project? What political impact do you hope that AMPLIFY will have in this region?
Feedback has been positive - people contact me all of the time to tell me how much they enjoy/appreciate/connect with the posts. They mention those facts in their own posts. But there are a lot of people who don't understand what we are doing and think things like "I've missed the deadline" or "my story isn't very interesting" neither of which is ever the case.
From a social change perspective, we have a group of people who have varying degrees of understanding of the challenges our community experiences, especially those who are not politically active or connected to community groups. But almost everyone is on Facebook specifically, so there's a huge opportunity for every LGBTQ group in this region to up their social media game to better engage all of these folks, of all ages. That requires resources and planning.
Something I'd like to see is a seed type grant project, much like the Buhl Foundation has led on the Northside in recent years - allow people a chance to experiment with their suggestions. Partner with Persad Center (my idea, not theirs) to act as fiscal sponsor and provide organizational management tools. And then someone can try offering childcare at LGBTQ events like Bingo and Pride Night at XYZ Venue to see if it does draw new attendees. Or offer bus tickets for community meetings. Or start a week of programming for Bi Visibility Week. Or pay for the consultant to a board of an emerging organization needs to get into place. Or rents a shuttle for elders to travel to a central location for social opportunities.
Pittsburgh considers itself a progressive city, friendly towards queer individuals. Do you consider Pittsburgh to be progressive? Why or why not?
No, I do not think Pittsburgh is progressive. I think it has aspirations of progressive values wrapped in moderate realities. As long as racial justice remains unaddressed, there is no progress for the queer community. Period. Pittsburgh has a lot to offer the queer community and there is always an opportunity for progress, but the lack of intersectional awareness precludes us from anything but incremental progress that will always prioritize somewhat affluent cisgender white gay men and lesbians. There are two Pittsburghs. That's a reality many people deny.
What advice do you have for young queer Internet writers/bloggers who might be interested in writing about Pittsburgh?
We need you! We need you right now to starting writing. The best advice I can offer is to familiarize yourself with the history of the region in terms of politics and queer history. Take a look at the news clippings from the 1970s and 1980s. Take some time to learn how things work in our political system in Pennsylvania. Pittsburgh cannot do the same things as Philadelphia under our state constitution and that's important to understand.
What was the most pressing political issue impacting queer lives in SWPA when you started this project? What about now?
When I started AMPLIFY, the emergent issue was racial justice within the LGBTQ community as per the response to Iggy Azalea headlining a Pride event. It was emergent in that it was on everyone's tongue because of the headlines, not that it hasn't been with us all along. The same is true now, minus Azalea. Contributor after contributor mention racial justice in all sorts of contexts. There are other substantive issues on that list - bi visibility, trans inclusion, poverty and socio-economic justice, HIV, youth issues and more. But my personal opinion is that racial justice is at the top of that list.
What's next for the #AMPLIFY project?
The project continues to accept contributions - we plan to continue through at least 2018 as funding allows. For a six month period, from July to December 2017, we'll be accepting 'updates' from folks who want the opportunity to discuss how their lives have changed since they first submitted. We'll keep the original post intact, but this should add a robust element to the archive.
This summer we have a fundraising event in partnership with Goodwill Industries, a LGBTQ ally, and a possible potlcuk or cookout event to bring folks together. We'll also be doing a driving tour through the underrepresented counties and trying to build connections with the informal supports in those regions.
Finally, we hope to secure funding to begin audiorecording and transcribing the Q&A with community elders and others who may not have access to a computer. Each Q&A will cost us between $125-250 to produce so we need to find a major funder before we launch that element.
If you support the stories of LGBTQ individuals in Western Pennsylvania, please consider donating to #AMPLIFY today.
Calling all HuffPost superfans!
Sign up for membership to become a founding member and help shape HuffPost's next chapter
BEFORE YOU GO