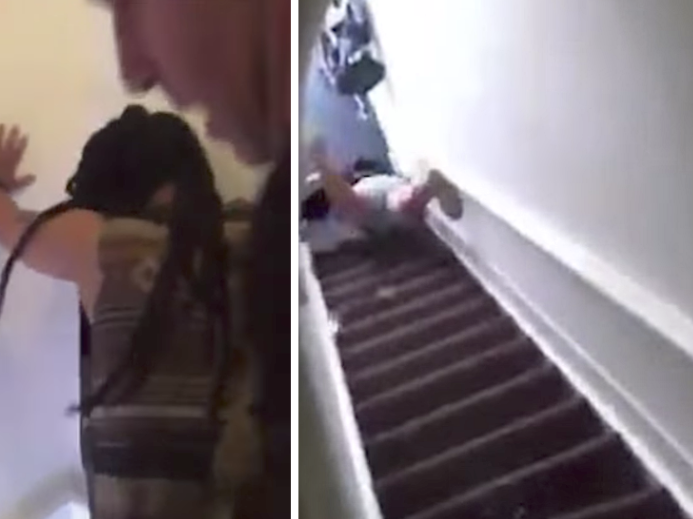 An Airbnb host in Amsterdam accused of pushing a guest down a flight of stairs for missing her checkout time faces attempted murder charges.
Video of the confrontation went viral after the guest's friend, Zanele Muholi, a popular South African artist and activist, posted it to Instagram on Saturday.
The video shows the host, a white male, telling Sibahle Steve Nkumbi, a South African filmmaker and student in Bern, Switzerland, to get out of his rental property.
The host then pushes Nkumbi, sending her head-first down a long staircase. She lands at the bottom, face-down and motionless.
"He threw their belongings out ... for a few mins late checkout," Muholi, who was also staying in the Airbnb rental, wrote on Instagram. Muholi, who said Nkumbi was sent to the hospital, claimed the confrontation stemmed from "racism and can't be justified."
Police told South African news site Independent Online that four women had rented the apartment and were due to check out at 11 a.m. on Saturday.
The women got into an argument with the Airbnb host over their checkout time around 12:30 p.m. before the confrontation became physical and one woman fell down the stairs, a spokesperson for the Amsterdam police said.
Nkumbi was in Amsterdam to write about Muholi's photography exhibit at the Stedelijk Museum one day earlier. The museum had booked the Airbnb rental for the artists to stay in, according to HuffPost South Africa.
In a YouTube interview with independent journalist Kevin P. Roberson, Nkumbi claimed that the man grabbed her as she was trying to leave the apartment and threw her down the stairs. She also said she believes the confrontation was racially motivated.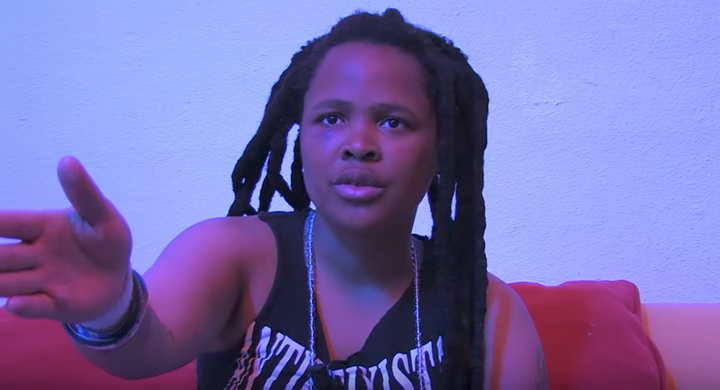 According to Nkumbi, a woman knocked on their rental unit and politely told them that they were late for checkout, saying they had to pack up and leave immediately. Nkumbi said she had "apologized profusely" and asked for a moment to gather their things.
The woman came back a few minutes later with her husband, who was visibly angry and banging on the door, Nkumbi recalled, adding that the man was verbally abusive and referred to the women as "you people."
Nkumbi said the man appeared to be emotional and told her and her friends, "You're not the great artist that you think you are," "You're not the queen that you think you are" and "This is not Africa."
"The connection of those words, any person of color that reads this and has been a witness or has witnessed racist attacks, you know it when it happens to you," Nkumbi said on YouTube.
The man pushed Nkumbi as she tried to steady herself on the wall, but eventually she lost grip of the wall and "flew down" the stairs. She passed out from the fall and later woke up in the hospital.
"His body language, his facial expression, the way that he was actually looking at us, it was not a matter of you looking at another human," Nkumbi said. "I guarantee you, had this been a white person, it would have turned out differently."
Muholi, who filmed the incident, told HuffPost South Africa that she believes the man is racist and a coward.
"How does he justify pushing a defenseless woman the way he did?" Muholi said.
"He must have looked at her and concluded that it was me since we both have dreadlocks," she added. "It pisses me off to think this man was ready to kill my friend for no apparent reason, barely 24 hours since the opening of the exhibition. It makes me so mad."
David King, Airbnb's director of diversity and belonging, called the incident "appalling and unconscionable" in a statement sent to HuffPost. King and Airbnb CEO Brian Chesky are reaching out to the guests.
"We will take the strongest actions we can against such abhorrent conduct, including banning people for life from our platform and assisting law enforcement with their investigation and potential prosecution," King said. "Nobody should ever be treated like this and it will not be tolerated."
CORRECTION: An earlier version of this story said the man was charged with attempted murder. Dutch prosecutors told Reuters that they are considering pressing charges, but have not yet done so.
Popular in the Community