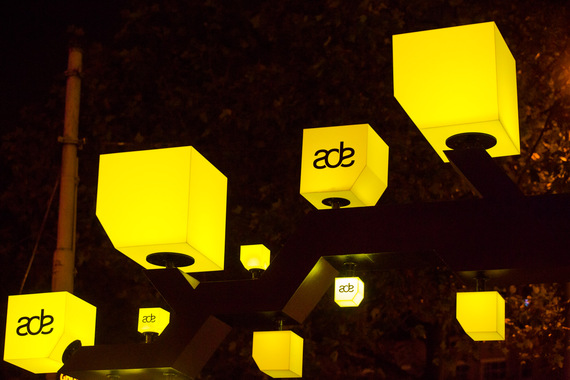 photo by Maurice Vinken
Let me start by saying that Amsterdam Dance Event (ADE) is one of the coolest things I have ever been to. I'm calling it a thing because there are so many components, it's hard to describe exactly what it is. There's Conference, with presentations, panels, and talks from the top players in the music industry. Playground, which turns the center of Amsterdam into a creative showcase for dance culture. And Festival, a platform for one of the world's biggest electronic parties. Every shade of dance music is represented in some capacity at ADE, displaying the talent and future of both the underground and the mainstream.
There was no way to see even half of the events (there were 2,289 Artists), nor is it possible to write about the entire experience in one place. So this first article is only about the music. This week long Amsterdam takeover left me informed, inspired, and exhausted from dancing at venues all over the city. But I wasn't the only one. According to press notes, on Saturday night there were 180,000 people dancing all over Amsterdam.
I had just spent the week before immersed in a deeper electronic sound at the Robot Festival, and I (luckily) get to experience quite a bit of Techno and Deep House in both Berlin and Stockholm, so I tried to focus on acts that I had never seen. This means I missed out on many events, and some of my favorite artists. But even so, there was never a dull moment.
Double Dutch - Kraak and Smaak & Secret Cinema at The Melkweg
The first thing I wanted to see was a local artist doing a live act. I decided on the Dutch trio Kraak and Smaak, mostly because of the song for their video "All I Want is You." As I walked into the packed room they were playing in (which evoked the feeling of a dive bar), I was blasted with a mix of electronic sounds, live guitars and vocals. The end of their set left a dirty, 80's vibe lingering in the air, in one of the more intimate spaces of Melkweg (which translates to Milky Way).
The Melkweg is a multipurpose complex, housing amongst other things, a cinema, and a cozy cafe (which was turned into a chill out area during ADE for partygoers). The Melkweg Expo (a collection of artwork inspired by ADE) was also held there, which meant on Sunday, the last day of the event, the place was packed.
Sunday Funday was in full swing as confetti rained down and inflatable donuts and bananas were tossed amongst the crowd. As part of a fantastic party thrown by The Elrow Crew, Secret Cinema played a fusion of music I couldn't quite put my finger on. At moments it was progressive, at moments techno. There was more white noise then you would normally hear on the dance floor (some caused by fog machines), but the sound always dropped deep. This balance between underground and mainstream electronic came complete with strange synths and punchy noises to keep the crowd loose. And loose it was, full of smiles, iridescent mohawks, light up top hats, and a girl dressed in a space themed leotard playing along on her toy trumpet. Enough to inspire a "Fashion of ADE" section next year.
Listen to Secret Cinema and Enrico Sangiuliano- The Feeling of Being in This Place
Sam Feldt at Paradiso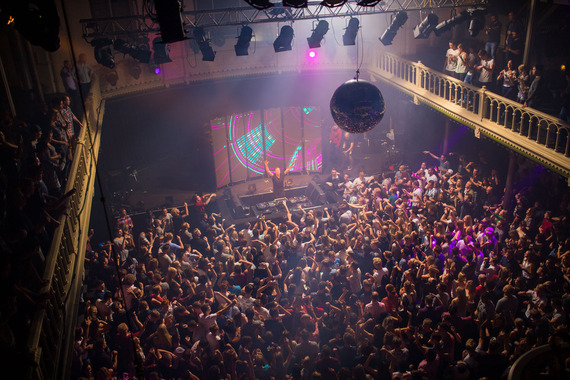 During Oliver Heldens presents: HelDeep at Paradiso, I learned that Sam Feldt (one of the newest additions to the roster of mainstream deep house producers), loves to stand on top of the the DJ booth. Backed by colorful, animated visuals set on futuristic Ken Burns effect, Feldt's contagious energy poured into the crowd from the very beginning of his set. When the bass dropped deeper than usual during the EDX Remix of Feldt's breakthrough track "Show Me Love," it shook the room and sent the crowd into a frenzy. And while he might not be pulling many tricks in the DJ Booth (which in my opinion is better than pretending to do tricks), he did one of the most important things, create a vibe. Sure, after a while the tracks (many from Robin Schulz, Kygo, and Avicii) seem to blur together and the drops seem slightly repetitive, but he knows his audience, and how to keep them dancing.
Listen to a standout track from his set, The Weekend - Can't Feel My Face (The Him Remix)
Deep House Theatre - Detroit Swindle and "The Programme" at Compagnie Theater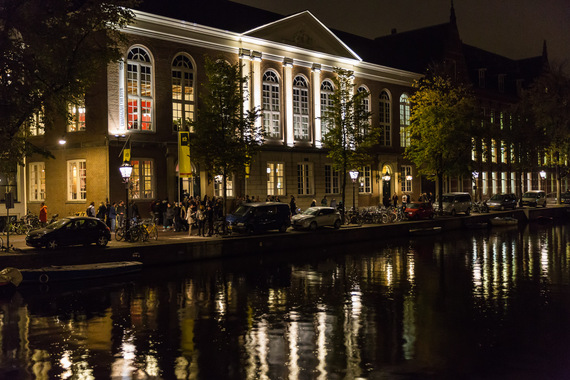 I love both theatre and Detroit Swindle so the premiere of their visual and musical live act was a huge treat. As they continue to push the envelope, the duo improvised a live set while, according to press notes, " K.A.T. (Kinesis and Audio Translator), created visuals in real time based on musical elements and also the artists movement." While standing in the empty theater with maybe thirty or so others at the beginning of the performance, you could really sense how close theatre and electronic music actually are. And though the custom swag of Detroit Swindle accompanied by this new component definitely heightened the environment, it left me wanting more. There was so much room to integrate the visuals within the space to create a 360° experience - bouncing off of the floor, circling amongst the crowd, projecting on to the seats. But this was merely the premiere of a new idea, and I imagine as it is developed the presentation will become as exciting as the concept. Their last track, a remix of a track by Seven Davis Jr., was the perfect send off into the weekend ahead.
Seven Davis Jr. - Friends (Detroit Swindle's Friends on Acid Remix)
DGTL Presents: Maya Jane Coles and Friends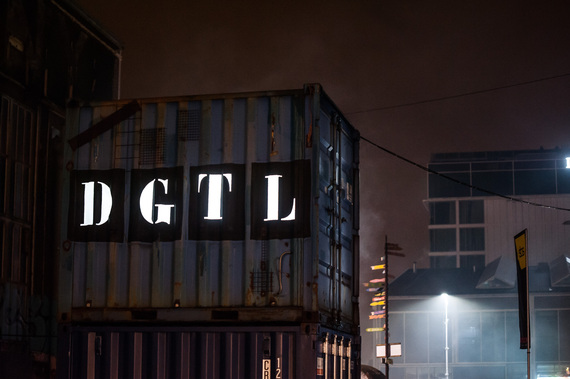 First a shout out to the two Dutch girls who gave me a ride on the back of their bike to the Ferry after this party. This warehouse venue was so far from the center, I was convinced that it was on an island (though a local quickly informed me that it was just a big canal). I sadly missed Dusky, but made it through the rain, ferry, and google maps sponsored walk, arriving just in time for the start of a jack your body set by Maya Jane Coles.
The warehouse venues in the surrounding area were pretty epic, and as I walked passed the event where Robert Hood and Chris Libeling were playing, the sound exploding inside the building was so massive it felt like it was going to erupt. The visceral power of techno (not to mention that Hood made one of my favorite tracks ever, "Never Grow Old") almost forced me inside, but I kept walking because I really wanted to see Maya Jane Coles play. Once inside of the DGTL space, the sparse, industrial feeling continued, with most of the room engulfed in cobalt blue lights. A distinct UK sound pumped into the crowd from the stage. And Coles navigated this, dropping hard kicks, booming bass, and a verse or two from The Notorious B.I.G.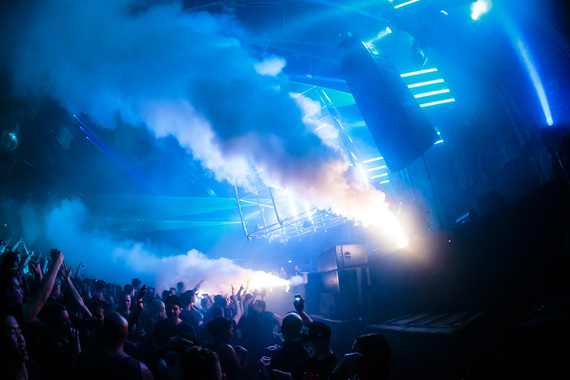 Awakenings at The Gashouder photo by Vincent van den Boogaard
The Mad Scientist - Jeff Mills at Warehouse 22
I will revisit Techno pioneer Jeff Mills in a later article, but let me just say that Warehouse 22 was almost the size of a football stadium, and completely full. Mills's set was a travel odyssey through decades of sound, complete with everything from a 3D cornucopia shaped tunnel, to snake charmers and little people dressed as aliens. In a space this big, it is almost impossible to create a vibe outside of the pyrotechnics and lighting used in an arena setting. But Jeff Mills can and did, which is why he is so respected.
Stockholm Love - Studio Barnhus at Disco Dolly
Imagine a small, sweaty, split level bar in the middle of Amsterdam where the minute you walked in you were showered with house music - deep and funky, providing the kind of escape and pleasure that you look for in a night out. Studio Barnhus have a magic all their own, and they threw an intimate and no frills, check your bullshit at the door kind of party.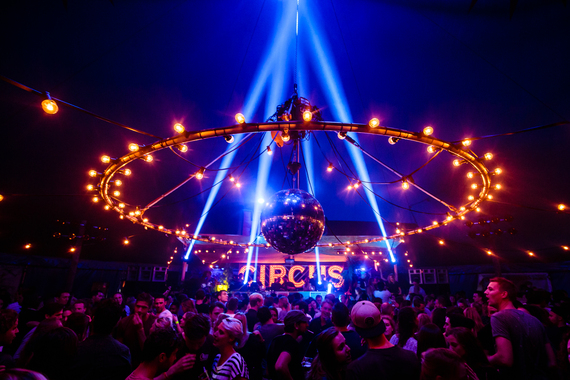 Thuishaven Festival photo by Vincent van den Boogaard

Of course this doesn't even scratch the surface of the talent and parties present at ADE, but that is why the event is incredible. Very few people who attend will have the same experience.
Were there any parties, or acts that you loved this year at ADE?
Calling all HuffPost superfans!
Sign up for membership to become a founding member and help shape HuffPost's next chapter