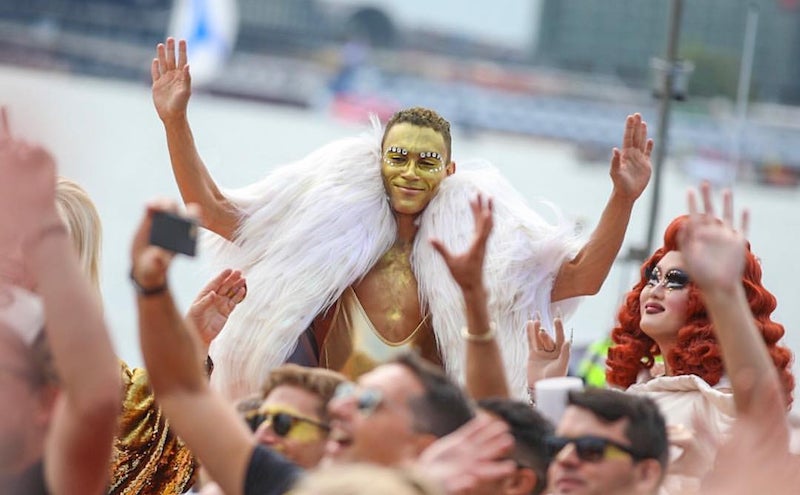 There is no other LGBT Pride celebration anywhere in the world like Amsterdam's. The city famous for its canals, cannabis, and sexual freedom has long been an example to the world of how to treat its gay and lesbian citizens with dignity and respect, and of how to do full legal equality right.
So it should come as no surprise that Amsterdam's annual LGBT Pride celebration is one of the most unique in the world, with boats instead of floats that literally float around the city's rings of picturesque canals as hundreds of thousands of Dutch revelers - most of whom are straight - and tens of thousands more international visitors come out along the waterways to celebrate Holland's diversity and cheer on its LGBT citizenry.
But beyond this one-of-a-kind setting, Amsterdam Pride seems to have successfully developed a post-corporate model of support and inclusion that still eludes LGBT Pride organizers across much of the United States, and which has recently become a cause of protest in some cities for those concerned about corporate takeover of Pride celebrations.
I was recently in Amsterdam to finally check out its world famous Pride parade on the canals, and was delighted to receive an invitation from the recently opened W Amsterdam to join their contingent in the parade itself as part of a group of guests that they were welcoming onto their boat this year. It would be this experience of seeing Amsterdam Pride from the waterways aboard a local business's boat that led me to realize that Amsterdam Pride has struck a healthy balance between its corporate participants and the true spirit of the celebration, with local businesses totally supportive of the approach.
The annual Amsterdam Pride celebration as we know it today only dates back to 1996. However, the Netherlands has always been far ahead of the global and even Western curves when it comes to LGBT equality. Homosexual activity was legalized in the Netherlands as far back as 1811, while it has only been legal in the United States since 2003.
The small northern European queendom (no pun intended, but the Netherlands was, in fact, ruled by three successive queens for more than 120 years spanning the entire 20th century) also became the first country in the world to legalize same-sex marriage in 2001 after first recognizing domestic partnership in 1998. As a result, in contrast to the overtly political nature of other cities' annual Pride celebrations, Amsterdam Pride has largely always been a true celebration - of diversity, of Dutch support for equality, and of Holland's beloved LGBT community.
I arrived at the W Amsterdam on the Friday before parade day for a guest orientation. The hotel's two W Insiders - a supercharged concierge resident at all W hotels worldwide - gave parade guests a tour of the city's notable LGBT sites and history, after which the curator of the W Amsterdam's art gallery explained the significance of the LGBT-themed collection of works on display in several of the property's common areas.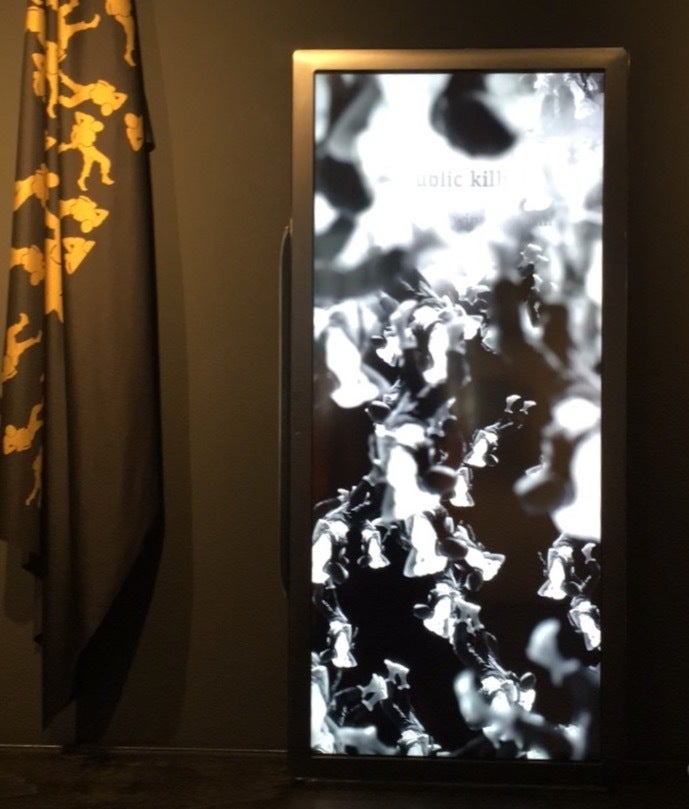 A particularly moving piece paid tribute to the gay men who have been thrown to their deaths from rooftops by the so-called Islamic State. The other pieces were similarly deep, meaningful, and artistically multi-faceted. The curator explained that the exhibits were not just brought out for Pride weekend, but rather are on display at the property for an entire seasonal rotation and visible as guests and visitors dine, shop, drink and socialize.
The next morning it was time to join the other boat guests for hair, makeup, and wardrobe preparation prior to the parade. What I thought was going to be just an ordinary ride-and-wave appearance on a Pride float turned out to be something much more elaborate. But this is normal for Amsterdam, and for Amsterdam Pride.
The W Amsterdam's boat this year had an ultra-fabulous and sexy "gold and glitter" theme. They went all out to coordinate guest fashions by flying in a French designer to create a custom collection of outfits for us that was specific to this particular event. Some participants were draped in silky gold robes while some donned golden vests and boas. For contrast, others were dressed in all black with bright gold accents.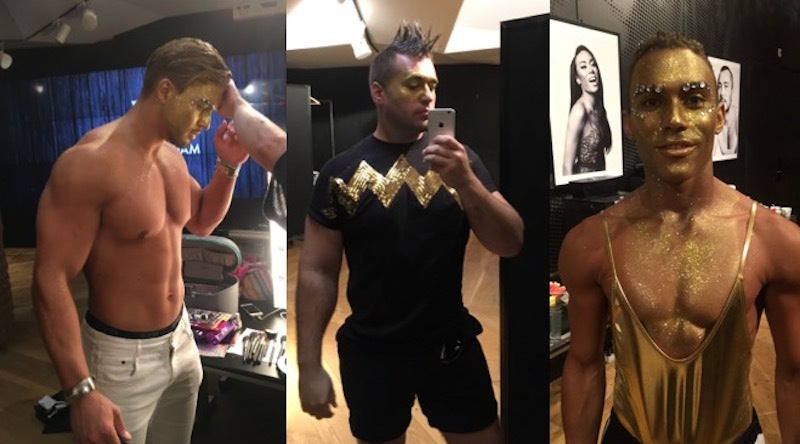 My attire consisted of fitted black shorts with a loose-fitting black tee-shirt adorned with sequined gold that was arranged in a horizontal zig-zag across the chest and sleeves. The pattern was so subtle that I didn't even realize until later that it was in fact a continuous W. But as I found out later, subtle branding, if it exists at all, is the norm for Amsterdam Pride's local business partners and participants.
The makeup du jour was a glitter-infused gold paint applied in various designs across our faces and chests. Some of my fellow participants had beautiful swirl patterns painted on one side of their face and around an eye, while others had their entire faces covered in shimmering gold. I opted for a gold Zorro-style mask, which really made my baby blues pop amid all the sparkle.
The stylist took full advantage of the fact that I am growing my hair out this summer to cement my waves straight up into a spiked faux-hawk to complete my fabulous look for the parade. Yet even I looked quite conservative compared to some of my fellow float-goers, although all of us turned out uniquely high-fashion, tasteful, and fabulously futuristic.

When the group of about 80 of us boarded the W's enormous Pride boat to get ready to queue up in the canal for the parade, something unusual finally struck me - I didn't notice any visible mention of the W Amsterdam anywhere on their boat.
There was a stage at the front for internationally renowned drag superstars Lady Bunny and Kim Chi and Dutch drag superstar Diva Mayday who joined us, a DJ booth at the back, two champagne bars in the middle, another mini-stage at the back for several professional dancers, and a five-meter high oversized hydraulic cocktail glass with another performance artist inside that went up and down between the nearly 50 bridges under which we would have to pass.
But nowhere on the boat were there any of the giant W's that I was expecting, or any branding at all for the W Amsterdam that I could spot for that matter.
The W Amsterdam was so invested in supporting Amsterdam Pride and going all out to participate that the global head of W Hotels Worldwide had even flown in from New York to take part in the event. So I asked both him and other local W Hotels representatives about the curious absence of conspicuous branding on their parade boat, and I was surprised to learn that this was the norm for Amsterdam Pride.
They explained that the Dutch people see Amsterdam Pride as a celebration of its LGBT community and the various annual themes promoting equality and diversity in the Netherlands. To make the corporate participants' boats all about their respective companies, they said, would be to diminish that celebration and tribute.
Local businesses are happy to participate in and support Amsterdam Pride, but they do so in a way that puts the people and theme first and branding or self-promotion last. And while most boats did have small participant identifiers on the sides, they mostly serve to help authorities and organizers queue up and identify the boats before and during the parade.
As I looked around while we got into position for the start of the parade, I noticed similar patterns of minimalist or nonexistent branding for other business-sponsored boats around us as well, including our staging neighbors Uber and Microsoft. It was truly remarkable to see companies that rarely miss an opportunity to promote themselves at parades and festivals in the United States and elsewhere all coming together to subordinate their own brands to the greater good, spirit, and theme of the event at Amsterdam Pride.
As the DJ cranked up the dance music and the bartenders popped the corks on near-endless bottles of rose champagne, the next few hours of meandering through Amsterdam's historic canals atop a boat that could rival a party in Ibiza or Mykonos was absolutely incredible. Even more incredible were the hundreds of thousands of people we passed along the way waving, dancing, and cheering along the streets and bridges throughout the city.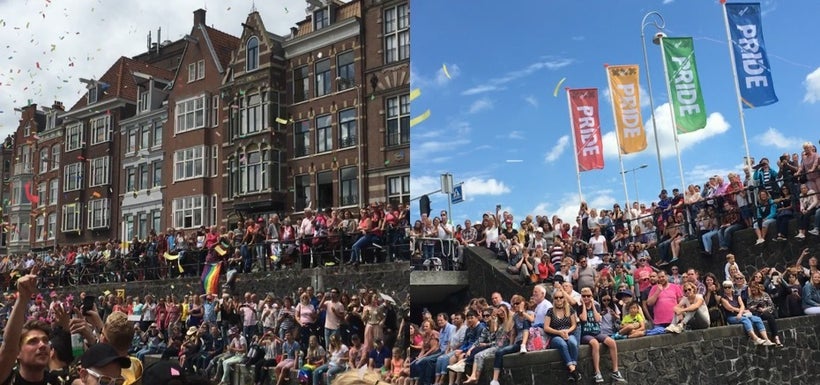 Young and old, gay and straight, families, couples, and groups of friends from all walks of Dutch, European, and global life reveled in the excitement. On other boats, groups of Jewish, Moroccan, and for the first time at Amsterdam Pride even Iranian LGBT ex-pats joined in the flotilla.
While Amsterdam's annual LGBT Pride celebration can be considered relatively nascent compared to Pride parades that are held in many major American cities, this city's Pride organizers and business community have certainly figured out a winning formula for corporate participation and support that amplifies, not diminishes or detracts from, the message being broadcast and the community being celebrated.
The memories and lessons taken from this new Pride experience will be long seared into my head, but so too will something else - the glitter.
After a week of more travel around Europe following that unforgettable weekend, my ego enjoyed a temporary boost when a flight attendant appeared to be flirting with me as I boarded by flight back to the United States. As he reached out to touch my cheek and a flattered but confused grin emerged on my face, my bubble was quickly burst.
"Sorry, sir, but the light is catching what looks like gold glitter in your scruff."
"Awe, I'll bet she did that to you on purpose," a female flight attendant added as she laughed.
John Nicholson is a travel writer and blogger, published author, recovering politico, current jetsetter, media host and commentator, iced coffee addict, and avid luxury and adventure travel evangelist. You can catch more of his exploits and adventures over on his blog at Jetset.Ninja.
REAL LIFE. REAL NEWS. REAL VOICES.
Help us tell more of the stories that matter from voices that too often remain unheard.
This post was published on the now-closed HuffPost Contributor platform. Contributors control their own work and posted freely to our site. If you need to flag this entry as abusive,
send us an email
.