Amsterdam student Rose Mandungu stands in front of a colorful apartment complex constructed of a rather unusual material—discarded shipping containers. The crowded Dutch city has been meeting a pressing need for student and other low-income housing by using ubiquitous steel shipping containers. After years at sea, the containers were rusted and dented but ready for reuse to house people instead of products.
The interior of a shipping container is compact, but it can be surprisingly comfortable, as this Amsterdam student dorm attests. When their service at sea is finished, a growing number of steel containers are cleaned and refurbished with flooring, insulation, air conditioning, electricity, plumbing, and other modern conveniences.
The result is creative green housing that requires only a fraction of new construction's energy and materials and costs less as well. In Amsterdam, students have happily taken to dwelling in these unconventional new digs built by Tempohousing.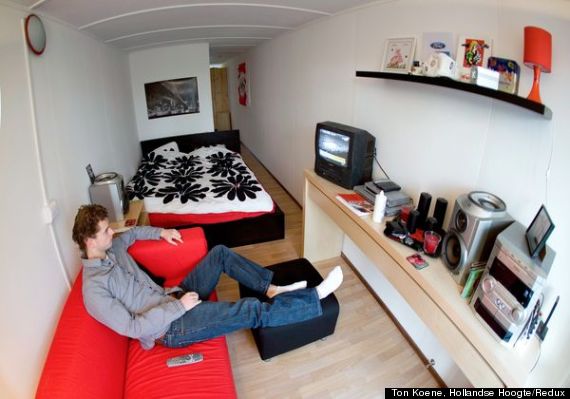 A giant student dorm serves as a shining example of "cargotecture," the growing application of discarded steel shipping containers to serve architectural purposes around the globe. Despite their uniform size and shape, the containers can be used in an endless number of configurations because they fit together like real-world Legos.
The uniform size and shape that made them easy to transport on long-distance trucks and ships allows them to be stacked up to a dozen high without significant external reinforcement.
According to figures from SG BLOCKS, a New York-based shipping container builder, fitting a container for housing use takes only one-twentieth the amount of energy of reprocessing the same amount of steel—and results in an additional hundred years of lifetime.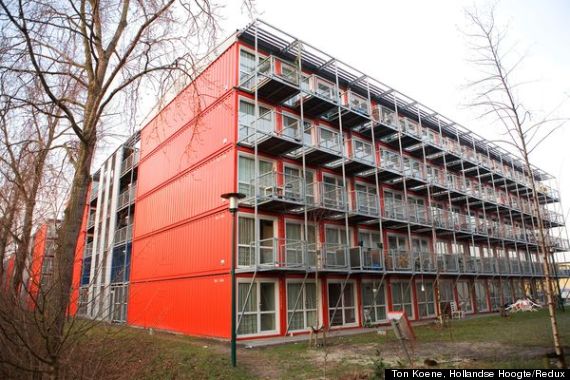 Related
Popular in the Community