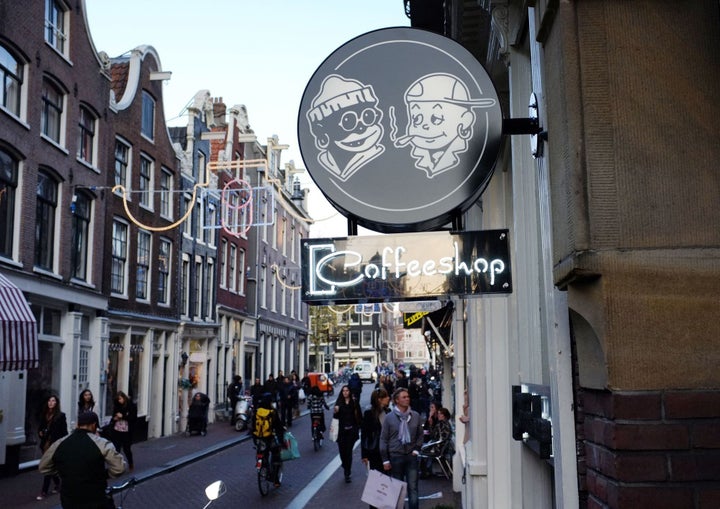 I'm having an ongoing love affair with Europe. This is no secret. Until last month, I didn't think any European place could come between me and my number one -- Italy. But then I decided to pay a visit to Amsterdam, and the game changed. Why do I love Amsterdam? It's a city that's comfortable in its own skin, it's effortlessly cool and the shops. Oh, the shops. They inspire even a shopping-phobe like me to break out my Euros. As I biked up and down the canals of the Nine Streets and Jordaan, I made dozens of stops in and out of boutiques, vintage shops and markets, putting together a mental list of places I will forever and always be returning to on future trips to Amsterdam. Here they are:
Cos: If you are wondering where young Amsterdammers stock up on clean-lined classics and timeless trends, look no further than Cos. With three locations in Amsterdam, the more sophisticated, older sibling of H&M is a go-to for the everyday pieces that won't break the bank, but will always keep you looking polished.
Lock Stock & Barrel: Looking for a quintessential Dutch-style winter parka or a statement dress for the holidays? Check out Lock Stock & Barrel on Hartenstraat. The selection of outerwear, denim, dresses, shoes and jewelry is carefully curated with a discerning eye for brands that make you say, "I have to have this."
Episode: Amsterdam has a huge vintage shopping scene, but my favorite has got to be Episode. I popped into the Berenstraat location and was transported back through the best of '70s, '80s and '90s fashion. Well-stocked, well-organized and nicely priced, Episode's a gold mine for hip hand-me-downs.
Fair + Fair: As the name suggested, Fair + Fair brings fair trade and sustainable goods from third world countries to their adorable dollhouse of a showroom overlooking a pretty canal on Raadhuisstraat. Duck to get inside, then watch your step up the narrow staircase that leads to a treasure trove of earthy pieces for the the home and body. Hand-woven baskets, blankets and carpets, beautiful beaded jewelry and hand-crated furniture are just some of the to-die-for delights you'll find at this pint-sized shop with a big passion for giving back.
SPRMRKT: What shopping round-up would be complete without a concept store? Enter SPRMRKT on Rozengracht. What the name lacks in vowels, this superstore makes up for in everything else. It houses a rotating selecting of clothing, art, photography and a calendar full of chic events with a flair for the unpredictable.
So I said five, but here's a sixth fave that is too good to leave off the list:
Rituals: One sniff of the Rituals collection of soaps, lotions and candles, and you'll be hooked. The luxury home and body cosmetic line started in Amsterdam, but is based on traditional Eastern rituals, my favorite being their Sakura ritual, infused with rice milk, cherry blossoms. Now, if they only sold their products in the U.S., I'd have all my holiday gifts sorted!