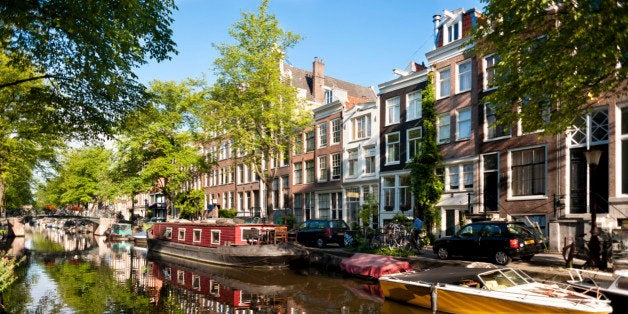 If you think that Amsterdam is only for adults with attractions like the Heineken Brewery, House of Bol and The Bulldog, you may want to rethink what this beautiful city offers to families. Below are five attractions and five events that are fun to explore with kids in tow.
1. Science Center NEMO - Not only is the architect and design of the building a marvel, but the five stories exhibit hands-on science and technology experiments. Children (and adults alike) can do, try and enjoy experimenting at how our world works. Guests will leave viewing the environment around them quite differently. But before leaving, do take time and enjoy the rooftop views overlooking the city with its water fall cascading through 30 pools. A truly spectacular way to end the day.
2. Anne Frank's House - Who can go to Amsterdam without stopping at one of WWII's most visited museums. Anne Frank was only 13 years old when she and her family went into hiding. Read some of Anne's entries in her diary. Children will be able to relate to her words about what it was like for her to be a child during the war. Climbing the stairs behind the secret door, visitors will see where they hid and get a real sense the sacrifices that families made to try to survive.
3. A Boat Tour on the Canal - One of the best ways to hear the history of the city is by taking a boat cruise. De Pannenkoeken Boot (The Pancake Boat) is the perfect tour to take with children. Enjoy the 75 minute cruise while eating as many pancakes (one of Holland's food staples), that are more like crepes, as possible. They even have a Ball Bath (of 15,000 balls!) for the young ones to enjoy as you view the scenery outside.
4. Vondelpark - Is an urban park in the north of Amsterdam. The 120 acres is filled with walking paths, fountains, ponds, seven play areas, including a large playground, plus an open air theater that hosts free concerts and children's shows during the summer months. Access is free into this year round park.
5. Jordaan - An upscale neighborhood in Amsterdam that is filled with beautiful shops, restaurants and art galleries. The children will enjoy window shopping and seeing some of the most interesting modern art that can be found within the galleries. The area is known for its eclectic and hip atmosphere that is fun to stroll through the streets for an afternoon.
1. King's Day (April 27, 2016) - With the inauguration of a new king in 2013, Queen's Day formerly became King's Day. This is a day of the biggest street party of the year. The city is painted orange, Holland's official color, and visitors are encouraged to dress the part. Children will enjoy a day of games and sports events as well as trying their hand at bargaining and selling some of their wares if they so choose - after all Amsterdam was built on trade!
2. Grachten Festival (August 12 -21 2016) - If you are wanting your children to appreciate classical and jazz music, this ten day classical music festival features performances on open spaces along the canal, private boats and barges. The best part is watching a wide variety of young talented musicians showcase themselves, bringing world wide attention to themselves.
3. Uitmarkt (End of August) - This free event takes place one weekend in the summer. The festival opens the upcoming cultural season in Amsterdam with 350 performances on 30 different stages throughout the city. There are children friendly performances at the Uitmarkt Junior. The weekend ends with a Musical Sing-a-Long finale that everyone will enjoy!
4. Jordaan Festival (September 18 - 21 2016) - Known to be an artistic area of Amsterdam, this festival brings together Dutch folk artists celebrating the history of the area. Visitors will get a real feel of the Dutch culture through singing ballads from some of the famous folk singers of Holland. There is also a chance for a sing-a-long, listening to drumming circles, children's game areas - all Amsterdam-style.
5. Sail Amsterdam (Every 5 years) - This event started in 1975 to celebrate Amsterdam's 700th jubilee. The event saw ships from all corners of the world to moor in the waters of Amsterdam and has grown into one of the largest nautical events. One of its main goals is to foster excitement in the young on sailing. SAIL Amsterdam is organized every five years with this year being it's ninth event. We will have to wait until 2020 for the next one but definitely worth booking a trip to Amsterdam around it!