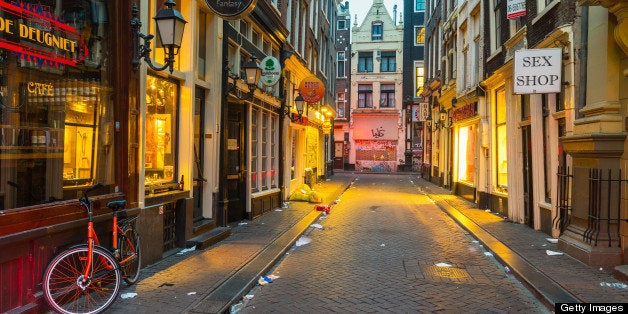 From tree-lined canals and museums by day, to an explosion of electronic music and illicit offerings at night, Amsterdam certainly lives up to its name as a European party destination. In that spirit here are my recommendations for enjoying the nightlife of Amsterdam on its straats (streets) and pleins (squares).
Before you dive deep into Amsterdam's nightlife grab a copy of the Amsterdam Weekly, an English-language newspaper. It is free, so keep your eyes open for copies in cafés or bookstores. In addition to an interesting read, concert schedules and special events, it tells you what is happening at major nightspots literally every night of the week. New issues come out each Wednesday.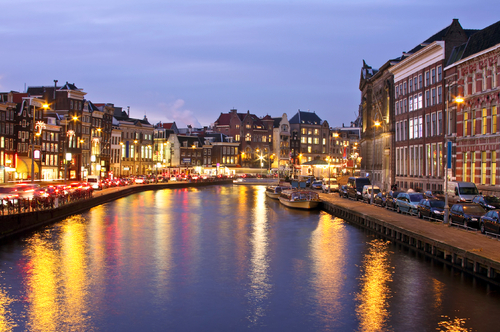 One last word of advice: Before you lose your way under the influence of Heineken or purple haze, know that all trams end up back at Centraal Station, and take note that they do not run after 1 am. Taxis can be expensive, but will get you home safely in a pinch. Biking with a buzz is the way of the locals, but not necessarily recommended for inexperienced urban cyclists. Enjoy the straats and try shot of Genever (a Dutch gin) somewhere along the way, if only to clear the sinuses.

Amsterdam by Night: Red Light District, Leidseplein, Centraal Station
Amsterdam's Red Light District is definitely more active in the dark and worth a gander, but offers little in the way of entertainment other than sports bars, bachelor parties, strip clubs and those infamous ladies of the night. If this is your scene, then read no further, for you are in heaven. Leidseplein is the centerpoint for more-mainstream nocturnal amusement, but there are plenty of other options throughout the city. If you like techno music, it is the world capital.
Melkweg and Paradiso are the two major concert venues in the city center, and both abut Leidseplein. Most nights they offer themed "clubs" with varying cover charges. Depending on the evening you can dance to gypsy, hip hop, techno, pop or indie music, and sometimes more than one in a single night. Paradiso is a former church, with a main stage on the first level and a smaller more intimate venue upstairs. Melkweg ('Milky Way' in Dutch) has two fairly large rooms. On most club nights a single cover charge grants you access to both venues.
Just up the alleyway from Melkeweg is Sugar Factory, another top-notch club best known for Sunday night's "Wicked Jazz Sounds", a combination of live jazz and techno beats.
Culture hounds need not separate intellectual pursuits from a Saturday night fever. De Balie, between Paradiso and Leidseplein, is a unique fusion of art, culture and nightlife. There are films, debates, art exhibits and a large, modern bar and café.
The bars directly on Leidseplein are fine, but not necessarily interesting. Otherwise there's Boom Chicago, an American-style comedy club, with stand-up and sketch acts. Try any number of the alleys splitting off the square for more options -- like De Spuyt, a ways down Korte Leidsedwarsstraat (the alley near Burger King), which has myriad Belgian beers... but beware, some top out at near 15% alcohol.
Spuistraat runs from just west of Centraal Station, looping south-ish towards Spui square. There is a string of bars, most of which are worth a stop, especially on a pub crawl through Amsterdam. The Minds is a punk bar with cheap beer, a pool table and interesting clientele. Bitterzoet (Bittersweet in Dutch) is good for unique live acts and a favorite among locals, but its pro-Dutch, anti-foreigner door policy may make it worth boycotting on principle. A brief "goedenavond?" at the door should get you an "A" for effort and entry. In Spui square, nearby alleys are packed with small student bars.

Amsterdam by Night: Out of the way, off the beaten path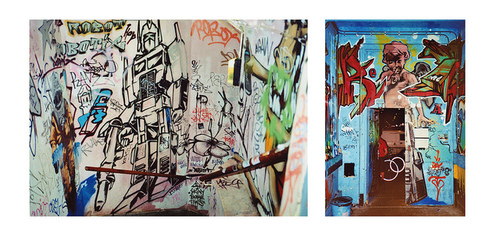 Photo credit: Richard P J Lambert via Flickr.
Or, for something definitely off the beaten path, look for OT 301. In the Oud West neighborhood, take the major thoroughfare Overtoom southwest from Leidseplein; the address is 301. It is a squatter bar, a formerly vacant building occupied legally. Any building in Amsterdam left vacant for more than a year is eligible for rent-free occupation, and while most transform into rundown flophouses, some become social hot spots. OT 301 has a bar downstairs, space for concerts and a movie theater upstairs. There are random cultural events on any given night. In theory it is similar to De Balie, but definitely grittier.

Amsterdam by Night: Coffee Shops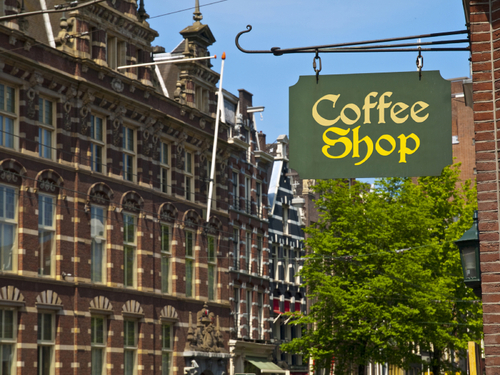 Now for those legendary Amsterdam coffee shops (a.k.a., places where you can smoke marijuana legally). Note that a ban on selling alcohol and cannabis in the same store went into effect in early 2007 (even though few coffee shops ever sold both). All coffee shops close by 1 am, it is the law.
The Dampkring near Spui square is featured in the film Ocean's Twelve and its interior is reminiscent of something out of The Lord of the Rings (you will see what I mean). Also try Barney's on Harlaamerstraat; it has a restaurant attached serving up omelets and fine milkshakes.
By all means stay away from any locations of the Bulldog chain, and the Grasshopper just across from Centraal Station, they are soulless tourist traps in both pricing and atmosphere.
Coffeeshop Rusland ('Russia' in Dutch) is fittingly on a street called Rusland and across from the Radisson SAS Hotel. If you care for tea with your smoke, there are more than 40 varieties. You can also play chess.
Amsterdam by Night: Sports bars
Bars in the Red Light District offer English soccer seemingly at all hours, but sports fans from elsewhere in the world have basically two choices. Coco's Outback in Rembrandtplein shows NFL and other American sports (when it doesn't conflict with that European football), and its Australian theme and giant frosty mugs of Heineken make it a good place to watch a big game. Satellite Sports Café in Leidseplein has a similar slate of action, and offers full English breakfasts.
Amsterdam by Night: And finally, a rave
Into the rave scene or just curious? Check ads in the
Amsterdam Weekly
. There are always parties in warehouse-type venues, on big boats or in Amsterdam Noord, a semi-rural part of town just across the IJ, that massive waterway behind Centraal Station.