SOMEWHERE ALONG AMTRAK'S NORTHEAST CORRIDOR -- Elliott Gregg sat in the cafe car of Amtrak Train 174 late Wednesday morning, eating a hot dog and pretzels and washing them down with soda. He rides the train to baseball games. Last year he watched from the stands as Derek Jeter hit his final home run in Yankee Stadium. Today, he's en route to a far less historic Phillies-Pirates tilt.
When I ask why he chooses Amtrak, he says, "There is only one place where you get off the train and need a cab to get to the park, and that's Baltimore."
Gregg takes a bite of his hotdog and wipes the mustard from his beard; its white hairs are still stained yellow after the napkin passes through. For him, the train is a vacation -- a quiet place where you aren't "running into the guy next door." He takes only a few days off work a year and often does just this. On this particular day, though, the trip is tenser than normal. The night before, a train on this line derailed in north Philadelphia, killing seven people and injuring scores more.
But Gregg didn't think twice about boarding on Wednesday. "I don't think there is much to make of it," he says.
Reminders of Tuesday night's crash were plentiful the next morning: a dark-humored derailment joke in the boarding line; the heightened presence of track observers at Union Station in Washington, D.C.; the eerie emptiness of the cars on the way back from Wilmington, Delaware. But life for Amtrak riders -- at least for those who could get on a train -- went on as normal.
"Are you nervous?" I asked a group of four travelers chatting at another table. "No," they replied. "You're making us nervous."
Instead, the prevailing worry among train-goers was that the crash would further sour the country on a mode of transportation that they love.
"The only problem is it's a Pepsi train and I have to bring my own Diet Coke," former Rep. Tom Davis (R-Va.) told me Wednesday morning as he walked through Union Station to pick up the car he had parked there. His return trip from New York City had been canceled by the crash so he took a plane instead.
That's the only problem? Not the slow speeds or the shaky Internet access? I asked.

"No," he replied. "I can live with that."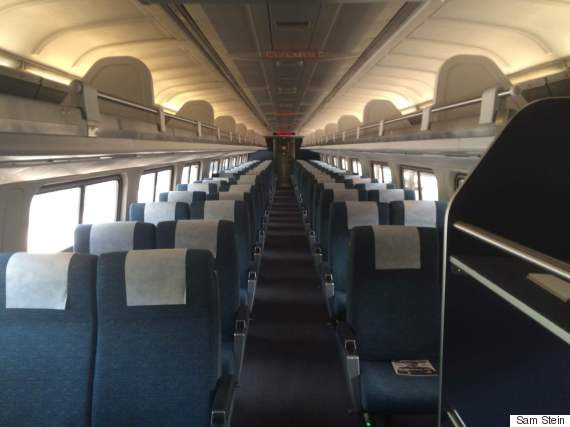 A total of two passengers sat in the back three cars of Amtrak Train 95 from Philadelphia to Washington on Wednesday. Service was suspended between New York and Philadelphia.
Amtrak, rather remarkably, manages to be both a pricey ride and a money-loser for the government, which runs it. The passenger railroad service lost $1.085 billion in fiscal year 2014, which was actually an improvement from the year before. Its Internet is patchy and its food is suspicious. The majority party in Congress hates it so much that the House Appropriations Committee slashed its funding by $251 million on Wednesday even as crews were still cleaning up what Philadelphia's mayor called "an absolute disastrous mess."
But those who take Amtrak speak in glowing, even nostalgic terms about their experiences. On routes to and from Wilmington on Wednesday, riders told me their favorite stories -- a ride with a car full of fellow St. Louis Cardinals fans to a baseball game at Yankee Stadium, an overnight trip to Miami with a mom who feared flying -- and trumpeted the train's virtues.
"I'm not nervous, but my sister-in-law was texting me last night, asking whether I was on the train. She's a worrier," said Cecilia Wyand, owner of a 10-ticket pass to ride to Philadelphia and New York City from D.C. "She was supposed to be on Lufthansa flying over the Alps [on a different flight] that day when the plane crashed. So she gets anxious about this stuff. But I like the train. I always felt safer than on a plane. And you can get work done, too."
Fans of Amtrak tend to reside in the Northeast, where the service is more frequent and useful. Of the 30.9 million Amtrak riders in fiscal 2014, 11.6 million of them were in that section of the country. Lawmakers have recognized the regional disparities. The House passed a bill to send much of the money generated on the Northeast lines back into track improvements there. But for transportation advocates, a few hundred million dollars is an insufficiently small Band-Aid. In 2010, a state-and-federal government commission projected that the Northeast Corridor would require $52 billion over 20 years in order to achieve a "state of good repair and build infrastructure capable of supporting passenger rail" demands.
"Congress should feel a little badly about this," said Felice Busto, a labor mediator from Asbury Park, New Jersey, who was heading to a conference in Washington on Wednesday. "They don't put the money into this. Some of these bridges, you take your life in your own hands to go over them. We are living on borrowed time with some of these transportation systems. I don't understand what Congress doesn't understand."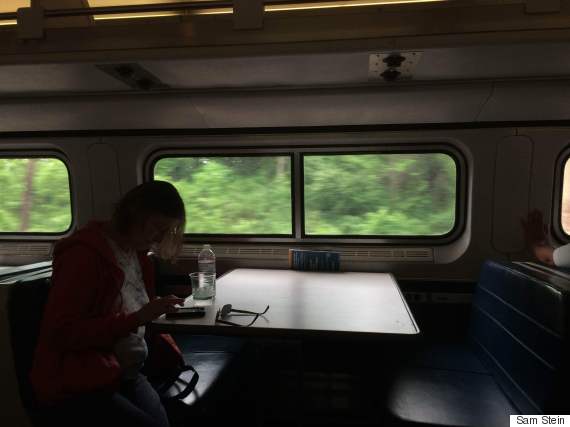 Passenger Felice Busto sits in a quiet cafe car on Wednesday. Roughly 125 passengers were on the train, a total that the conductor said was well below normal.
In recent years, Amtrak has made repairs to the Northeast lines. But more is needed. Prior to Tuesday's crash, the train was moving over 100 miles per hour around a curve with a speed limit of 50 miles per hour, according to the National Transportation Safety Board. Safety technology designed to automatically slow down trains when they are speeding hadn't yet been put in place in Philadelphia despite pressure from officials and lawmakers to have it installed. With that technology, NTSB board member Robert Sumwalt said on Wednesday, the accident never would have happened.
Riding in the cafe car on his way to Philadelphia Wednesday, Alan Johnson couldn't hide his disgust with Congress -- Republicans mainly -- for shorting transportation. Johnson, 72, is a train fanatic. He got his first model train as a kid -- a gift from his father, who secretly wanted to play with it himself. In retirement, Johnson and his business partner started RR In A Box, a company that sells model trains.
As we rode through Baltimore, he unspooled his secrets for enjoyable rail travel. Amtrak, he explained, has a baggage policy that can't be beat. "If you rented a car, you couldn't take as much baggage as you are allowed to on a train." The food on the sleeper car to Florida isn't bad (he recommended the steak, priced at $22, though free with the ticket). The beds, he said, are "wonderful."
"It jiggles like back in the day when you were in your crib. It's remarkably relaxing."
But the pièce de résistance is the booze policy. On the overnight train, Johnson said, you can bring your own beer and the conductor will hand you a bucket of ice.
As he spoke, Johnson peered out the window, pointing out river landscapes along the route. "Oh, isn't that beautiful?" he said. It was a wink-and-a-nod attempt to promote the wonders of rail travel. But as he went on, he grew almost pained that others don't see what he does.
"Amtrak doesn't toot their own horn enough," he said. "They are so insecure. Maybe they feel the Republicans are still trying to beat them down. Or everybody is saying, well, Europe has such great trains and ours are so terrible."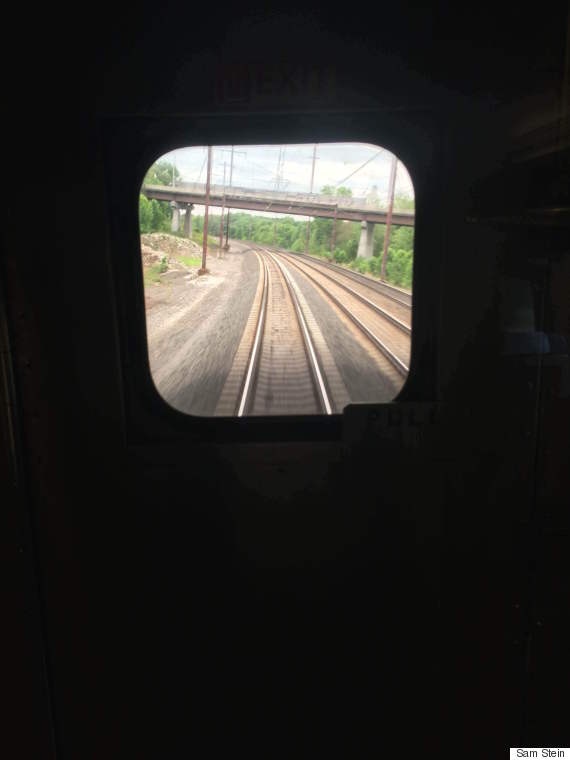 Amtrak Train 174 makes its way from Washington to Baltimore on Wednesday morning.
Jesse Rifkin contributed reporting.
REAL LIFE. REAL NEWS. REAL VOICES.
Help us tell more of the stories that matter from voices that too often remain unheard.
BEFORE YOU GO