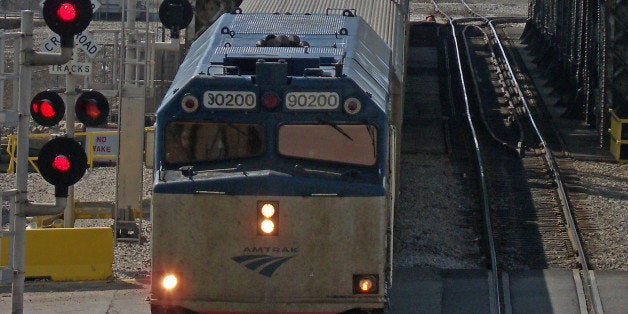 Amtrak says the train, which was headed to New York from Philly, experienced a mechanical issue in the undercarriage of the front cab car, where the driver was.
In an attempt to complete its trip, the train had to turn around so that the locomotive in the back could be at the front, Amtrak spokesman Craig Schulz told The Huffington Post Wednesday over the phone.
"They have to make a K turn and run with the locomotive in front," Shulz said. "It's a rare move they'd never executed in that spot before."
While reversing, the train accidentally went too far down the wrong track, Shulz said. It ended up on local tracks of SEPTA, the Southeastern Pennsylvania Transportation Authority, where Amtrak trains do not run.
SEPTA shut down power to the track when it noticed the foreign train, SEPTA spokesperson Jerri Williams told HuffPost Wednesday. "That will slow the train down," Williams said.
The lumbering Amtrak eventually reached the Bala Cynwyd, Pa., SEPTA station. It came to a stop and received directions to come back to Philadelphia, where passengers were put on a separate train to New York.
The incident happened mid-day on Thursday of last week. As a precaution, the train's engineer and its crew were taken out of service, given tests for drugs and alcohol and additional training before being allowed to return to work this week. The drug and alcohol tests came back clean, Shulz said.
Shulz assured us that no one on the train was ever in ever danger. "The infrastructure worked," he said.
Luckily there were no SEPTA trains on that track at that time, Williams said. "It was the middle of the day, so there was only one train before the morning commuter trains and the evening commuter trains," she said. "There was no chance of an incident."
Related