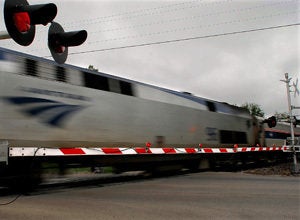 Amtrak in Illinois will receive $80 million in federal stimulus money to modernize train repair centers as well as to improve security and wheelchair accessibility.
That's according to a statement Wednesday from U.S. Sen. Dick Durbin, a longtime advocate of the passenger train service.
The Illinois Democrat says the money is the state's cut of the $1.3 billion set aside for Amtrak in the federal stimulus bill.
Durbin also says federal authorities are allotting $90 million to refurbish train cars for use around the country, including in Illinois.
More than a dozen states, including Illinois, are competing for a piece of a separate $8 billion for high-speed rail in the stimulus bill. That money hasn't yet been allocated.
Amtrak summary of individual state projects: http://www.amtrak.com/pdf/ARRA/Amtrak-ARRA_By-State.pdf.

Related
Popular in the Community