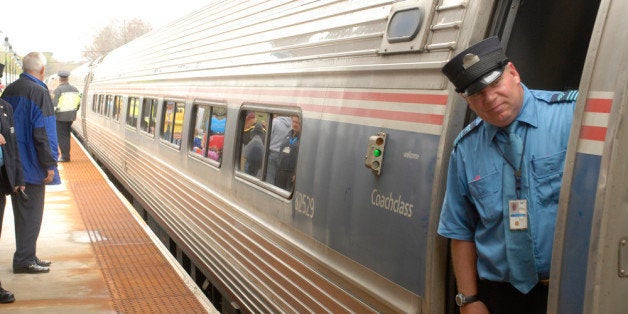 "Is this is a disingenuous program? I would say no, in that this wasn't something that was thought up in our last marketing brainstorm, like, How can we bring buzz for Amtrak? This was something that was thought up by the writing community, and we happened to be in the position to offer them a vehicle," Quinn said.
To be considered for the 2-5 day expenses-paid trip on Amtrak (complete with a private sleeper car, desk and "a window to watch the American countryside roll by for inspiration"), applicants are required to answer a series of questions and turn in an original, previously unsubmitted writing sample that Amtrak can use at its discretion, regardless of whether the applicant wins.
Per Section 6 of the official program terms:
"In submitting an Application, Applicant hereby grants Sponsor the absolute, worldwide, and irrevocable right to use, modify, publish, publicly display, distribute, and copy Applicant's Application, in whole or in part, for any purpose, including, but not limited to, advertising and marketing, and to sublicense such rights to any third parties."
Section 6 only applies to writing samples submitted in the application, though not the work produced from the residency.
Joe Mathewson, an assistant professor at Northwestern's Medill School of Journalism, told HuffPost the issue boils down to what he called "an "individual decision about the tradeoff."
"Applicants have to ask 'is this grant of rights a fair trade?'" Mathewson said. "Even if you're not accepted, [Amtrak] wants the right to use your name. That's a tradeoff -- free travel for the use of your name."
The writer's residency program has already received more than 8,500 applications, Amtrak spokeswoman Christina Leeds told HuffPost via e-mail Wednesday.
While questions remain concerning the program's impact on participating writers, some are already heralding it as a success for the rail service.
Amtrak is accepting applications for the residency until March 31, 2015.
Popular in the Community