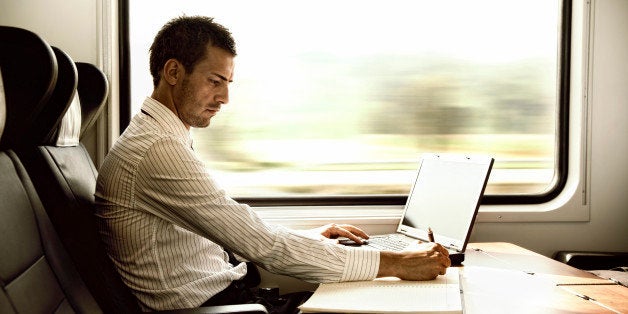 Thanks to novelist Alexander Chee -- who recently expressed his wish to see Amtrak begin a writer's residency -- the railroad service is about to offer exactly that, thus exciting writers everywhere.
During an interview with PEN America in December, Chee said his favorite place to write was on trains. "I wish Amtrak had residencies for writers," he revealed.
The simple quote resonated with a number of fellow writers, who quickly took to Twitter to get the movement started.
Among the proposal's fans was writer Jessica Gross, to whom Amtrak soon reached out to see if she would be interested in a "test run." Gross wrote about her resulting trip in an essay for The Paris Review, where she explained why writers enjoy working on transit so much:
Writing requires a dip into the subconscious. The lockbox, at times kept tightly latched in our daily lives, is pried open, and things leak onto the page that we only half knew were there. Boundaries help to contain this fearful experience, thereby allowing it to occur. Looking around at my fellow passengers gives me an anchor to the world: my fantasies, my secret desires, aren't going to get anyone killed. We're all okay here; we're all here, here.
The nascent program hasn't been fleshed out completely, but officials at Amtrak appear willing (if not just as excited as we are) to see through the residency's success. The Wire spoke to Amtrak's social media director, Julia Quinn, who said interested writers can apply for the program by simply tweeting at the company's account.
While there is no set destination for accepted writers, Quinn says the focus is on long trips.
Related
Popular in the Community