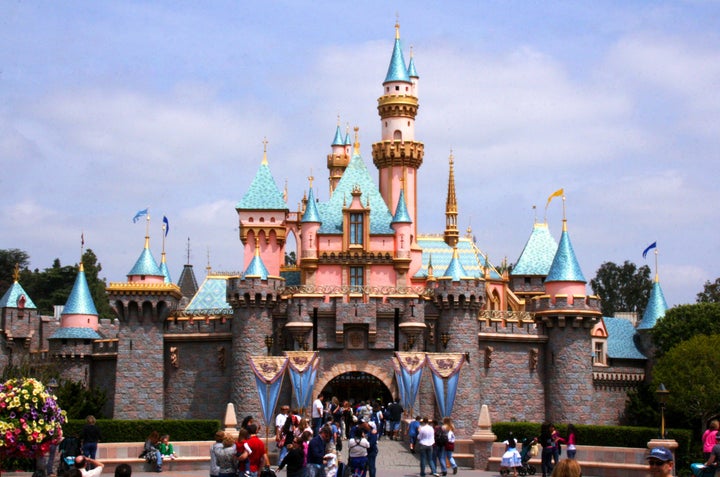 is one of the world's most popular amusement parks. With rides and shows that feature classic characters like Mickey Mouse and Cinderella as well as characters from newer movies like "Pirates of the Caribbean" and "Prince of Persia," the park offers tourists a one-of-a-kind pop culture experience regardless of age. The amusement park is also a great destination for children, who can have their pictures taken with Disney princesses and mingle with Buzz Lightyear at Space Mountain.
is Disneyland's premier roller coaster. It's an indoor experience featuring a special musical soundtrack and set up to make the riders feel like they are rocketing through outer space as they head directly into a black hole. The coaster is 100-feet high, hits top speeds of 29 mph and lasts almost three minutes.
The
features rides based on the characters from classic Disney movies, such as "Peter Pan" and "Alice in Wonderland" as well as newer attractions based on "Indiana Jones" and "Pirates of the Caribbean." The park also features performers walking around the park dressed like classic Disney characters to meet and greet the kids.
Disneyland offers many areas to eat around the amusement park. The park includes a barbecue joint in Adventureland, a bakery on Main Street USA and a pizzeria in Tomorrowland. There are more than 20 restaurants in the amusement park.
lists incidents at amusement parks and there have been no serious accidents reported at Disneyland since 2005. However, from 2000 to 2013, there were 13 reported incidents. Three of the accidents resulted in death.
While there are many thrill rides at Disney California Adventure, the
is possibly the best attraction in the park. Based on the classic television series, the ride is a drop ride in the haunted elevator. As you rise to the top, you pass floors and see ghostly glimpses at those who never made it out.
While smaller than Disneyland, there are still many thrill rides in the California Adventure Park. Many of the attractions are based on Pixar properties, such as "A Bug's Life," "Monsters Inc.," "Toy Story" and "Cars."
While visiting the park, you can eat hot dogs at Award Wieners, enjoy wine at the Mendocino Terrace and have some ice cream at the Paradise Pier Ice Cream Co. For those looking for something more exotic, there is Mediterranean food at Paradise Garden Grill and Asian cuisine at The Lucky Fortune Cookery.
reports that a 20-year-old male fell close to 20-feet from the Twilight Zone ride. Five other incidents have been reported at the Disney California Adventure Park since 2000.
Related