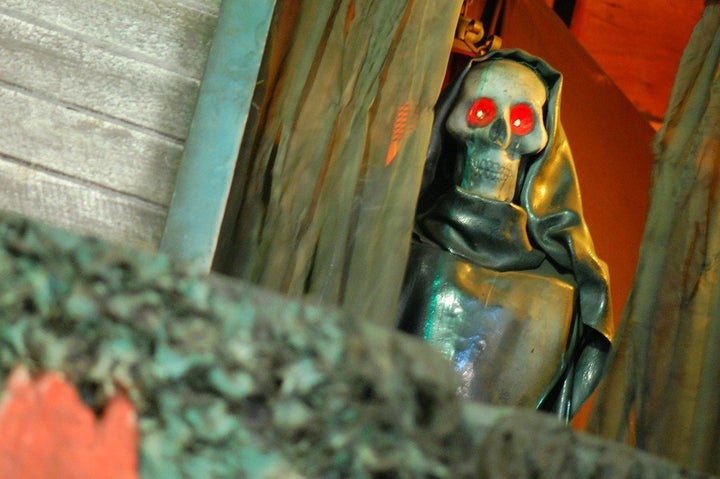 Amusement parks in Delaware usually mean a combination of go-kart racing and miniature golf. For thrill rides, try the boardwalk in Rehoboth, visit nearby parks in New Jersey or Pennsylvania or hit one of the big festivals held during the summer, including the St. Anthony's Italian Festival in Wilmington and the Delaware State Fair in Harrington. As part of a Huffington Post Travel series on family-fun parks, here is our guide to all the key information visitors need to know about Delaware amusement parks.
Funland
is an old-fashioned boardwalk amusement park in Rehoboth Beach with outdoor and indoor rides and a giant arcade. Family run since 1962, Funland is one of Delaware's most family-friendly beach traditions, with something for all ages.
Signature Ride
ride draws fans of funhouses and dark rides from all over the country. Creepy enough to entertain teens, but not too scary for most younger kids, it's a must-ride. There will be a line for this one, especially on weekends, but lines move quickly.
Rides For Everyone
is the biggest, most thrilling ride at Funland -- even more so because it seems like it will hit the nearby family house every time the giant dragon boat swings upward. Other rides include the bumper cars, Paratrooper, Gravitron, SuperFlip and lots of smaller rides for big and little kids, including a classic carousel. The arcade includes a variety of pinball games.
Food Options
With its prime boardwalk location, Funland is an amusements-only attraction. There is plenty of food available along the boardwalk, including Grotto Pizza and Dolle's Saltwater Taffy.
Safety Record
Our research revealed no notable news reports of accidents or safety issues at Funland.
Address: 6 Delaware Ave., Rehoboth Beach, DE 19971 Phone: 302-227-1921 Hours: Funland is open daily from Mother's Day weekend through Labor Day weekend. Hours vary and are subject to change, but through most of the summer, games open at 10 a.m., rides open at 1 p.m., the Haunted Mansion opens at 6:30 p.m. and everything closes at around 11 p.m. Price: It's free to enter Funland; rides and games vary in price but are inexpensive and available on a pay-as-you-go basis.
Midway Speedway Park and White Water Mountain
With five go-kart tracks with vehicles designed for every age and level, Midway Speedway Park, located near the beach in Rehoboth, is the place to go for racing action for the whole family, plus miniature golf, bumper boat and water park fun.
Signature Ride
Without a doubt, Midway Speedway Park's signature ride is the go-karts. Adults and teens can race the Outlaw Sprint Karts, Midget Karts and Slick Karts; families can share rides in the Family Karts on the Grand Prix Track; and younger kids can drive themselves in the Jr. Stock Karts and Kiddie Karts.
Water Attractions
is a full water park with giant slides, flumes, a lazy river and pools. Fire Mountain offers 18 holes of miniature golf, with water features, fountains and the
volcano. Other attractions include bumper boats, a climbing wall and the Gravity Storm jumping ride.
Food Options
Tropical Treats offers tropical-themed goodies and other snack bar items. Outside the park, but right by the entrance, is Adriatico Italian Restaurant in the Midway Shopping Center.
Safety Record
Our research revealed no notable news reports of accidents or safety issues at Midway Speedway Park and White Water Mountain.
Address: 18645 Coastal Highway, Rehoboth Beach, DE 19971 Phone: 302-645-8064 Hours: Open daily from Memorial Day to Labor Day from 10 a.m. until 8 p.m. Snack bar closes at 6 p.m. Price: A Full Park Pass is $35.99 and includes the water park, four tickets for dry rides of your choice and a round of miniature golf. Tickets to individual attractions are $6 and $7, depending on height. All-Day Slides and Pool tickets are $17.99 for those taller than 42 inches and $15.99 for those shorter than 42 inches. Pools-only access is $13.99. Military discounts, combos and reduced evening rates are available.
Other Noteworthy Parks
What's your favorite amusement park in Delaware?