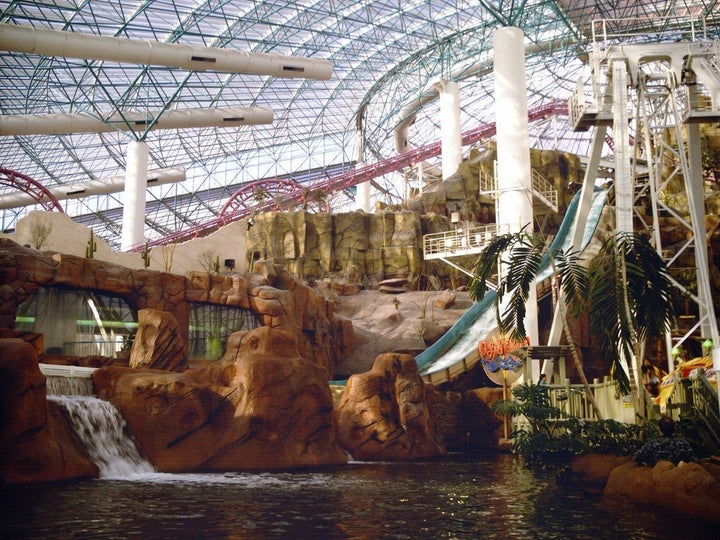 Part of the famous
Hotel and Casino,
offers diversion for guests young and old. The park's combination of exciting thrill rides, 4-D movies, arcade games and shows make a day-pass well worth the price.
As its name suggests, the Sling Shot shoots passengers up a 100-foot-tall tower with four Gs of force. The free fall back down is also a major thrill.
Adventuredome has a number of 4-D film
at their FX Theater featuring characters from SpongeBob SquarePants, Dora the Explorer and Happy Feet. There is also an arcade within the park with video and carnival games.
Adventuredome has several snack bars with basics such as hot dogs and nachos.
According to their
, the Adventuredome Theme Park was awarded a Top Safety Award by Recreation Engineer. However, incidents have occurred. In July of 2008, according to
, a 12-year-old girl died a few days after going into cardiac arrest on the Canyon Blaster roller coaster.
looks like a giant teeter-totter, but this is no child's toy. It dangles riders 27 feet over the edge of the Stratosphere Tower before pulling them back.
The Stratosphere has both an indoor and outdoor
for great views of Las Vegas. The hotel and casino also offers stage shows and live entertainment.
The Tower at the Stratosphere is home to three restaurants. Top of the World is a revolving restaurant that sits 800 feet above the ground serving seafood and steaks. Level 107 Lounge is open in the evenings and offers an extensive appetizer, dessert and cocktail menu. Tower Pizzeria serves cheesy pies, salads and sandwiches.
While incidents concerning thrill rides at the Stratosphere Tower are uncommon, problems have occurred. According to
, a teenager and her 11-year-old cousin were left stranded on the
in 2005 when the ride instantly shut down due to high winds. The two were stuck at 906 feet above the Las Vegas strip.
Popular in the Community