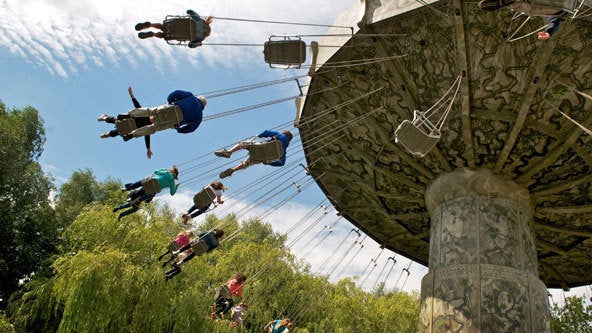 has nine themed lands -- including the Forbidden Kingdom, Mystic East and Pirates Cove -- as well as a zoo and sea life center. The attractions range from more exhilarating rides for adventurous guests to kid-friendly attractions in Toytown for smaller visitors. The Chessington Zoo boasts more than 1,000 animals in exhibits like Lorikeet Lagoon, Monkey and Bird Garden, and Penguin Cove and Otters. It is celebrating its 80th birthday in 2011. The Sea Life Centre features interactive rock pools, daily talks and feeding sessions, a walk-through ocean tunnel and Azteca, a new feature in 2011 that showcases a lost undersea empire with sharks, rays and parrot fish.
Chessington's 30+ rides include
that spins through the air on a 295-foot track at 43 mph. On
, riders travel on 1,772 feet of track in groups of four, seated back-to-back in pairs. Along the way, the ride twists, turns, dips, dives and spins, but no ride is ever the same, as the spinning motion depends on who sits where. Riders travel at 45 mph and reach a height of 59 feet.
. It's an indoor water ride that enables riders to float through chutes and fountains.
Other noteworthy rides include
, a roller coaster with an overhead track and one of the lowest height restrictions in Europe at 3.6 feet, and
, a roller coaster that takes riders through an old Mexican silver mine.
Cuisine varies depending on the themed land but includes pizza, pasta, English pub fare, barbecue, Mexican dishes, rice dishes, noodles, fish and chips, sandwiches, pies, pastries, potatoes, fried chicken, pancakes and ice cream. There is also a Burger King in Transylvania.
A family was recently upset after seeing
who had escaped from their enclosure and gotten into the lions' cage. Also, a man was recently convicted of
in the early 1990s. However, there are no other recent accidents or safety concerns at this park.
. It gives riders a spiraling 64-foot descent and the "never-ending spin of a rapidly turning life raft," according to the park's webpage.
Thorpe Park also features
, a horror-movie-themed coaster with a fall of more than 100 feet and three inversions. Other rides include
, which goes from 0 to 80 mph in less than two seconds;
, an "inverted Hell ride into the fiery pit of a volcano";
, which has 10 vertical loops and a quadruple corkscrew; and
, which offers an 85-foot drop into water.
Thorpe Park offers a range of food, including Mexican cuisine, burgers, barbecue, fish and chips, noodles, hot dogs, kebabs, coffee, ice cream and doughnuts.
There are no recent accidents or safety concerns at this park.