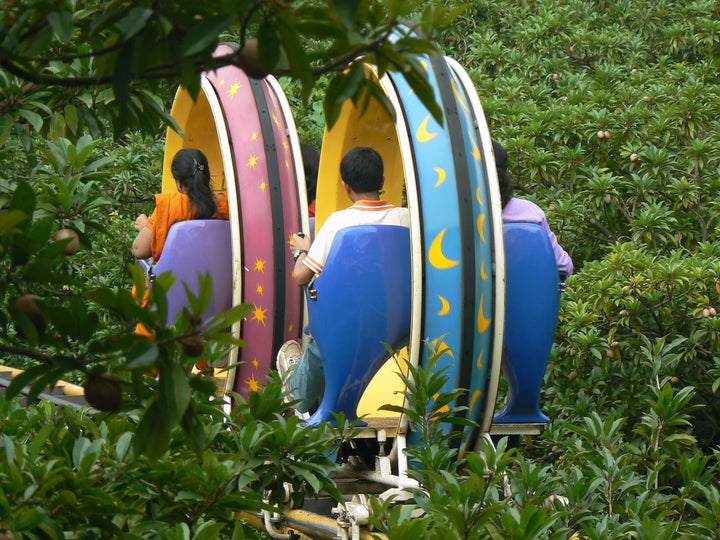 Amusement parks in Mumbai cater to the business capital's ever-burgeoning population, finding unique ways to draw the ample crowds to their grounds. Whether it is fulfilling the need for an adrenaline rush or satisfying the desire to return to nature, these parks have something for everyone. As part of a Huffington Post Travel series on amusement parks, here is our guide to all the key information that visitors need to know about Mumbai amusement parks.
Tikuji-ni-wadi
offers an array of scenic family fun 25 miles outside of Mumbai. The resort has an amusement park, water park and lodging, but its standout-overarching feature is its one-with-nature vibe. Not only does the park span 20 acres of luscious greenery, but also the rides incorporate Mother Nature by providing a stunning backdrop to numerous rides. This is not the place for thrills du jour; it's more like an amusing respite from the bustling city.
Out-Of-This-World Ride
Kids can bike above the greenery on the
. The ride whizzes along 640 feet of track suspended in the air at treetop levels on out-of-this-world UFO seating.
Other Attractions
The park has a spaceship coaster that revolves 360 degrees and a spin coaster that reaches high speeds. Also on site: go-karts for driving enthusiasts and a safari ride through the jungle.
Dine Among The Trees
The aptly named Tree Top restaurant boasts views of trees, the water park and nearby mountains. Vegetarian cuisine is the staple here, with both snack and meal options.
Safety Record
Our research revealed no notable news reports of accidents or safety issues at Tikuji-ni-wadi. The park claims everything has been built by international standards. One
for the Website ThemeParkReview.com said his time there was underwhelming, and he was told to wait for other people to balance out the rides in order for them to be safe to ride.
Address: Tikuji-ni-wadi Road, Manpada, Chitalsar, Thane, Mumbai, 400607
Phone: 011-91-22-2589-2062
Hours: Daily from 11 a.m. to 7 p.m.
Price: $8.55 for adults and children taller than three feet. Food is an extra $3.30 per person.
Essel World
Essel World deems itself India's largest amusement park, catering to families, adults and children with rides both whimsical and adventurous. On top of 64 attractions, this older sister park to Water Kingdom hosts special events such as summer carnivals, parades, rain dances and "live statue" demonstrations. Popular host and Bollywood actor Ranvijay inaugurated the 2010 arrival of the scare-inducing ride Monsters in the Mist.
Thunder Thrills
The crowd-favorite
is both thrilling and scary. The rotating ride leaves it passengers suspended upside down in the air until they are spun around again and again.
Other Attractions
The new children's ride Aero Swinger gives the illusion that you are soaring through the sky in a biplane. The Zyclone speeds its way through the park, and heat-averse park guests can visit the city's first ice skating rink. History buffs can also tour an original navy ship that played a vital role in the India-Pakistan War in 1971.
Food From Around The World
A wide range of food is available at Essel World, from South Indian treats like sambar and rasam to the American pizza chain Domino's. Guests can also pick from popular vegetarian menus or Chinese soup and noodle offerings.
Safety Record
Our research revealed no notable news reports of accidents or safety issues at Essel World. The park has been acknowledged by the
. According to the organization, VP and COO Anand Lamdhade has also spoken there on matters of safety in the past.
Address: Gorai Village, Borivali (W), P. O. Box No. 19710, Mumbai, India
Phone: 011-91-22-6528-0305
Hours: Daily, 10 a.m. to 8 p.m.
Price: Weekday single park entry: $6.30 for children or seniors, $10.70 for adults. Weekend single park entry: $8.50 for children or seniors, $12.85 for adults.
Other Noteworthy Parks Near Mumbai
What's your favorite amusement park in Mumbai?