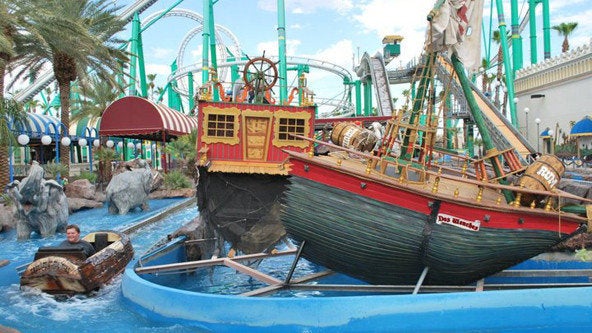 is a classic amusement park in north-central Phoenix featuring two steel roller coasters, an old-fashioned carousel, a miniature golf course and arcade. This small amusement park offers a nice range of attractions that will appeal to the very young and old alike.
Thrill-seekers from far and wide come to ride the
. This is one of Arizona's most exhilarating coasters, featuring loops, twists and vertical drops that will have riders hanging on for dear life.
The
is a popular zip-line attraction that lets guests soar across the park. If you're feeling competitive, test your balance, agility and courage on the 28-element, three-story
obstacle course.
Castles 'n' Coasters has a wide selection of snack bars and vendor carts. Pizza, ice cream, popcorn and other typical amusement park fare are available for sale.
Our research revealed no notable news reports of accidents or safety issues at Castles 'n' Coasters.
Most visitors will not want to leave the park without careening down the
, a 1,200-foot-long course featuring hairpin turns and S-curves. A separate
course with safe, full-bodied miniature racecars is available for the little ones.
The
is one of the newest and most exhilarating attractions at Cracker Jax. The immense dome features four bungy stations where kids and adults can jump up to 30 feet into the air.
There is a full kitchen and dining room inside the clubhouse at Cracker Jax that serves pizza, hamburgers, hot dogs, grilled chicken sandwiches, chicken tenders and sides. Snacks and fountain drinks are also available.
Our research revealed no notable news reports of accidents or safety issues at Cracker Jax.