"I don't dream this big. This is Technicolor, folks. This is crazy."
That's what Amy Adams told "Entertainment Tonight" during her debut trip down the Oscar red carpet back in 2006. She was nominated for her breakthrough role as an earnest, pregnant small-town 20-something in "Junebug." It marked the first time Adams showcased her reliable awards candor -- she hadn't yet belted out a Disney original, become a staple of best-dressed lists or shimmied with Pharrell Williams.
From the moment her Hollywood star began ascending to its zenith, Adams became one of today's most barefaced red-carpet dignitaries. When the Orlando Sentinel asked whether she'd tuned in as the nominations were announced, Adams didn't pivot by saying her agent had woken her with the news. She didn't act like she needed to tend to family before discovering her awards fate. "The good news was this: It was, like, the first name called out, first nomination announced. I didn't have to wait and suffer," she said. "I am not one of those people who's too cool to not care. I woke up and sat myself down on the couch to watch the nominations. Wouldn't you? [...] I was up at 5 o'clock in the morning, so you know I was hoping."
Adams seems to have spent every year since hoping, too. Before "Junebug" made her an awards contender, she garnered praise for roles that never managed to give her name so much as a twinkle. Fans of "Drop Dead Gorgeous" adore Adams as Midwestern beauty-pageant sexpot Leslie Miller, but that film went nowhere critically or commercially upon its release. During the stint between that and "Junebug," Adams appeared in duds like the direct-to-video "Cruel Intentions 2" and the Matthew Perry-Elizabeth Hurley comedy "Serving Sara." She smooched Leonardo DiCaprio in "Catch Me If You Can," but she also played Debra Messing's betrothed sister in the critically reviled "The Wedding Date." Adams was making the rounds, but no one knew it yet. Even Allison Janney needed to be reminded that Adams had starred alongside her in "Drop Dead Gorgeous" when the two reunited on "The West Wing" in 2002.
But eight years after her first invitation to the Kodak Theater, Adams boasts five nominations. That puts her on par with the likes of Tom Hanks, Audrey Hepburn, Susan Sarandon, Elizabeth Taylor and Sean Penn. If this year's "Big Eyes," in which she portrays painter Margaret Keane, lends Adams her sixth, she'll join the ranks of Cate Blanchett, Vanessa Redgrave, Ellen Burstyn and Jeff Bridges.
That's a long journey for someone who, when HuffPost Entertainment sat down with Adams to discuss "Big Eyes" earlier this month, recounted crying on the street while holding a Slurpee after first moving to Los Angeles in her early 20s. "I crossed the street and I had the walk sign and somebody yelled out their window, 'Watch where you're going, you dumb effing blonde,'" she said. "And I started crying, and I was like, 'Why is everybody so mean?' I felt like Giselle when the old man steals the crown, like, 'You are not a very nice old man!' That was me. I was literally crying holding a Slurpee and I literally could not think of anything more awful. I was definitely naive."
The Giselle she's referring to is, of course, her character in "Enchanted," Adams' first starring role and her second source of Oscar buzz. That nomination didn't come to fruition, but she did land a Golden Globe nod. (She also performed "Happy Working Song," one of three "Enchanted" ditties up for Best Original Song, at the 2008 Oscars.) Adams' sudden leading-lady status seemed to atone for the years we let her drift into the background of undistinguished movies. After roles in Mike Nichols' "Charlie Wilson's War" and the charming "Miss Pettigrew Lives for a Day" -- New York Times critic Stephen Holden called her performance in the rom-com "screen magic" -- America had a sense of what Adams could offer: well-intentioned characters whose confidence is belied by their impossible kindness. ("I enjoy playing upbeat characters, I really do, because you take your characters home with you whether you intend to or not," she said when asked about potential typecasting in 2008.)
Ditto with "Doubt," Adams' first role opposite Meryl Streep and her second with Philip Seymour Hoffman (after "Charlie Wilson's War"). "Sunshine Cleaning" co-star Emily Blunt had read the script and brought it to her attention, saying she should go after the role of Sister James, the meek nun who comes between vicious Sister Aloysius (Streep) as she accuses Father Flynn (Hoffman) of inappropriate behavior with a student at a Catholic school. (Blunt reportedly said she wasn't right for the part.)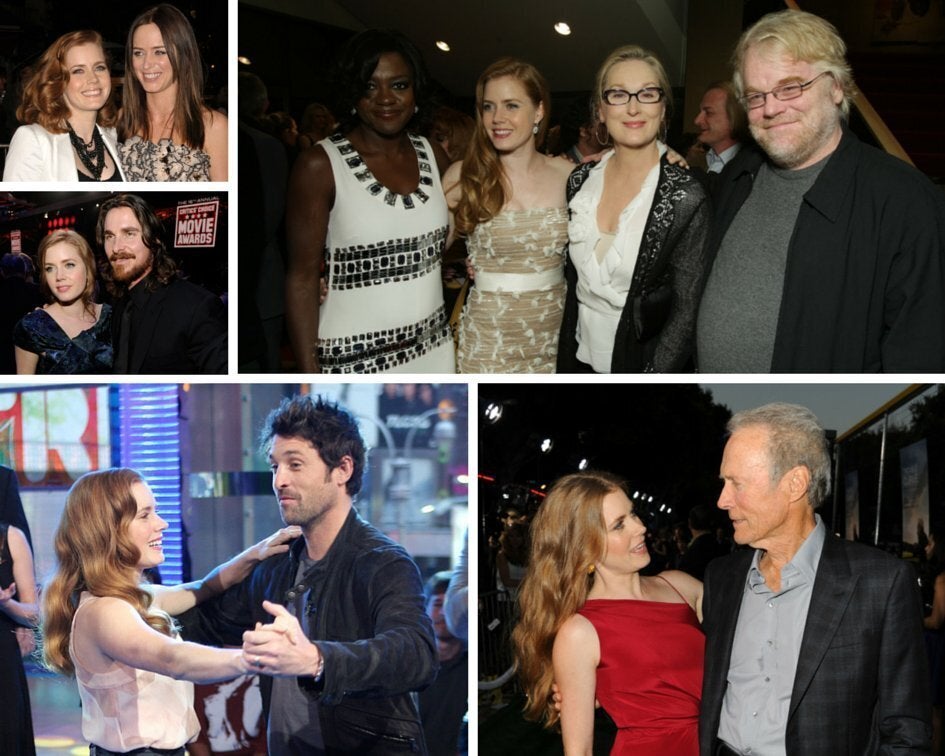 "Doubt" secured Adams' second Oscar nomination, three years after her first. She was never the front-runner opposite Penelope Cruz ("Vicky Cristina Barcelona") and Marisa Tomei ("The Wrestler"), who between them collected the bulk of the critics' and smaller voting bodies' prizes. But it's "Doubt" that proved precursor awards weren't a prerequisite for Adams to attract the Academy's attention.
She then dotted her résumé with more girl-next-door parts: the second "Night at the Museum" movie, "Julie & Julia" (her second film with Streep), the weak rom-com "Leap Year." That is, until "The Fighter" rolled around, and Adams proved that her sweetheart image was secondary to her craft. She traded her ball gown and religious habit for a bartender's uniform, portraying a brassy Boston gal who isn't afraid to slap her boxer boyfriend's sister. In fact, director David O. Russell said he cast her because she is actually "so not a princess type."
"I didn't even think I'd ever have a national commercial, let alone three Oscar nominations," a 36-year-old Adams told Entertainment Weekly on the morning her "Fighter" nomination was announced. "It is insane. I don't know exactly how I got here, but I feel really fortunate to be here. And it's a historic day because Christian Bale got nominated, finally."
But Adams' sweetheart status didn't dwindle, not even after her fourth nomination came for Paul Thomas Anderson's 2012 Scientology meditation "The Master." Playing the strong-willed wife of cult leader Lancaster Dodd in her third role opposite Hoffman, Adams used that movie and the 2013 caper "American Hustle" to verify her wide range. In the former, she gives Hoffman a hand job in their bathroom while coaxing him to do her will; in the latter, she smooches Jennifer Lawrence during a quarrel in a hotel bathroom. (The kiss, not in the original script, was Adams' suggestion.) Suddenly, despite a still relatively new spot on the Academy's pedestal, Adams was placed in the proverbial "overdue" camp.
"The Fighter," "The Master" and "American Hustle" prompted the moviegoing public to assign to Adams the tenuous idea of playing against type, a notion that led to Oscar nominations for Deborah Kerr ("From Here to Eternity"), Mary Tyler Moore ("Ordinary People"), Tom Hanks ("Philadelphia") and Jonah Hill ("Moneyball"), among others. Those three roles alone precluded Adams from a résumé that could have devolved into middling rom-coms and half-baked awards bait.
"There was something about ['The Master'] that warped my brain."
"There are different things," Adams said when we asked which Oscar-nominated performance she's proudest of. "I was really proud of 'Junebug' in that it's a performance I gave in a bubble. But in a way that's why it was one of my favorites, because there was no expectation for that performance. Other than that, I would say 'The Master.' I really, really loved making that movie with those actors. There was something about it that warped my brain."
"Julianne Moore," she said of who's been snubbed, before we could even ask for an opinion. "I'm just gonna lay it out there. Come on now!"
But what of the idea that two stars are juxtaposed according to their awards fate?
"No no no, let's just say two women," she said. "They always like to peg us. I can't think of anyone -- I mean, I can think of a couple people -- who I'd love to see hold a statuette as much as Julianne. What, I'm going to be upset that she's getting the attention that she has long deserved and done the work for? No, I want to see more of her work. Let's keep it coming, Julianne. She's so fearless. Just to be mentioned in the same sentence as her. I remember watching 'The Big Lebowski' and 'Boogie Nights' and thinking, 'Oh, my goodness, she's just so brave and so present and she makes these brave performances seem effortless.'"
Of course, Adams has changed some since her first trip to the Oscars. She was 32 then; now she's 40 and has a daughter. Remember how forthcoming she was about the anxiety over her first nomination in 2006? By her fifth nod, in 2014, Adams' reaction was that of someone who's much more acquainted with her Hollywood status: "It's a very good thing to wake up to; we were all asleep! [...] As for celebrating today, maybe we should go out for a family hike? Then again, everyone looks pretty tired around here right now!"
Parenthood softens many people, but Adams' roles have only grown more daring. She's back to portraying an ostensibly mousy character with "Big Eyes," but the Tim Burton-directed biopic is sandwiched between three stints as Lois Lane (2013's "Man of Steel," 2016's "Batman v Superman: Dawn of Justice" and 2017's "The Justice League Part One") and a role as Janis Joplin in a forthcoming biopic.
Maybe that's why the Oscars love her -- because she has both evolved and remained the same charming lady who, as she told us, jokingly punched Kirsten Dunst on the set of "Drop Dead Gorgeous." She didn't need a comeback narrative like Marlon Brando or Matthew McConaughey in order to ripen, and she likely never will. It's also because Adams says she's seen her fair share of Walter Keane types -- he being the husband who stole credit for Margaret's kitschy paintings -- and has remained resilient. (Just days ago, for example, she was reportedly booted from a "Today" show interview because she said she'd rather discuss her film than the Sony cyber-attack.)
"I met them long before any awards. They exist or they don't exist," Adams said of Hollywood's Walter Keane replicas. "I don't think awards season brings it out in them. Or I don't think it creates it in them; I think it brings it out. I try really hard not to get caught up in that stuff. I never feel like I've lost because I haven't been nominated or I didn't win something. I feel so lucky to be even talked about. Even if it's being trashed as undeserving, it's like, well, at least I'm in the conversation, which I wasn't for a long time."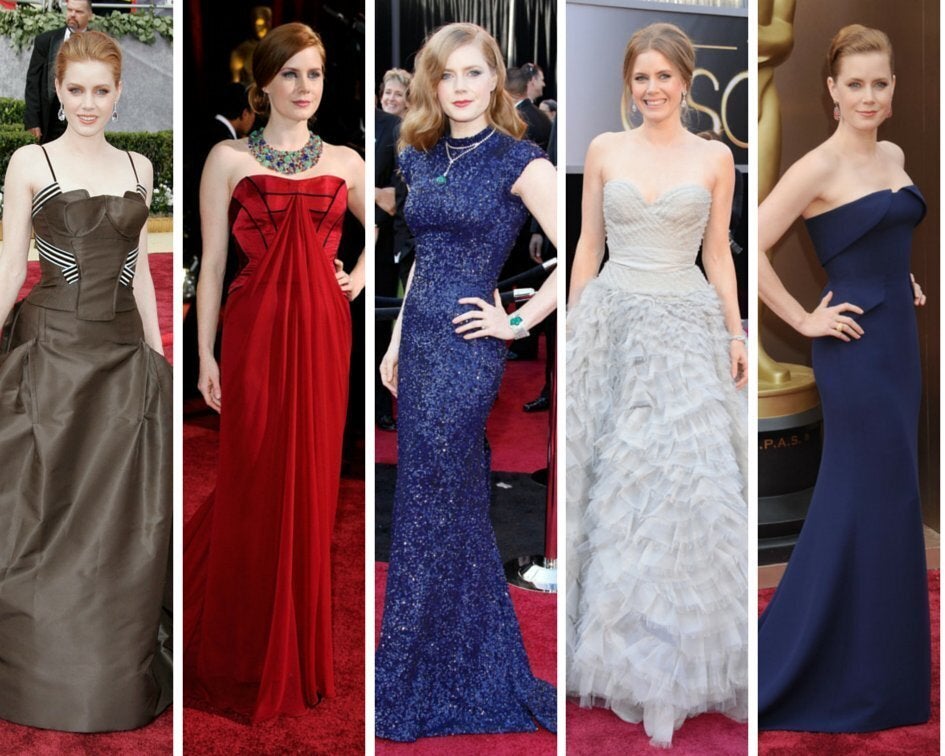 That carries over to the threads Adams wears to the Oscars each year. She says it's not in her "nature" to try to stand out, so she prefers to wear gowns that don't cause much of a fuss. Yet her favorite is the most elaborate of them, again emphasizing the dichotomy that people appreciate about her.
"The Oscar de la Renta I really liked -- the big one," she said, referring to the dress she wore in 2013 (the fourth image in the collage above). "I literally told myself, 'You don't have to disappear on the red carpet.' I wish I could be like this big on the red carpet. [Adams gestures to indicate "this" means "small."] It's just not my nature to try to take up space. What I liked about that is, I said, 'Okay, if I was a 12-year-old and I was told I was going to the Oscars, what would I want me to wear? Let's give in to the fantasy of the Oscars for a second. So I decided I'd wear a big dress."
Adams submitted to the fantasy of the Oscars, and the Oscars have submitted to her talents. After a focused conversation about "Big Eyes" and other industry chatter (it should be noted that Adams loves Amy Poehler's new book), we rose to part ways, but not before squeezing in a question about "Drop Dead Gorgeous," her first movie.
"I always say that, leading up to the Oscars, 'I ran three miles a day, all on about 300 calories,'" she said, morphing into her character's Midwestern lilt. "I know I'm misquoting it. 'I was ready.' That's what I feel leading up to the Oscars."
"Big Eyes" is in theaters now. The Oscar nominations will be announced Jan. 15.
Calling all HuffPost superfans!
Sign up for membership to become a founding member and help shape HuffPost's next chapter