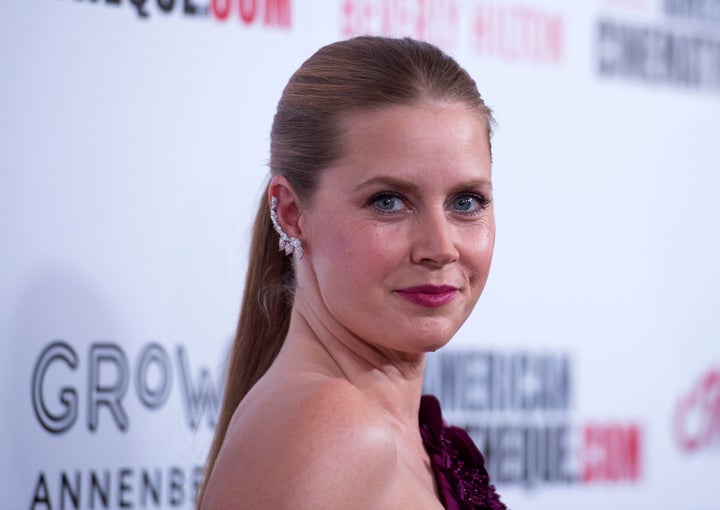 Amy Adams has a good amount of clout in Hollywood. But many lesser-known actresses aren't as lucky.
On Wednesday, Adams, a two-time Golden Globe winner,  shared with The Hollywood Reporter an eye-opening experience she had on the set of her new HBO series, "Sharp Objects," in which she stars and served as an executive producer.
She said there are scenes in the show in which her character is covered in scars. Because of this, her stand-in, a woman Adams refers to as Reb, had to be covered in prosthetic scars as well.
"She was fantastic, and she also put up with a lot 'cause she wasn't getting the sort of catharsis from the performance and she wasn't treated the same way I'm treated," Adams said. "And I've never experienced this before but, because we looked so much alike, at one point somebody grabbed me really hard and pulled me. I went, 'What's going on?' And they're like '(Gasp) You're not Reb!' I went into producer [mode] and I was like, 'You will not handle her like that.'"
Adams, 43, also talked about the Me Too and Time's Up movements during her interview and why she has no desire to be a poster girl for pay disparity in her industry. This comes in contrast to her "American Hustle" co-star Jennifer Lawrence, who wrote a now famous essay about the Hollywood pay gap after a leaked Sony email revealed the surprising pay disparity between that movie's male and female leads. 
"I know what my truth is, I know what I fight for and the things I let go of based on them saying, 'Take it or leave it,'" Adams told THR, adding that she doesn't want to speak about the issue until she's fully educated on pay inequality in other industries as well.
"As much as I love Jennifer Lawrence, she doesn't need me to be her voice. She has her own voice," Adams said. "And if I'm going to use my voice to talk about pay discrepancy, it's going to be for women who don't have the same platform as me."
REAL LIFE. REAL NEWS. REAL VOICES.
Help us tell more of the stories that matter from voices that too often remain unheard.