Brides and grooms planning to have a dessert buffet at their wedding are probably familiar with Amy Atlas, the Sweets Stylist. Putting together a creative table with an array of pastries, candies and chocolates isn't as easy as simply taking a trip to the candy store. To ensure that your dessert table looks (and tastes) its best, check out Amy's new book, "Sweet Designs: Bake It, Craft It, Style It," filled with styling tips, crafting how-tos and recipes to help brides (and moms and hostesses too!) construct a beautiful and delicious table for their wedding or shower. I spoke with Amy about how a bride can dress up a dessert table for her reception or after-party. Here's what she had to say:
Why did you decide to write a book about dessert tables?
The book isn't all about dessert tables. I wanted to create both an inspirational book filled with creative ideas but also contain the resources and instructions for sweet styling. It's about dressing up desserts, marrying baking and crafts and coming up with fun ideas for a wedding, bridal shower or any party.
Besides your book, where can a bride look for inspiration?
I want to encourage brides to look for inspiration everywhere -- to think out of the box. For example, one idea in the book, Perfectly Preppy, was inspired by a few of my husband's ties. The four places I like to look for inspiration are color, pattern, destination (or location) and fashion. A wedding on a beach will have a very different look and feel than a wedding in a vineyard or ballroom.
It's important to note that any of the table designs in the book can be designed with a different color palette. A bride should take ideas she likes and transform them into a design that will work best for her wedding's palette and theme.
When should a bride start designing her dessert table?
It's very important a bride doesn't overlook the planning factor. It takes a lot of time and planning to create a dessert buffet whether you're building it yourself or working with a caterer, wedding planner or florist to set it up at the wedding.
Start working on the design of the table and type of sweets a few months before the wedding and map it out. Practice putting it together so you know what it will look like and where each item will be placed. Once you finalize the design in your home, take photos of it and show them to whoever is going to be setting it up at the wedding.
Can you share some key tips to setting up a dessert table?
· Put a variety of desserts and candy on your table so guests have an array of flavors to choose from.
· Make sure you have a nice amount of height and that it's not all flat. You should have three levels so the eyes have a place to go. They can be set either symmetrically or asymmetrically.
· Place flat platters in the front and the taller vessels in the back.
· Have lots of scoops.
· Make sure you setup for replenishing. Have backup platters prepared so a waiter can easily swap out an item and it will look the same as the item it's replacing.
Are there other ideas a bride can get from Sweet Designs?
Absolutely! If a couple is serving their wedding meal buffet-style, they can take the linen and signage ideas from any chapter in the book. There are also ideas to make candy and baked goods your wedding favor.
Speaking of wedding favors, what are some tips when choosing sweets as your favor?
Candy, if sealed tightly (for example in a cello bag) and kept at room temperature can be made weeks ahead of the wedding. But if you want to pass out pastries, cookies, brownies or mini pies, you have to make them a day or two before the wedding so they're fresh. Another option is baking and freezing sugar cookies in advance and defrosting them a day or two before the wedding. You want to make sure any baked goods are served are as fresh as possible. One idea from the book you can prepare weeks ahead of the wedding is to make jars of honey your favor.
Below, photos from "Sweet Designs":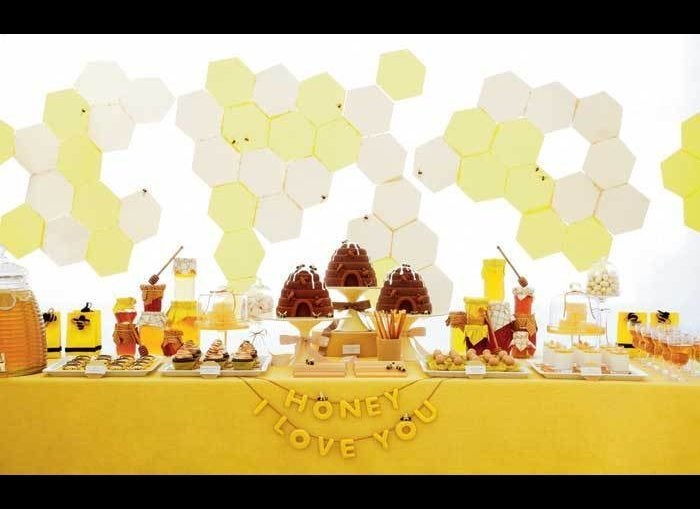 Amy Atlas

"Sweet Designs: Bake It, Craft It, Style It" is available in bookstores and on Amazon.com
Popular in the Community