Food Informants is a week-in-the-life series profiling fascinating people in the food world. We hope it will give you a first-hand look at the many different corners of the food industry. Know someone who would make a great Food Informant? Tell us why.

Amy didn't dream of a career in the food industry. She spent 12 years as a Career Counselor and by 32 she was working at New York University teaching seminars such as Don't Quit Your Day Job and The Quarter-Life Career Crisis. That is, until she had a (slightly delayed) quarter-life crisis of her own. After a series of single-girl-in-the-city heartbreaks and with a family history rooted deeply in New York mom & pop shops, she redirected her energy and dove headfirst into being a NYC tour guide for a Food Tasting & Cultural Walking Tour company. In 2008, Amy officially quit her day job and began working full time (behind the scenes). Amy is the Director of Operations for Foods of New York Tours. The company offers food tours seven days a week, 360 days a year. Amy supervises a troupe of 14 tour guides and maintains relationships with the staffs of the 50 plus restaurants and food shops in the five Manhattan neighborhoods that the Foods of New York Tours highlights. She walks the streets of NYC to find the best food and the most interesting off-the-beaten path sites in order to create new (and enhance current) Food Tours. And since Amy has to eat out A LOT for her job, she is also a proud Weight Watchers member as well.
Read Amy's diary below to learn about the behind-the-scenes planning, and mishaps, that happen during Foods of New York Tours.
All photos by Sandy Hechtman
Monday, Feb 20, 2012 - Date Dilemmas
7:00am, 7:15am, 7:30am: Snooze, Snooze, Snooze. I love the morning. But don't tell that to my night-owl alter ego. She's devilish.
8:45am: I walk from one small studio apartment on Cornelia Street (my home) to the another small studio apartment on Barrow Street (my work). It's two blocks. Tough commute.
9:00am: I'm at my office. I've got several hours ahead of computer and Keurig. Kcups are certainly not the most palate pleasing coffee in NYC and certainly not as good as Porto Rico Importing Co (on our Central Village Food Tour) or my all time favorite: Philz Coffee in San Francisco. (Note to Phil: go for bi-coastal coffee domination.) I have a Monday morning meeting with Todd, my boss and the owner of Foods of New York Tours. Then I read reviews from this weekend's tours and check Facebook for any new photo contest submissions. I'm knee deep in edits for our website. The home page is done and now I'm editing About Us, Contact Us & the FAQs page. It will soon look something like this: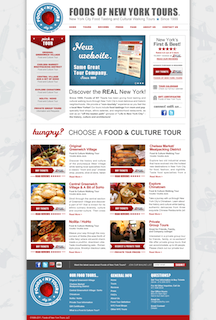 I create a few contracts for some upcoming private food tours: One for a corporate team-building event and the other for a group of high school students. Then I get hit with a cookie emergency. A few last-minute tickets just sold on our Greenwich Village Food Tour and I need to call Milk & Cookies Bakery and a few other shops to update them. Is it terrible that I know the phone number to Milk and Cookies by heart? Dangerous digits.
Noonish: I just got a call from Rizo, who is one-half of the beautiful Brothers Boljevic and owner of Centro Vinoteca, a restaurant on our Greenwich Village Food Tour. We have five tours on the street already and the first of the day is set to arrive at Centro Vintoteca in 25 minutes. But Centro's date delivery did not arrive today. Translation: we can't serve (our usual tasting) of the decadent bacon-wrapped date stuffed with gorgonzola as part of our picolini sampler and some of my tour guides may have already began bragging about that delicious date. Rizo and I select the ever-reliable eggplant rollatine as the substitute and hope it is equally as edible. We scramble to alert the tour guides. And thankfully, those 15 foodie folks on each of those five tours are none the wiser. To them, it looks seamless -- as it should.
2:00pm: I receive an email inquiry from a customer about some severe food sensitivities: He is a gluten intolerant vegetarian who is allergic to mushrooms and tomatoes. This will take some maneuvering since our Greenwich Village Food Tour is largely italian with pizzas, tomatoes, soppressata... But my business philosophy is that the answer is always, "Yes we can." I hope he likes artichokes!
Shortly before the dinner hour: It's my time to hit the streets for some restaurants relations:
- I stop into O&CO, our neighborhood olive oil shop, to pick up a few one liter tins of extra virgin olive oil to pass along to my tour guides. The more the tour guides taste, the more they can talk about their favorite items on the tours. In my opinion, O&CO has the absolute best balsamics, from here to Modena, Italy. I love force feeding friends small spoonfuls of this stuff and watching their astonishment at how sweet and syrupy it tastes. O&CO is a big hit on our tours.
- I make sure to visit with Rizo at Centro Vinoteca to find out how the eggplant rollatine tasting went today and check in with Chef Salvatore Fraterrigo (AKA Toto). Chef and I chat about the San Francisco food scene. We were both recently there so we share our favorite food finds. I tell him all about the porchetta sandwich I tasted, which blew me away. Ten times better than the one I tasted from a food truck in Umbria, Italy, the home of porchetta!
Dinnertime: I taste a small bite of zucchini pizza and equally small bite of the potato/rosemary pizza at Pizza Roma to taste-test this spot and choose between the two flavors. We have been tasting from Pizza Roma on the tour for only a few months. Stick with the zucchini. We usually wait a while before introducing a new restaurant to our tours -- but the Italian charm of the adorable Andrea Franchini won me over.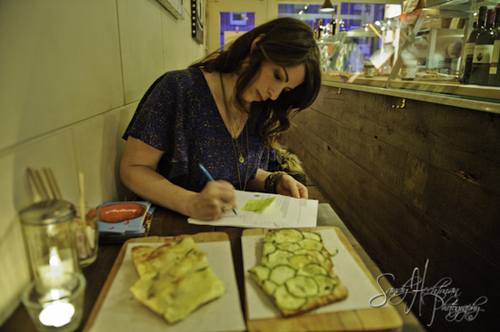 Dessert time: Quick stop to Milk & Cookies Bakery to pick up snacks for my tour guides. Their Dark Chocolate Toffee cookie always does the trick. I meet my troops: Tour Guides Kerrianne, Bert, Cindy and Todd (Owner) at The Cherry Lane Theatre to watch Mentor Project's Relative Pitch with Elizabeth Rose -- a one woman musical machine. I arrange to have my tour guides see nearly every show at The Cherry Lane Theatre since our Greenwich Village Tour takes our groups inside the space during off hours. We never recommend something we haven't tried and tasted. Tonight's show is a winner to watch. We bring a few cookies for my Cherry Lane liaison, Emily, and the rest of the staff. We like to spread the cookie love whenever we can.
9:30pm: Finally home. Emails back and forth with my tour guides and Todd. This usually goes on until 1:30am.
Tuesday, Feb 21, 2012 - Too much of a good thing
Just past 9AM: On my iMac, I'm a 10-windows-open-at-a-time multi-tasker. I'm always trying to fit too much in and end up overloaded. Spin. Crash. Reboot. Its seems my Greenwich Village Tour might be suffering the same sickness. In an attempt to fill those three hours with eight food tastings and a wealth of tasty historical tidbits, we may have overloaded our tour guides and asked them to engage in a challenging juggling act. An email comes in from one guide: It is becoming tough to fit the three hour tour into three hours. I peruse the tour route sheet in an effort to figure out which architectural elements are must-mentions and which can be cut. I hope to have some inspiration from my architecture class later tonight.
Lunchtime but no lunch: All day I am editing the latest version of our Neighborhood Guide, the booklet that all the tour attendees get with our favorite restaurant listings and menu recommendations. I'm editing silly simple items like phone numbers, addresses, websites and food recommendations. This takes up a large portion of my day.
6pm: On my way to class I stop to see my friend Marc Varsano at his chocolate shop on West 4th Street to pick up some of his Chocolate Sea Salted Caramels. Marc is a sweet, unassuming, non-snobby chocolate maker. Our tours taste treats from Varsano's, but only on occasion. I taste from Varsano's on every occasion. These caramels beat the NYU vending machine snacks. No competition.
6:45pm: Off to class. I'm taking Architecture of New York: 17th century to Present Day. It can only help in tweaking our tours architectural component. Amazing session tonight. And I do indeed think I found a few topical tidbits for the tours that allow us to add some quick architectural references without sacrificing the tastings: How do I spot an original Federal style wooden door from the 1800's, you ask? Why it has 8 panels! Let me show you one...
9:30pm: I ordered some Chinese food from my local favorite: Suzie's on Bleecker.
Wednesday, Feb 22, 2012 - The best medicine
9am: The task for the day is to tackle the new website and bring us closer to our launch date -- which we are already two months behind. I have a conference call with the web guys followed by several hours of edits.
Afternoon: Wednesday is organization day in my office. And since I woke up feeling a little stressed and frazzled by my lack of food rations at home, I think organization can only help. The month is nearing it's end, it is time to update the dominant engine that drives our office: The Big Dry Erase Board.
Evening: A day of dates, details and difficult web edits can be so discouraging and I could use a laugh. And thankfully Stand Up NY, has been inviting me uptown to see a comedy show on the house for the last four weeks. Tonight seems a splendid night for a little something silly. The lively and lovely Lindsay sells me on the cross promotion of my tours and her comedy shows. The show I watch gets a giggle out of me -- and that is more than I can say for the multitude of NYC comedy clubs I have meandered into in my time. And as luck would have it, Chris Rock enters, sits down right next to me, hops up on stage for a sweet little set and gently stokes my left arm as he exits. My stressful day falls seamlessly to the sidelines. Lindsay and I strike a great deal -- suspecting my foodies fans might find Stand Up's comedy a equally delectable feast.
Thursday, Feb 23 - Color Me Happy
8:55am: I wake up in panic fearing I will be late to work. It's five minutes to 9. Then remember I have the day off. Thursday has been my day off for four years running and yet each and every Thursday I have the same heart pounding panic attack.
Around 3pm: I stop by to see my creative and colorful friend Carol, who runs StyleWorks of Union Square. She is a colorist. Not for hair (although she can talk to you about that too). But color as in: What colors suit me best. I referred a few friends, tour guides and local chefs Carol's way and so she offered me a free session to talk color. Three of my tour guides have found their correct and complementary colors and often comment that when they wear the right colors (winter purples for Heather, fall corals for Sephrah and turquoise blue for Anny) that their tips are higher and the tourists seem happier. It's such a seemingly simple little color switch that yields such impressive results. Carol drapes her color swatches on me to discover my winter palette comes alive with deep pinks and purples. Carol is awesome and she lifts my spirits with her encouraging advice on how to capitalize on your colors and increase your confidence.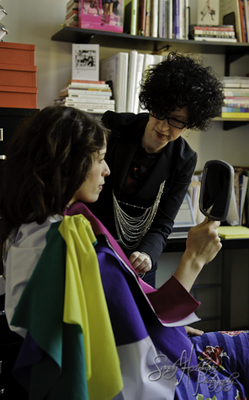 A few hours later: With my color palette contemplated, I meet my tour guide, former roommate and friend (that's all one person) Anny. Anny is an excellent tour guide and a talented singer. We're off to walk and talk on this unseasonably sunshiny day. And since Anny is a Spring color-wise, walking with her is all I need to lose those those winter blues.
7pm: There's one meeting that I hate to miss: my weekly Weight Watchers meeting. When you do dinners out for work as much as I do, and especially after my year-long binge through Nolita while designing our newest Food Tour, you need to figure out a way to reign it in. This way works. I love Weight Watchers' old school approach with its equally modern and relevant ideas. I love walking into a room full of people all seeking a satisfying meal paired with a slender silhouette. I love the old lady who talks about things just seemingly off topic but them reveals some great pearl of age acquired wisdom in the weight department. And I love that this week I am down 1.6 lbs which means... I reached my goal. My Nolita Food Tour research pounds are gone and then some. And I stay loyal, week in and week out, to the one "diet" that actually worked after all my crazy juice fast frenzies had failed.
Friday, Feb 24, 2012 - Need Some Lovin
7:30am: Up and excited to get to work. After a full day off, I suffer slight withdrawal. I miss my foodie friends and could use a hug from a sweet chef or a handsome host. Thankfully Friday is field day for me. I'm out of the office almost all day and off to foster my friendships with each establishment on the tour. I genuinely feel a kinship with these kitchen kings and queens and I love that Foods of New York Tours has the ability to share their tasteful talents with our tourists.
9:30am - 12:00pm: I'm at Chelsea Market: One of my all time favorite buildings and the birthplace of the Oreo Cookie. I visit with a few food shops to make sure the tours are running smoothly in their minds and check in with Bert (one of my tour guides) while he is prepping the food for today's tour. Most tour attendees have no idea that we are the little elves sneaking behind the scenes to prep platters and trays and tasty treats. But we are. And we do.
I'm off to the famous Sarabeth's Bakery. It's a great day: Sarabeth is here in the bakery and she's got a few minutes to spare for me. I love Sarabeth. Sarabeth reminds me of my mom a bit - but will a full deck of decadent desserts at her disposal. We catch up for a while. She gives me a little piece of chocolate and gently reminds me: "Just one."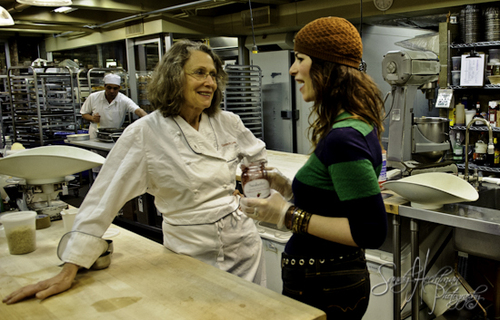 12pm: Back to the office for lots of emails from customers and private tour requests.
4pm - 8pm: The very best part of my week has arrived. With my Chelsea Market check-ins out of the way, I'm off to visit the owners and managers of all the restaurants on our other food tours: Greenwich Village, Central Village/SoHo and my baby, Nolita. I place all my food orders for tomorrow's tours and use this as a chance to catch up and check on the tours and see how seamlessly they are running. I also love this part of my day because I am in awe of restaurant workers. I love these people -- the ones that do this dinner dance in their dimly lit spaces as diners soak up that eternal evening energy that sets Manhattan island apart from all others, times 10. I love one of these people in particular.
Home Restaurant, Cornelia Street, at sunset: This might be my favorite stop. I'm here to drop off our weekly payment, just as I have done every Friday for the last few years. On one particular Friday, 16 months prior, I walked into Home and I met the host, Tim. At first, a glance. Then a call. Followed by a date. Then two. Then 12. Then 52. My boyfriend, Tim, works here at Home while studying to become a History Teacher at Hunter College. I walk into Home every Friday night to pay my bill for the tours, get my hug and I'm on my way with a spring in my step.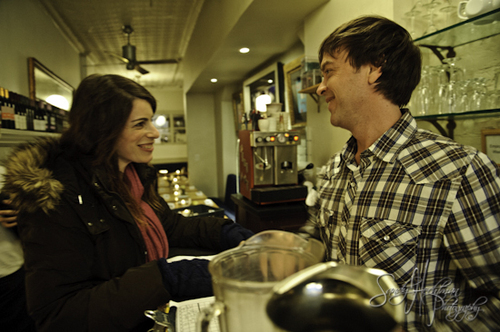 Later that night: On my way to Nolita I stop at Once Upon a Tart to drop off my food orders for tomorrow. Every Friday I see the same man, sitting on the same bench, in front of the same shop. I don't know his name. He speaks little English and wears a hearing aide. Every time I pass by he gives me a nod and a smile as is we have been friends for a lifetime.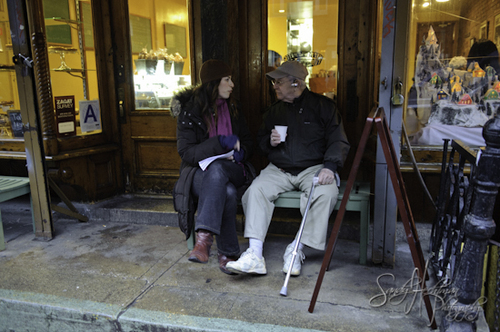 Dinnertime: I engage in a regular Friday ritual, 67 weeks running, minus a few weeks here and there: dinner with Todd (my boss) and Isaac (our friend, Cornelia Street neighbor and colleague at New York Fun Tours). We dine at the most basic and nondescript spots in an effort to get away from all the fancy foods and fine dining. Throughout the planning of our Nolita Tour, these dinner dates and taste tests revolved around a 12 block radius from Mott to the Bowery and from Spring to Bond. It was (and is) a much loved ritual.
Saturday, Feb 25, 2012 - Winter Weather Advisory
7:30am: I wake up to winter wind advisory on NY1 News. Gusts of 40 - 60 miles per hour and blowing construction debris expected. What might be normal non-important small talk for some is make-or-break for our walking tours. A weather warning worries me and I wonder what alternative tour routes I can come up with: Skip Hudson street, use Murray's Cheese Shop classroom for the tasting, do your overview in the sunshine, make sure your tour attendees are warm enough and happy and that no downed trees are in their food-laden path.
9:00am: Saturday is our busiest day with 122 tour attendees and eight tours all occurring around midday. My job on Saturday is to hang out in front of Murray's Cheese Shop (our meeting location and tasting spot on our Greenwich Village Food Tour) and greet the early arrivals and the latecomers so the tour guides can focus on what they do best.
11:00am: I chat with Marie about the weather scenario and give her a few tips for which streets are safer to do her tour overview today.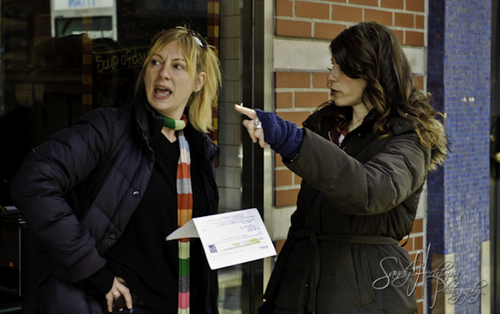 11:30am: I race from one neighborhood to the next to greet the tour attendees on our Central Village/SoHo Tour at Monte's Trattoria on MacDougal. I race back to Greenwich Village to...
12:15pm: I greet a gaggle of girls that I set up with one of our Private Food Tours. It's a bachelorette party but thankfully, a relatively tame one. Moms and Aunts and sisters and friends -- all eating their way down Bleecker Street with Kerrianne, my guide, at the helm.
4:30pm: Quick visit to Home Restaurant before Tim starts his evening shift. Then back to my apartment. Rest.
See more Food Informants below:
PHOTO GALLERY
Food Informants
Calling all HuffPost superfans!
Sign up for membership to become a founding member and help shape HuffPost's next chapter