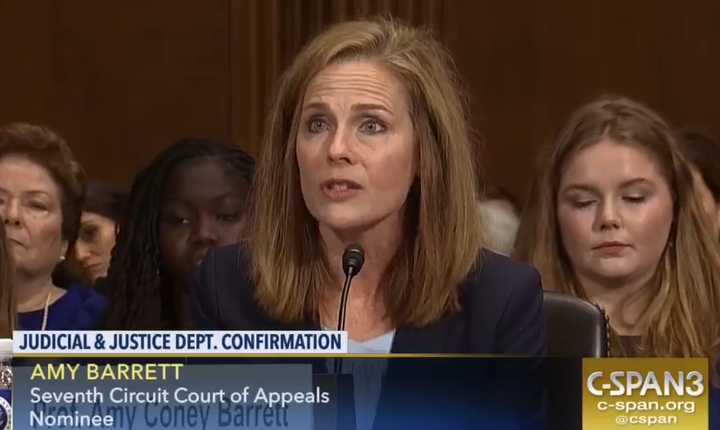 WASHINGTON ― The Senate voted Tuesday to confirm circuit court nominee Amy Coney Barrett, who has suggested Roe v. Wade was an "erroneous decision" and called the Affordable Care Act's birth control benefit "an assault on religious liberty."
Barrett was confirmed 55-43 to be a lifetime judge on the U.S. Court of Appeals for the 7th Circuit — a court one level below the Supreme Court.
Three Democrats, Sens. Joe Manchin (W.Va.), Joe Donnelly (Ind.) and Tim Kaine (Va.) voted for her. All Republicans voted for her, including Sens. Lisa Murkowski (Alaska) and Susan Collins (Maine), both of whom support abortion rights.
Barrett, a 45-year-old Notre Dame law professor, has been under fire for weeks from abortion rights groups and LGBTQ rights groups over her views.
Seventeen women's rights groups wrote to the Judiciary Committee urging them to oppose Barrett for her record of having "expressly opposed reproductive and women's rights." They cited a 2003 article by Barrett in which she refers to Roe v. Wade, the landmark Supreme Court decision ensuring women's access to abortion, as an "erroneous decision." Their letter also notes that Barrett signed a public "statement of protest" against the Affordable Care Act's birth control benefit, referring to the policy as an "assault on religious liberty."
Some have also raised questions about Barrett's membership in a tightly knit Christian group called People of Praise, where people are assigned to a personal adviser ― men are referred to as "heads" and women are "handmaids" ― and taught that husbands are the heads of their wives and should exercise authority over the family.
Meanwhile, 27 LGBTQ rights groups urged the committee to oppose Barrett due to her views on civil rights. They raised concerns about Barrett wavering on the idea of landmark LGBTQ rights decisions qualifying as "superprecedents" ― that is, decisions so important they should not be overturned. They also note she took a speaking fee from the Alliance Defending Freedom, a nonprofit that's defended forced sterilization for transgender people and been dubbed a hate group by the Southern Poverty Law Center.
During her confirmation hearing in September, Barrett said she didn't know that Alliance Defending Freedom is the largest anti-LGBTQ legal advocacy group in the nation. As for abortion rights, she said her personal views on the precedent set by Roe v. Wade would not affect her decisions as a federal judge.
"I'm sure that every nominee before you has beliefs about that precedent and many others," she told the panel. "But all nominees are united in their belief that what they think about a precedent should not bear on how they would decide cases."
Sen. Richard Blumenthal (Conn.), one of the Democrats on the committee who voted against Barrett, said most judicial nominees say that. But it's not quite true.
"In all frankness, inevitably, personal beliefs enter into judicial decisions," he told Barrett. "Anybody who has practiced law, and I've done it for 40 years, and judges, with the best of intentions, are often influenced by their personal decisions."
Barrett fits the mold of most of President Donald Trump's judicial nominees: young, conservative, anti-abortion and anti-LGBTQ. The Senate has now confirmed five of Trump's circuit court nominees and four of his district court nominees.
Before You Go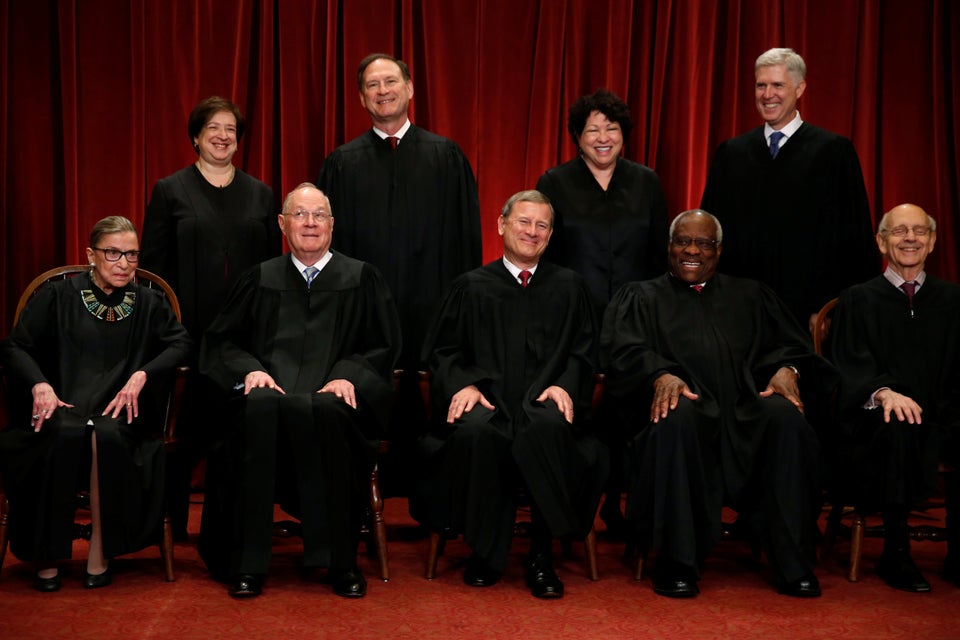 The Supreme Court's 'Family' Photos
Popular in the Community