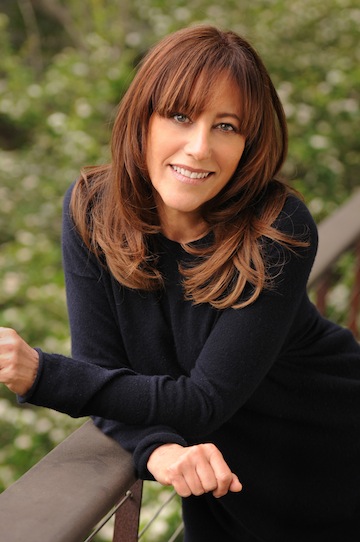 It's hard to walk away from a Mike Leigh production and not appreciate the brilliance in the Brit's wit and ability to make his audience--whether it be theater or film--relate to the characters in his stories.
This is probably one of the main reasons Amy Glazer jumped at the chance to direct Leigh's emotionally rich and psychologically delicious yarn "Abigail's Party." In the work, which premieres at San Francisco Playhouse May 21 and runs through July 6, Glazer takes a bold creative nose dive into Leigh's social satire about a woman searching for connection in a number of inappropriate ways. As biting as it is revealing about the longing we all have to feel some sense of connection with each other, the outing takes place in 1970s British suburbia--and yes, it seems wonderfully lifted from real life as a gaggle of friends "test the strength of the ties that bind."
Glazer, who is associate artistic director of San Francisco Playhouse, has morphed into one of the most respected Bay Area theater directors over the years, and a few years ago, she turned heads directing the film, Seducing Charlie Barker, based on Theresa Rebeck's play "The Scene." She also happens to be a professor of theater and film at San Jose State University and has learned from some of the best--her uncle Sidney Glazer produced the Mel Brooks film romp, The Producers, and her older brother Mitch is a director/screenwriter (Magic City, Scrooged).
Perhaps more interesting may be that Glazer considers herself a "hybrid"--a director plays and movies. She recently quipped: "One creates the other, and the other informs the one. I love both languages, theater and film.I feel like I get to be the next generation of filmmakers who believes in story and performance and understands the power of those two elements."
I recently caught up with Glazer to learn more about the woman--and the craft.
Greg Archer: The play sounds inviting. What are you enjoying most about it?
Amy Glazer: What I am finding most exciting, which I hope the audience will, too, is that in this insanity, we see more of ourselves than one would think. I think it's really satirizing conformity, the realism of the middle-class; the dream that somehow is going to make you happy, and the Groundhog Day of that dream--that now the "party" is going to turn magical and that it doesn't. I think it's an interesting satirical look at the values of middle-class and I think that they are universal values. We always talk about the Great American Dream, right? I think that it's a class-related dream and has nothing to do with America or England, or India or wherever you are.
Greg Archer: So, what made you say yes to this?
Amy Glazer: First of all, I am a huge fan of Mike Leigh. Remember, like me, I would say, he is a hybrid in that he is both a filmmaker and a theater maker, director and writer. I've always connected to his work. In fact, I was just re-watching High Hopes and Secret & Lies ... and the nakedness of his characters; the authenticity that can comes with big drama. You know what I mean?
Greg Archer: It's rather brilliant, you know?
Amy Glazer: In its scope, it seems so small, so inconsequential but actually, it speaks to our values and to what our lives become. I am sure that when Mike Leigh wrote "Abigail's Party"--he had said just gotten married and had a baby--I'm sure that he was feeling a little trapped and a little stuck and wondering and fearful of falling into a life that doesn't ultimately feel fulfilling. I think that we identify with the loneliness of [the main character] Beverly: the desire to reach out to her neighbors. There's an intimacy and a need to connect, and she doesn't connect the right way and the things that she hopes will make her happy--things that should make us feel more intimate, more alive, more animated--just don't. But each time, the expectation, like Groundhog Dog, is there. We sympathize with her yearnings. Those values in a strange way create a kind of isolation.
Greg Archer: The use of humor as a means to relate ...
Amy Glazer: Underneath that humor is something very important and worth exploring and it's holding up a mirror to an audience and ourselves and our current culture; something about our values and how fleeting life is. That ... the things we think will make us happy, don't.
Greg Archer: You mention you cast very specific actors.
Amy Glazer: I cast very carefully. I cast a certain kind of actor that can do a certain kind of miniscule work with me--the nuances--so that we can score together the other play that lives beyond the actual dialogue, and into the world of the subtext. And that world of the subtext I find really fun and rich.
Greg Archer: You come from a creative family. Can you talk about their influences on you?
Amy Glazer: My uncle, Sidney, did The Producers, Twelve Chairs, and Take the Money And Run, and my brother is a screenwriter and director. When I talk about my uncle's influences, I can see how I ended up directly with Mike Leigh. There is so much about my uncle's sensibility--this wild Jewish sensibility--in the world of Mike Leigh. But Mike Leigh is also an artistic, creative, Jewish man. There is a kind of male Jewish vitality in his identity. Once you can see the scope of it--the humor--it's both dark and wildly funny. It's a language that I speak. When I was on the set of The Producers--my brother and I were living with my uncle at the time--I remember sitting in the Broadway theater where they were shooting on location for the "Springtime for Hitler" number and I thought, "What is this? Are they going to get into trouble for this?" That's when I learned that there are no boundaries in creative expression. And through my uncle I learned my love for theater. He used to get me tickets to all the plays--I really learned the passion for passion. Passion as it was embodied in theater and storytelling itself. And from my brother I learned both a great respect and love for great writing. And what a great writer brings to the table.
Greg Archer: What do you love most about directing?
Amy Glazer: It fills me up. I love most the intimate relationship between me and an actor. At the end of the day that's the thing I love most. I love telling stories. My mom was a storyteller, and my uncle, my brother ... It's a such a rich Jewish tradition, I guess--telling stories, communicating. A play is like a poem in that it's experienced differently by every person, and my feeling is if I can put it out there as authentically as my intuition leads me to express it, then audiences will see themselves and the lines that hook them to it. People always ask me: "What do you like more-- theater directing or filmmaking?" But really what I like; my idea of bliss is working on a film and in between those long hiatuses of directing and color correcting and such, is being able to direct plays wildly.
Greg Archer: What's some of the best advice you have been given about life?
Amy Glazer: Certainly, don't sweat the small stuff--not to perseverate over the petty little things; that life is good and finding joy in the moment; finding your passion. Because at the end of day, you know, I can hang up the phone and have a massive coronary ... so, try to be in the moment.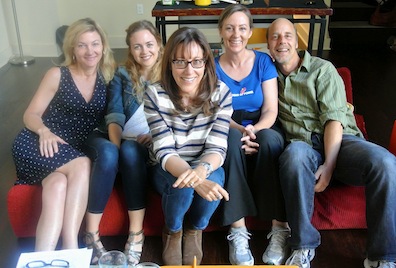 (L-R from "Abigail's Party") Susi Damilano, Alison Jean White, Amy Glazer, Julia Brothers and Remi Sandry. Photos by Lauren English
Related
Popular in the Community