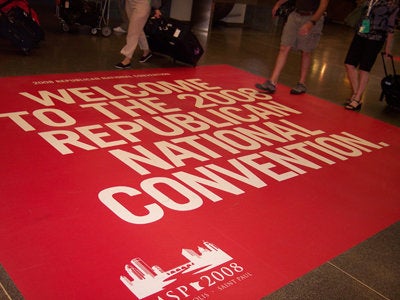 Journalist Amy Goodman has been arrested in St. Paul, Minnesota:
Her arrest comes amid accusations of police brutality in St. Paul. I-Witness founder Eileen Clancy was arrested and detained last Saturday by the police in an apparent preemptive arrest. Clancy states she and her team were surrounded in the house they were staying at in St. Paul before they had the chance to video tape any protests.
The police handcuffed Clancy and her team and claimed they were waiting for their search warrant. The officers were armed and at least one police offer was carrying an M-16, Clancy wrote in her blog.
In addition to preemptive arrests, the police are responding aggressively to the presence of protesters. New video is appearing on YouTube of protesters being tear-gassed by the police:
UPDATE: Goodman was arrested along with Democracy Now producers Sharif Abdel Kouddous and Nicole Salazar. As of 9:15 PM EST, the Ramsey County jail has charged Goodman with "conspiracy to riot" and released her, but is still detaining Kouddous and Salazar. No charges have been pressed against them.
Laurie, the phone operator at the County Jail says she "hopes charges will be presented within the hour." As of right now, Kouddous and Salazar are being held without charges.

9:50 PM EST: Kouddous and Salazar are still being held without charges. Laurie, the operator, now expects a few hours to expire before they are officially charged with a crime. She claims the slow process is due to an unusually high number of arrests coupled with many detainees using pseudonyms. More than 100 people were arrested along with Goodman and her producers.
11:00PM EST: The Ramsey County Jail redirected me to something called the "Joint Information Center." Under a little pressure, the operator finally revealed his name (Sgt. William Palmer,) though he asked for my name (had me spell it twice) and asked for my phone number in exchange. Friendly stuff.
Palmer informed me that Kouddous and Salazar will be held in jail overnight until they are taken to court tomorrow. No one knows what they are being charged with, but Palmer attributes their arrest to "suspicious behavior."
Kouddous and Salazar are still being held without any formal charges.
11:22PM: Apparently, one of the job qualifications for working at the JIC (Joint Information Center) is that you must have the scariest voice in the world. I spoke with a Coast Guard named Chief Bauman, who again took down my information: name, phone number, website I write for, etc. He had me spell my name twice and repeat my phone number three times.
The JIC seems to exist less to help media representatives and more to intimidate the hell out of them. For instance, I wondered allowed why I couldn't directly speak to a media representative and first had to pass through Bauman's filter. Bauman explained he was a conduit between reporter and information.
I then asked Bauman why the JIC was staffed with police officers and Coast Guards seemingly naive to the ways of media. He informed me that he was working at the JIC for "security purposes." I laughed and said, "Yeah, I see there's a lot of security at the RNC." He didn't laugh.
Bauman said he didn't know what court Kouddous and Salazar are being taken to in the morning. He said he would get back to me.

11:33PM: Kouddous and Salazar have been released. Sgt. William Palmer called me back and said they have been released with "Pending complaints," which essentially means they were not charged while in custody, but may yet be charged with some felony at a later date.
Democracy Now!'s Amy Goodman, Sharif Abdel Kouddous and Nicole Salazar Released After Illegal Arrest at RNC
Goodman Charged with Obstruction; Felony Riot Charges Pending Against Kouddous and Salazar
ST. PAUL--Democracy Now! host Amy Goodman and producers Sharif Abdel Kouddous and Nicole Salazar have all been released from police custody in St. Paul following their illegal arrest by Minneapolis Police on Monday afternoon.
All three were violently manhandled by law enforcement officers. Abdel Kouddous was slammed against a wall and the ground, leaving his arms scraped and bloodied. He sustained other injuries to his chest and back. Salazar's violent arrest by baton-wielding officers, during which she was slammed to the ground while yelling, "I'm Press! Press!," resulted in her nose bleeding, as well as causing facial pain. Goodman's arm was violently yanked by police as she was arrested.
On Tuesday, Democracy Now! will broadcast video of these arrests, as well as the broader police action. These will also be available on: www.democracynow.org
Goodman was arrested while questioning police about the unlawful detention of Kouddous and Salazar who were arrested while they carried out their journalistic duties in covering street demonstrations at the Republican National Convention. Goodman's crime appears to have been defending her colleagues and the freedom of the press.
Ramsey County Sheriff Bob Fletcher told Democracy Now! that Kouddous and Salazar were arrested on suspicion of rioting, a felony. While the three have been released, they all still face charges stemming from their unlawful arrest. Kouddous and Salazar face pending charges of suspicion of felony riot, while Goodman has been officially charged with obstruction of a legal process and interference with a "peace officer."
Democracy Now! forcefully rejects all of these charges as false and an attempt at intimidation of these journalists. We demand that the charges be immediately and completely dropped.
Democracy Now! stands by Goodman, Kouddous and Salazar and condemns this action by Twin Cities' law enforcement as a clear violation of the freedom of the press and the First Amendment rights of these journalists.
During the demonstration in which the Democracy Now! team was arrested, law enforcement officers used pepper spray, rubber bullets, concussion grenades and excessive force against protesters and journalists. Several dozen demonstrators were also arrested during this action, including a photographer for the Associated Press.
Amy Goodman is one of the most well-known and well-respected journalists in the United States. She has received journalism's top honors for her reporting and has a distinguished reputation of bravery and courage. The arrest of Goodman, Kouddous and Salazar and the subsequent criminal charges and threat of charges are a transparent attempt to intimidate journalists.
Democracy Now! is a nationally-syndicated public TV and radio program that airs on over 700 radio and TV stations across the US and the globe.
Popular in the Community