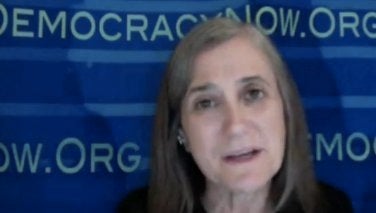 As I write, I hope Amy Goodman is resting her autograph-signing hand and sipping on a latte en route to the plane that will take her from City #70 (Everett) to City #71 (Spokane) on her whirlwind book tour.
When I met her a few hours ago, she was settling in at the book-signing table at the event sponsored by 90.7 KSER, the local public radio station on which I serve as a Board member. I bounded up to be the first to get my copy of The Silenced Majority personalized, and I even prevailed upon her to pose for a photograph.
The resulting snapshot shows me beaming at meeting one of my heroes, focused entirely on sending my smile toward the stranger who had control of my iPhone. Ms. Goodman also seems happy, but more distractedly so; hers is a closed-lipped smile, and she's lifting her fingers into a peace sign while still wielding the pen she immediately resumed using once the obliging stranger verified that the image had been successfully captured for future Facebook upload.
Not surprisingly, Amy multi-tasks.
Being more of a single-tasker myself, I went over to the entrance to greet new arrivals. I thanked the event attendees for their support of KSER and guided them toward their seats, indicating how they, too, could line up for a little Goodman face-time on the other side of the room. And I took my own seat as soon as the program began, not wanting to miss a minute.
Even as Denis Moynihan began introducing Amy, she was still signing books, maximizing her time, I suppose, before she absolutely positively had to step on stage. He praised our Everett Community College venue, emphasizing the value of "public investment in public education," read a bit from Michael Moore's foreword to the book, and otherwise expeditiously brought on the main event.
And she didn't waste any time at the podium, either.
To KSER's delight, she highlighted the crucial role non-commercial media continues to play in public discourse, calling out the inherent conflict of interest between corporate-sponsored journalism and the topics it covers: "When we're talking about war, we shouldn't be brought to you by those who profit from war." Independence in broadcasting is, she reminded us, the way "the media can be the greatest force for peace on earth." Without it, and instead, so-called mainstream media has been "used as a weapon of war."
She spoke clearly and engagingly about topics ranging from radio to revolution, from climate change to compassion, from drone wars to the death penalty -- only reading directly from the book once, during a particularly powerful comment about Troy Davis's execution -- and avoiding entirely the "ums" and "ahs" that plague lesser speakers. In fact, her voice, so familiar to most of us in the audience, might have been coming from a Democracy Now! broadcast instead of from the unedited, living, breathing, water-sipping woman right in front of us.
And when late-comers entered the venue, she found time to greet and seat them... doing a more gracious job, mid-speech, than I had done when it was my sole responsibility.
As her talk progressed, her command of names, dates, places, historical circumstances, and policies never lagged -- she distinguished herself in this way from those she calls "well-known media personalities: that small circle of pundits who know so little about so much, explaining the world to us and getting it so wrong." Her pace quickened to match the urgency of the points she was making and the passion with which she held the views she expressed.
I guess it's also true that she knew she had a schedule to keep and a plane to catch.
While she was still signing post-talk autographs, I drove home (in the rain, of course) reflecting on not only her words but also her inspiring intellect and commitment to a form of journalism that takes as its fundamental charge to "go where the silence is" -- to ask the questions, tell the stories, and amplify the ideas that would otherwise go unspoken.
Spokane, if she catches her plane on time, you're in for a treat.
REAL LIFE. REAL NEWS. REAL VOICES.
Help us tell more of the stories that matter from voices that too often remain unheard.