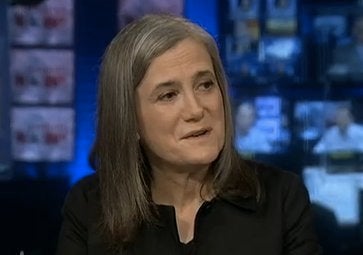 Journalist Amy Goodman's federal lawsuit over her arrest at the 2008 Republican National Convention will finally come to an end on Monday.
Goodman, the host of "Democracy Now!" as well as her producers Sharif Abdel Kouddous and Nicole Salazar, sued the cities of Minneapolis and St. Paul and the U.S. Secret Service, after their arrest in 2008.
The three alleged that they sustained injuries, after being assaulted by police officers while filming. According to their lawsuit, the police unlawfully "arrested, questioned, detained and even brutalized journalists," who were merely covering the event. They sought a permanent injunction against authorities from interfering with their journalistic rights, citing fear that their arrests would set a dangerous precedent for law enforcement authorities.
According to Democracy Now!, the three journalists will receive a $100,000 settlement from the St. Paul and Minneapolis police departments and the U.S. Secret Service, to compensate for medical expenses and damaged property. The St. Paul Police Department will also be required to implement training for procedures on dealing with the press at demonstrations.
Related
Popular in the Community