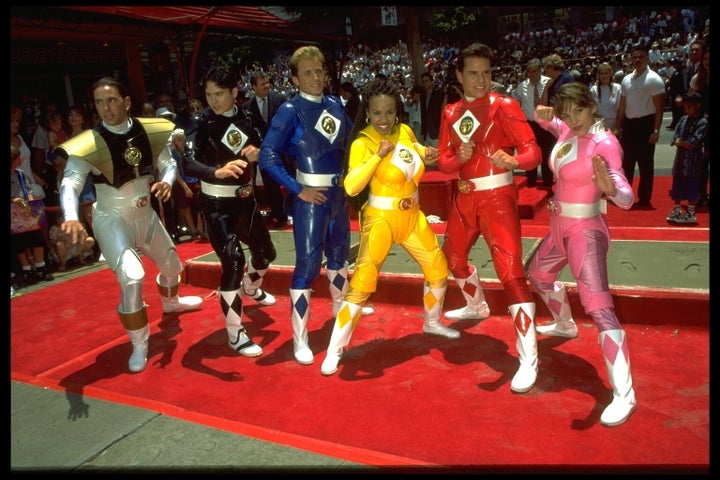 Amy Jo Johnson is clearing the air about swirling rumors that she won't appear in Netflix's "Mighty Morphin Power Rangers: Once & Always" due to financial reasons.
"Please stop saying I didn't do reunion because of money Simply not true," Johnson, who was Kimberly Hart (aka the original Pink Ranger) in the hit '90s show "Mighty Morphin Power Rangers," tweeted Sunday.
"Maybe I just didn't want to wear spandex in my 50s or couldn't go to NZ for a month. Or none of ur beeswax," she added alongside a laughing emoji.
Johnson also revealed that she and her late co-star, Jason David Frank, both opted not to star in the highly anticipated project.
"JDF & I both chose not to for our own reasons. They filmed before he passed, she added on Twitter.
Frank (the original Green Ranger) died by suicide at the age of 49 in November.
Though he initially wore the Green Ranger's uniform, the mixed martial artist also portrayed the White Ranger, a Red Ranger and a Black Ranger in the beloved superhero franchise.
Johnson went on to dish out support for her former co-stars who will be appearing in the series.
"Excited to see my pals @David_Yost & @Walterejones rock it though!! #PowerRangers," she said.
In the reboot, Johnson's Pink Ranger will be played by Catherine Sutherland.
The nostalgic special also stars Walter E. Jones (Zack, Black Ranger), David Yost (Billy, Blue Ranger), Steve Cardenas (Rocky, Red Ranger), Karan Ashley (Aisha, Yellow Ranger) and Johnny Yong Bosch (Adam, Black Ranger).
Johnson's statement comes just two months after the star explained on Twitter that there's no ill intentions behind her decision to skip suiting up for the 30th anniversary.
"For the record, I never said no," she tweeted at the time. "I just didn't say yes to what was offered. But other fun stuff is in store! Looking forward to watching my friends kick ass!"
"Mighty Morphin Power Rangers: Once & Always" will follow an "unlikely young hero" who "takes her rightful place among the Power Rangers to face off against the team's oldest archnemesis," according to the film's synopsis.
The reunion special will hit Netflix on April 19.
Popular in the Community