In 1914, Canadian suffragette Mary Raleigh Richardson entered the National Gallery in London and attacked Diego Velazquez's famed painting "Rokeby Venus," which depicts a reclining nude woman gazing at her own reflection.
Richardson, in a statement issued shortly after the attack, explained the slashing was meant to symbolize the violence enacted systematically against women, including their inability to vote. "I have tried to destroy the picture of the most beautiful woman in mythological history as a protest against the government destroying Mrs. Pankhurst, who is the most beautiful character in modern history," she said, referring to Emmeline Pankhurst, a prominent British suffragette.
Contemporary artist Amy Jorgensen was inspired by Richardson's act of civil disobedience, one of many enacted by early British suffragettes fighting for the right to vote. In her series "Something Old, Something New, Something Borrowed, Something Blue," Jorgensen honors the legacy of those who paved the way for women's rights in the 19th century, including her very own great aunt Edna Berg.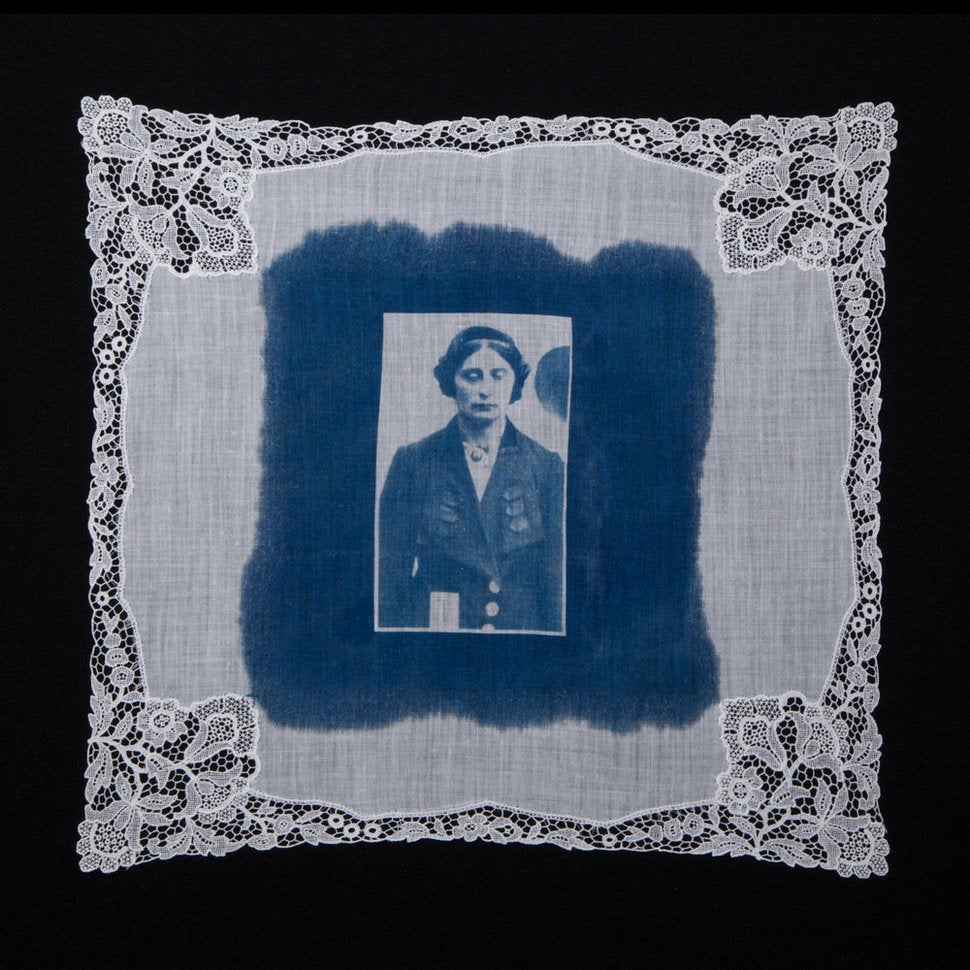 "As a young person, the stories of my great aunt Edna Berg were a staple in family lore and populated many family gatherings," Jorgensen wrote in an email to The Huffington Post. "She was an extremely outspoken and political member of the family who left rural life in the West and moved to New York City where she was an advocate for women's rights and a suffragette during the early part of the 20th century. Recognizing myself as a feminist at a young age, my great aunt became a bearing point as I navigated adolescence, even though we never met. In my imagination she became both myth and mentor. Edna Berg was an outlier in the family, as am I."
While researching the details of Berg's life, Jorgensen came across a trove of surveillance images compiled by the Scotland Yard of British suffragettes at Holloway Prison, which, though now permanently closed, was once the largest women's prison in western Europe. Intrigued by these photos, and the way they connected themes of protest, women's rights and surveillance, Jorgensen used the images as source material for her series.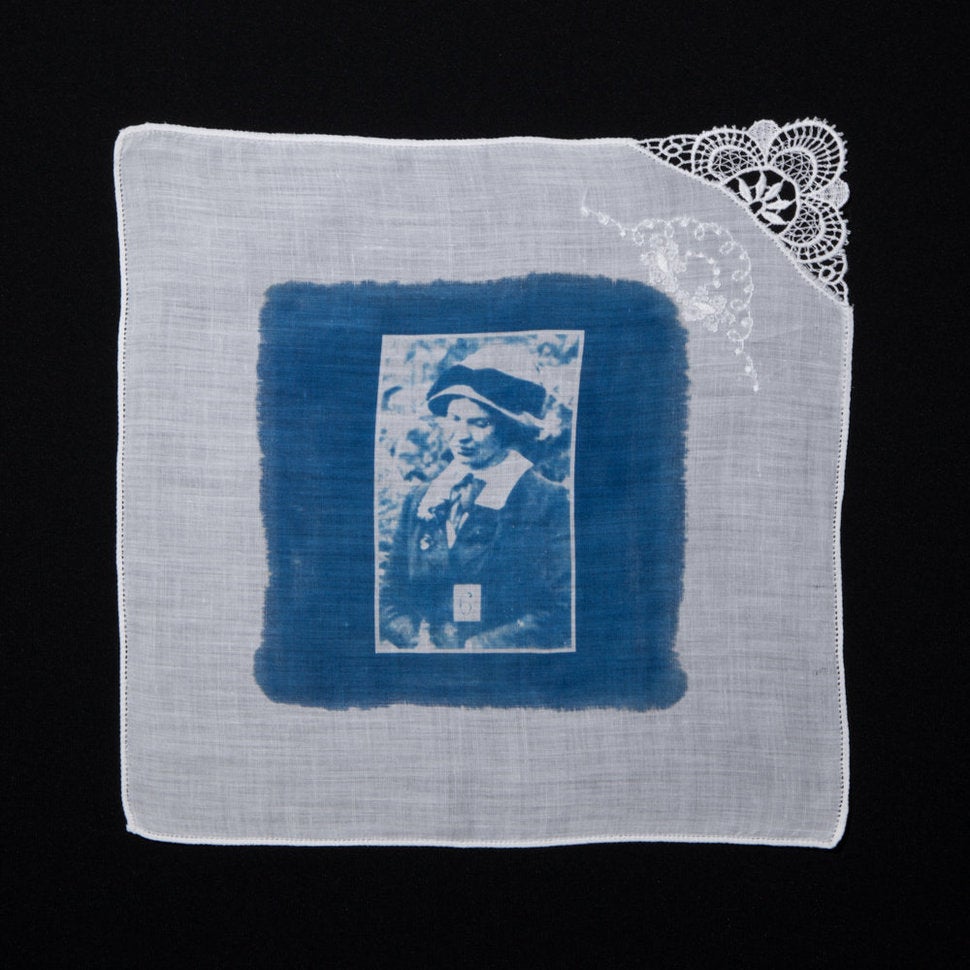 "Something Old, Something New, Something Borrowed, Something Blue" features 18 blue portraits printed on vintage handkerchiefs, balancing ideas of daintiness and resistance, past and present, surveillance and self expression. Each piece in the series features a surveillance photo of a British suffragette, rendered as a cyanotype print atop a vintage handkerchief.
Cyanotype printing, an early 19th century photographic process popularized by Anna Atkins, the first female photographer, turns each suffragette's likeness into a vivid, cobalt-hued image. "The way the stain of cyan spreads across the cloth [mimics] the stains of blood during the menstrual cycle," Jorgensen explained.
Jorgensen was drawn to handkerchiefs as her canvasses because of their longstanding associations with intimacy, female camaraderie and domesticity. "I was interested in working with a material and object that linked to the historical traditions of women's work and clothing, the element of handcraft," she said. "The handkerchiefs were meticulously embroidered by the hands of women, and as objects were worn close to the skin, often in the folds of underclothing."
The title of the series riffs off the wedding tradition of adorning a bride-to-be with various worn trinkets for good luck. "In pairing the surveillance images of militant suffragettes, the wedding rhyme, and the delicacy of a handkerchief, I was interested in creating a collision point for patriarchal structures," Jorgensen said. "Does this traditional exchange become a form of subversive protest? Many of the suffragettes imprisoned at Holloway, embroidered their names on a handkerchief as a record of their experiences."
Over 100 years have passed since Richardson slashed the surface of Velazquez's iconic painting, taking a knife to the male gaze, as well. Jorgensen's artworks ― delicately riddled with contradictions ― communicate just how far women have come, and how much more work needs to be done.
Amy Jorgensen's "Something Old, Something New, Something Borrowed, Something Blue" runs until March 12, 2017 at Elizabeth Houston Gallery in New York.
Popular in the Community