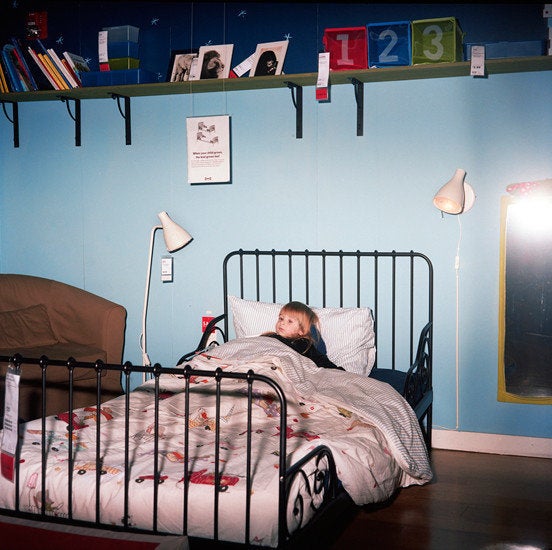 IKEA's showrooms are notorious for their quaint living spaces, with perfectly outfitted bedrooms and well-appointed bathrooms. These mini-homes dot their massive warehouses like a smorgasbord of life-size playhouses, designed with paths that force you through them in their entirety.
But when photographer Amy Lombard paid a visit to Brooklyn, New York's Swedish furniture embassy, she couldn't help watching people interact with the decor vignettes. "As a photographer," she writes on her project's Kickstarter page, "I'm not necessarily interested in staging reality so to speak. Instead, what I am interested in is someone else's idea of a staged reality."
Lombard set out to photograph people interacting with showrooms across the country and now seeks to publish the alluring photographs in a glossy book entitled Happy Inside. She's funding the project through Kickstarter.
The photographs available on her website and the Kickstarter page reveal a surprising intimacy, with the subjects not examining the furniture's price tags or specifications but rather testing them out for living. Children are tucked into beds, fathers toy with remotes for fake televisions as the customers go through the motions of their daily lives in completely manufactured spaces.
She realized that the staged homes don't just flaunt the products, but rather lend themselves "to the idea of selling a possible life." Lombard points to an IKEA advertisement entitled "Herding Cats," in which the company unleashed 100 cats in one of their UK stores. The cats quickly started making themselves at home, sleeping and climbing all over furniture.
Humans, she contends, interact with the furniture in the same way. IKEA's is an immediately familiar aesthetic, one that long ago infiltrated spaces from college dorm rooms to modern office spaces. In a New Yorker article, the director of the Cooper-Hewitt Design Museum refers to IKEA as "global functional minimalism."
Lombard continues with this sentiment, saying, "This shell of a room has the power of giving you a very real sense of privacy in a very public setting." She continues, "we act just as these cats do, we treat the space as if it were our own."
Lombard is seeking $5,000 to get the book off the ground, and is offering rewards for those who contribute which range from postcards to personal photo shoots and, of course, copies of the book itself.
Check out Amy's pitch below, then view some of her photographs in the slideshow that follows.
REAL LIFE. REAL NEWS. REAL VOICES.
Help us tell more of the stories that matter from voices that too often remain unheard.
BEFORE YOU GO