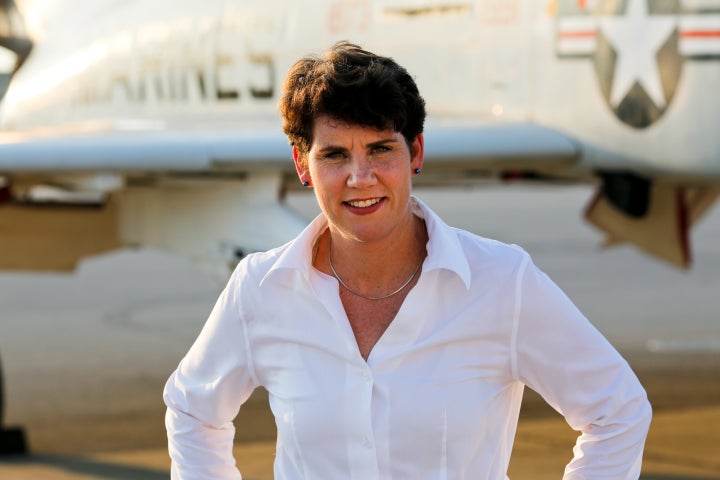 Amy McGrath knew when she was 12 years old that she wanted to fly fighter jets. She also knew that she wasn't allowed to.
So McGrath launched an aggressive letter-writing campaign to lawmakers in her home state of Kentucky. She wrote to her congressman, who told her "women ought to be protected and not allowed to serve." She then targeted Republican Sen. Mitch McConnell, who never replied. Finally, she wrote to every member of the Armed Services committees in both houses of Congress. Most of them ignored her, so she tried writing letters to the editor for her local newspapers instead.
In 1994, when McGrath was a senior at Notre Dame Academy in Park Hills, Kentucky, the Pentagon lifted its policy banning women from certain combat roles. McGrath enrolled in the U.S. Naval Academy the next year, joined the Marines after graduating in 1997, and, while serving three tours in Afghanistan and Iraq, became the first female Marine to fly a combat mission in an F/A-18 fighter jet.
McGrath, 42, is now hoping a campaign of a different sort will find similar success. On Tuesday, McGrath announced her candidacy to become the first woman to ever represent Kentucky's 6th Congressional District. Her announcement came in a two-minute online video that rooted her candidacy in her two decades of military experience ― and her fight to be allowed to serve.
"At a very young age I had to learn about how government works, and I had to learn about democracy, and I had to learn about advocacy," McGrath, who is running as a Democrat, told HuffPost. "It's one of the reasons I consider myself more progressive, because it was progressive leaders in government that pushed for change. At a very young age, I knew that if it weren't for them, I would not have had my job for the last 20 years."
A year ago, however, Congress was the furthest thing from her mind. McGrath, who had risen to the rank of lieutenant colonel, was teaching political science at the U.S. Naval Academy. Happily married with three children, she had already begun fantasizing about her approaching retirement and a move back to Kentucky.
Then, Donald Trump won the presidency. Congressional Republicans launched a seemingly endless campaign to repeal the Affordable Care Act, the health care reform legislation that had helped millions of Americans ― including nearly 500,000 Kentuckians ― access health care. And Rep. Andy Barr, the Republican who holds the seat McGrath is pursuing, supported those repeal efforts, and FiveThirtyEight's vote tracker indicates he has voted with Trump 97 percent of the time.
As McGrath sees it, she was left with little choice.
"A year ago if you were to tell me I was going to be running for Congress, I would have said, 'You're full of it,'" McGrath said. "But what started it for me was the 2016 election. I felt like we needed better leaders for the country."
McGrath is one of more than 11,000 women who have chosen to pursue public office in the wake of the 2016 election, according to EMILY's List. McGrath sees herself as part of the fight to elect more women nationwide. But she also noted that she shares common ground with two other former Marine fighter pilots who have launched congressional campaigns as Democrats: Col. Dan Ward and Capt. Chuck Enderlin, her friends who are pursuing seats in Virginia and Georgia, respectively.
Barr, a lawyer, has represented Kentucky's 6th District since 2012, when he won a rematch against incumbent Rep. Ben Chandler (D) after a narrow loss two years prior.
The district ― which includes Lexington, the state's second largest city ― was a reliable Democratic stronghold for decades before transforming into a swing seat in the late 1970s. The district now leans Republican, according to the Cook Political Report, and Barr cruised to victories against low-profile opponents in both 2014 and 2016.
McGrath said friends repeatedly asked her why she would consider running in Kentucky rather than choosing a state more friendly to Democrats. But even after 20 years away, McGrath felt a calling to come home to the Bluegrass State.
McGrath grew up in Covington ― a Cincinnati suburb in northern Kentucky ― but she and her husband chose to settle in Georgetown, a smaller city that sits in the heart of the 6th District. The recent move could pose challenging as she pursues the seat, especially in a Democratic primary that includes Reggie Thomas, who has represented Lexington in the Kentucky state Senate since 2014.
But McGrath has roots in central Kentucky: Her mother was among the first women to graduate from the University of Kentucky's medical school, and her sister attended UK, too. And she points to her military service when addressing potential criticism about spending so much time out of the state.
"Those of us in the military, we move around every two to three years, and we live all over the world. I lived a year of my life in a tent somewhere in the Middle East," she said. "This is where I'm from. This is my home. Kentucky is my home."
"We need to have a leader. Someone who represents the interests of the people, and doesn't represent the monied interests."
McGrath, like many Democrats across the country, launched her campaign against Barr by focusing on her Republican representative's support for repealing the Affordable Care Act.
Barr is "Mitch McConnell's hand-picked congressman who said he would vote 'enthusiastically' to take health care away from over a quarter million Kentuckians," McGrath says in the ad, which was hailed nationally and earned her multiple appearances on cable news shows last week. (The video, incidentally, is the product of Mark Putnam, who produced "the best campaign ad of 2016" ― in which Jason Kander, a U.S. Senate candidate in Missouri and also a veteran, assembled an AR-15 while blindfolded.)
That could be a strong selling point for a Democrat in this district, where Barr has faced protests at town halls and constituent meetings over his support for health care repeal efforts. Obamacare delivered substantial benefits to the district, and the repeal legislation he voted for would have stripped health care from nearly 50,000 of its residents, according to an analysis of Congressional Budget Office data from the liberal Center for American Progress.
There is also a tinge of Democratic populism in McGrath's early campaign, which she says will focus on appealing to both progressive, urban Lexington and the more rural areas around it, where people, she said, "feel like they've been left behind."
McGrath said she wants to hear from more residents before building out a concrete platform. But she has criticized Barr's support for the Financial CHOICE Act, a bill that would have repealed major pieces of the Dodd-Frank financial reform act that passed in the wake of the Great Recession. That legislation, McGrath said, would be a boon to Wall Street, especially payday lenders ― an issue she cares about after her time in the Marines.
"For 20 years I was a Marine Corps officer who had to have young Marines under me who were hurt by these payday lenders, who were preyed on," McGrath said. "I've got to take Congressman Barr on this issue, because I know what it's like to have people under me that have been hurt by them."
To McGrath, Barr's support for repealing both Obamacare and Dodd-Frank, as well as his early stance on tax reform efforts she sees as an attempt to cut taxes for the rich, are proof that the congressman isn't serving the interests of his constituents.
"We need to have a leader," she said. "Someone who represents the interests of the people, and doesn't represent the monied interests."
Barr has so far avoided responding to McGrath's criticism.
"Congressman Barr is not focused on the Democrats' intra-party fight, especially a year before the 2018 primary election," his spokesman, Rick VanMeter, told the Lexington Herald-Leader. "Instead, he is focused on fighting for the values and interests of the people of the Sixth District in Congress, keeping his promises and doing the job he was elected to do. There will be a time in the future for politics, but now is the time to do the work of the American people."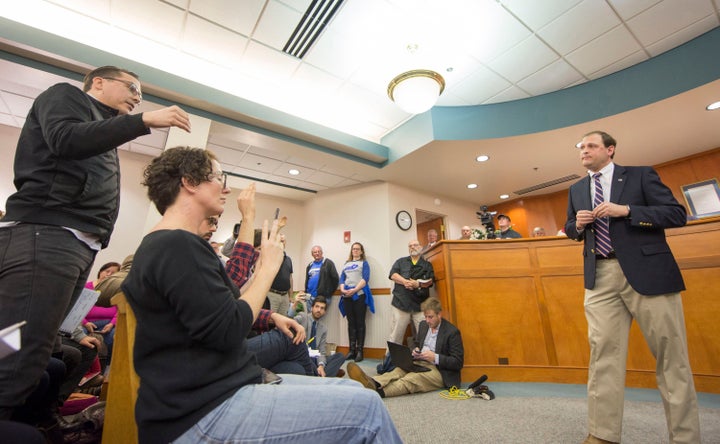 Trump won Barr's district with 52 percent of the vote last November, and Kentucky is among the few states where a majority of residents approve of the job he is doing as president. Still, McGrath doesn't seem afraid to take on some of his most contentious policies ― especially when she can tie her stances to her military experience.
"These people are patriotic Americans who stepped up to the plate," she said. "Do you have my back when I'm getting shot at, are you competent, are you someone of integrity? That's what we really care about."
And Trump's attempt to ban immigrants and refugees from seven Muslim-majority countries, she said, "is a terrible policy" that amounts to "a strategic win" for the enemies she spent years fighting.
"They want to pit America and Americans against their religion, and he just handed them the Powerball lottery," McGrath said. "This is not a war that can be won by more bombs being dropped on people. It's a war that's going to be won ... in people's minds. When you hand the enemy exactly what they want in order to make more propaganda, you're creating more fighters. This ban does not get to the root of the problem, and it does not protect Americans."
Kentucky Democrats could use a victory. They hold just one of the state's six congressional seats, and lost their grip on the governor's mansion in 2015. In November, they lost total control of the state legislature for the first time in nearly a century.
McGrath, however, said she believes she can be part of the comeback for the party both in the state and nationally. Democrats need to pick up 24 seats to regain control of Congress.
"I've been in tough battles before," McGrath said. "I want that challenge."
CORRECTION: An earlier version of this article said Capt. Chuck Enderlin is running for Congress in Florida; he is running in Georgia.
Popular in the Community