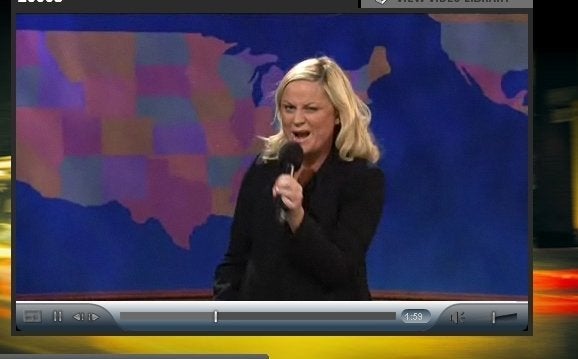 UPDATE:
Seth Myers sat alone at the SNL Weekend Update anchor desk saying, "I'm Seth Myers. Amy Poehler is not here because she is having a baby," to wild applause. Update later ended with Maya Rudolph and Keenan Thompson singing a special duet version of "Can't Take My Eyes Off Of You" with lyrics like, "We love you Amy" instead of "Oh pretty baby."
Poehler's rep released a statement saying the baby's name is Archie Arnett and weighed in at 8 lbs, 1 oz
Sources tell TMZ Amy Poehler has been in labor all day and just had a baby boy.

We're told Seth Myers will do Weekend Update all by his lonesome, and there's no word on whether her "Bronx Beat" skit with returning cast member Maya Rudolph -- who will also be playing Michelle Obama tonight -- has been totally scrapped or not.
Poehler and husband Will Arnett announced they were expecting their first child back in April. The heavily pregnant Poehler gave what may be her greatest skit performance ever last weekend with her Alaska rap, as seen below.
She has a show deal with NBC and told Mens Vogue she's not returning to SNL after her maternity leave.
The Alaska rap:
Popular in the Community