Amy Poehler doesn't care if you like her, and that might make you like her even more.
In an interview with The Guardian, the comedian explained that she enjoys challenging assumptions made about her. After features writer Hadley Freeman reminded Poehler of a scene from her memoir where she yelled at a not so friendly neighbor on a flight, Freeman mentioned that female anger isn't typically celebrated, but it can be exciting. Poehler agreed.
"It is exciting, isn't it?" she said. "It's super exciting to not care if you're liked, and to watch someone's face as they realize that. It's fun defying expectations about me. It's a nice secret weapon."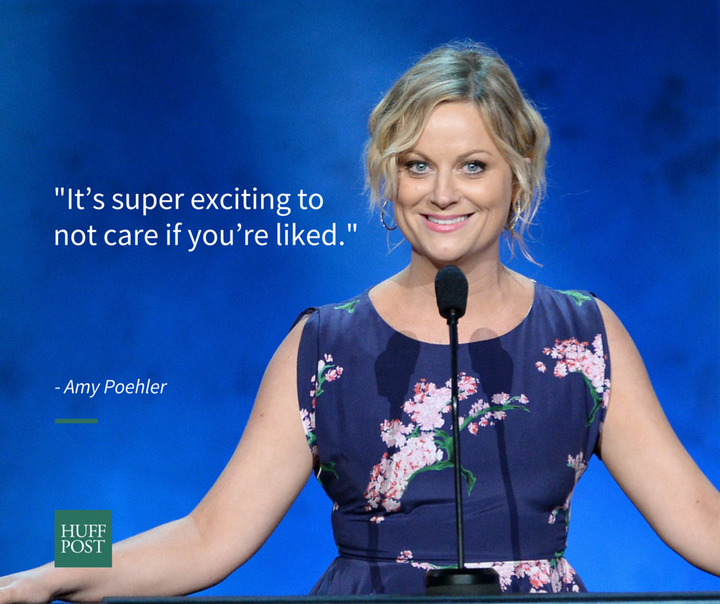 When female funniness is questioned, people often point to Poehler as proof that yes, duh, women are funny. From her hosting skills at the Golden Globes to her sketches on "Saturday Night Live" and everything in between, she has certainly made her mark on the comedy world. As for new talent trying to leave their own imprint, Poehler said she's "optimistic about this new generation of young female artists" including Abbi Jacobson and Ilana Glazer of "Broad City" (which Poehler contributes to as an executive producer) and Amy Schumer.
Poehler isn't sure if comedy is becoming a more welcoming place for women, though she does see an upcoming change.
I do think the market now demands an alternative to the old white male experience. But look, here's my stoner answer: I think the world is becoming more feminine, and there are a few dinosaurs raging at the end, and it causes extreme violence against women, it causes terrible political fires around the world. But I think everyone's reacting to the universe becoming more feminine in order to save its life. That is a long title for my next book. I also do it in stand-up clubs and I don't have a joke at the end.
There's proof that Poehler doesn't always need a joke to get her point across.
PHOTO GALLERY
Amy Poehler And Tina Fey Taught Us Everything We Know About Being A Woman
Calling all HuffPost superfans!
Sign up for membership to become a founding member and help shape HuffPost's next chapter