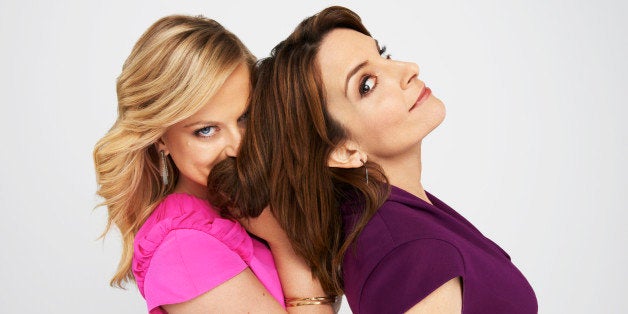 Here at HuffPost Women, we have been waiting patiently (OK, extremely anxiously) for the 180 minutes of entertainment euphoria we expect when Amy Poehler and Tina Fey host the Golden Globes on Jan. 12. As such, any hints of what to expect fall on very eager ears in our quarters.
To our delight, January 7 brought an interview with the ladies by Marisa Guthrie of The Hollywood Reporter. The interview is chock full of hilarious, off-the-cuff remarks, but also, some serious words of wisdom, delivered with an appropriate dose of humor. Our favorite funny ladies avoided an earnest discussion of the limits Hollywood places on women as they age, choosing instead to flout the ridiculousness of these limits.
Case in point -- what do all the best actress drama nominees have in common? With the exception of Kate Winslet (who is 38), Cate Blanchett, Sandra Bullock, Judi Dench, and Emma Thompson are all over 40. When Guthrie asked jokingly if perhaps it's time young actresses start "complaining of ageism," Poehler and Fey quipped:
Fey: That's a good idea. We'll write some jokes about that for the thing. I think you're going to see a lot of gowns with sleeves -- cap sleeves, ballerina sleeves.

Poehler: If anything I think it's proof of the longevity and versatility of women. Isn't 40 the new 30 and 80 is the new 20? I think a lesson is: If you've got it when you're young, you'll keep it when you're older. But it's a good area to make jokes about, so thank you for that idea.
Fey offered up a more serious response when Guthrie asked if the two comedians felt that they broke apart the "boys club" at "SNL." Fey said that it took a critical mass of female comedians to create a permanent shift:
It was a long period of female stars dominating in a lot of ways. The women in the cast were really strong. We had a female director. We had more female writers. And once the numbers change in the room then the taste of what gets on changes organically. You saw that in the Kerry Washington-hosted show; having Kerry there changed the makeup of the room. And it goosed the show in a good way.
Finally, Tina Fey addressed an oft-cited frustration of female comedians: the media's insistence on regarding them as "female comedians":
...The only disadvantage women have is to have to keep f**king answering the question of, "Is it hard and are women funny?" The men don't have to answer that question. That's the only impairment.
We love their outlook -- it's important to recognize limits, but not to talk them to death, because at the end of the day, funny is funny.
Head over to The Hollywood Reporter for the full interview and tune into the 71st Annual Golden Globe Awards this Sunday, Jan. 12, at 8 p.m. EST on NBC.
REAL LIFE. REAL NEWS. REAL VOICES.
Help us tell more of the stories that matter from voices that too often remain unheard.
BEFORE YOU GO
PHOTO GALLERY
Funny Women - Past And Present