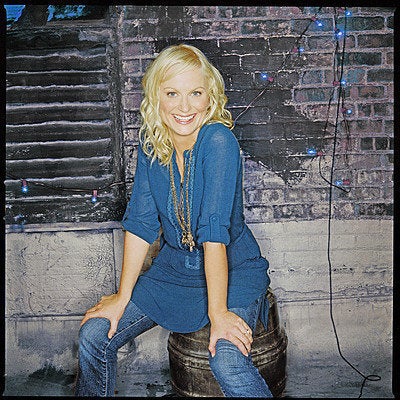 "Saturday Night Live" regular Amy Poehler is in advance negotiations with NBC to star in the network's upcoming spinoff of "The Office," according to network and talent agency sources..."The Office" spinoff is scheduled to join NBC's Thursday roster in February, following a post-Super Bowl premiere.
Fans of Poehler will be torn: On the one hand, she's awesome and deserves every opportunity to shine. On the other hand, it will be sad to see her limited to just one awesome character instead of the many awesome characters she plays on "Saturday Night Live," where she has been a staple since she joined the cast in 2001. Rumors that she would be leaving the show sometime next year have solidified into conventional wisdom, which generally holds that she'll remain until after the election (though of course, her Hillary Clinton impression will now be less in demand) (which may be for the best, since Clinton is not pregnant — unlike Poehler, who is due to deliver her first child with hubby Will Arnett in the fall).
It will also open up a spot on SNL, presumably for another woman to join Kristen Wiig, in her third season, and Casey Wilson, who just finished her first (or first half, since she joined the cast in February 2008). Wilson replaced longtime cast member Maya Rudolph, who did not return following the writer's strike. It will also mean a vacancy at the "Weekend Update" desk; who knows how that will be filled. (Poehler's co-anchor, Seth Meyers, is also the show's head writer and enjoys great chemistry with Poehler, so exec producer Lorne Michaels will have to figure out whether Meyers should anchor solo, have another co-anchor, or if someone new should take the reins.)
All of this is wild speculation, of course — perfect for the SNL off-season — but in the meanwhile, Poehler's addition to NBC's Thursday-night lineup would be a welcome one. As long as it doesn't take her too far from 30 Rock.
p.s. Fans of Poehler's klassy-with-a-k character "Amber" will no doubt have already gotten the "jealous?" ref, but for the rest of you, get caught up.
p.p.s. New media alert: This actually wasn't just in from TV Week, it came via Brian Stelter's Twitter feed. That's also how I know he has three days 'til vacation and three stories to file before then. Go to it, BriStelt!
REAL LIFE. REAL NEWS. REAL VOICES.
Help us tell more of the stories that matter from voices that too often remain unheard.