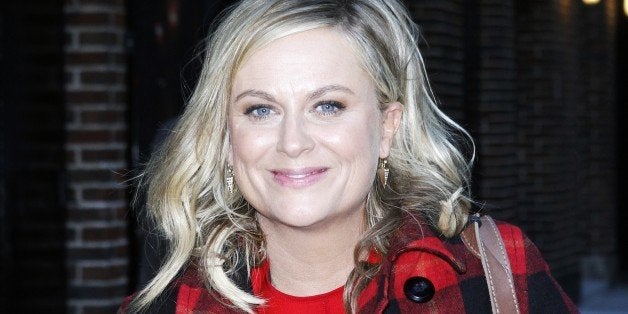 Actress, comedian, feminist, general badass and now published author Amy Poehler spoke at AOL BUILD on Tuesday about her new book, Yes Please. In addition to revealing that, in spite of her several impressive accolades, she considers herself "a professional break dancer" first and foremost, Poehler delved into her writing process ("hellish"), her future ambitions, and the role humor played in penning a memoir.
Here's what she has to say about writing and creativity:
Writing isn't easy
"People tend to treat writing with real austerity," Poehler said. "There's a lot of, 'I dressed for writing and went to my writing spot,' and it's like 'What the fuck are you talking about? This is a nightmare!' Writing is a nightmare." She continued to describe the creative process as "hellish," and, when asked what inspired her, she quipped: "What inspires me is a deadline."
Poehler made clear her irritation with people who talk about writing like it's an easy, casual pastime. "Hard work is hard work," she said. "Anytime people make hard things seem easy, they're doing it a disservice."
And the creative process is no cakewalk, either
After likening creativity to a warm, doting older woman who coddles and compliments you, Poehler compared careers to bad boyfriends, joking that they're largely apathetic to your needs. The creative process, however, doesn't always come easily. Poehler says her creative process is "a lot of stomping around, and huffing and puffing."
But it is rewarding, and can lead to self-awareness
"I cannot luxuriate in denial about why I do things anymore," Poehler said. "It doesn't mean it changes any of my behavior, just that I'm fully aware of the bullshit I'm trying to pull."
The key to creative success is to simply "do the thing" you want to do
"Talking about something is not the thing. The doing is the thing," Poehler said, bluntly. "The way you do the thing, is you just have to do the thing."
'Yes' and 'Please' are two powerful words to live by
When asked about the title of her book, Poehler said, "'Yes' is a word that I like very much. It's an improv term. It's kind of gotten me to where I am. It's a way of jumping into things without knowing if they're going to work. And 'please' is kind of my sacrifice to the Gods -- it's a way of not doing things alone."
The most powerful comedic writing imbues humor with other meaningful emotions
"I talk in the book about how, when you go from crying to laughing quickly, it adds years to your life," Poehler said. "I'm a real sucker for the fine line between sad and funny. [The book] was about balancing that with, you know, jokes about Justin Timberlake." Rather than serving as the sole tone of her memoir, Poehler characterized humor as a friend she got to "bring along for the ride" while writing it.
Popular in the Community