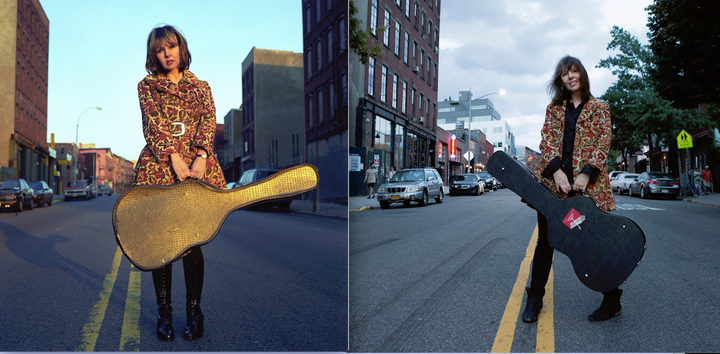 "You may be asking yourself—what is a mod housewife? It is a woman being dragged kicking and screaming into adulthood. Not quite able to give up her dreams of the good life, but incapable of saying goodbye to the slacker lifestyle that has served her well since before there was a term for it."
Those were the words that singer-songwriter Amy Rigby wrote in the original liner notes for her critically-acclaimed 1996 album Diary of a Mod Housewife. A semi-autobiographical collection of songs, the record documented the trials and tribulations of a woman in her mid '30s navigating through the rocky moments in her relationships and her personal rut—all told by Rigby with directness, humor and poignancy. From the shimmering "Time for Me to Come Down" and the aching "Sad Tale," to the defiant "That Tone of Voice" and the whimsical "We're Stronger Than That," the tracks sort of expressed what the singer was experiencing in her own life from about 20 years ago (She was previously married to drummer Will Rigby of the dB's and raising a young daughter at the time). Stylistically ranging from pop to garage rock to folk to country, Diary of a Mod Housewife was masterfully produced by Cars guitarist Elliott Easton, who also played on the record along with other seasoned pros such as Don Heffington, Ira Kaplan, Tony Maimone, and Jay Sherman-Godfrey. Since its original release, Diary of a Mod Housewife garnered rave reviews from outlets including The New York Times and People, and it spurred Rigby on to record several more records to the present day.
Twenty years after Diary of a Mod Housewife, Rigby is still sharing her witty personal stories through music, even though a lot of has changed. She has collaborated with her now-husband Eric Goulden (a.k.a. Wreckless Eric) on three albums, and her grown-up daughter is in a band called Outside World. Rigby already performed several dates in the States recently, and is now currently embarking on a U.K. tour; meanwhile Diary of a Mod Housewife was reissued on vinyl for the first time. I caught up with the singer-songwriter to talk about her life prior to and around the time of the album's release and why it still connects with people after two decades.
Congratulations on Diary turning 20. What goes through your mind thinking about that record's milestone?
Thank you! I hear from people who love the album, "It can't be that long, 20 years," but then we look at all that has happened and changed since then and it's a miracle to have a document like that. An album, like a photo, book or film, stops time - when I'm listening to it now I'm right back there in my mid 30's, wondering what the future holds and I think it has that effect on people who know the album from back then. I remember thinking when I was 30 years old, "there's no way I'll be riding around in a van, playing music when I'm 40." Now I'm almost sixty and to stop would feel like a sort of failure at this point. I feel like I've written better songs since the ones on Mod Housewife, but it's great to have that singular statement. It was conceived as a concept album in the heyday of the CD, 1996, but probably because I grew up with LPs, the album naturally has the right amount of songs and even the right flow in the song order to work on vinyl—so very happy to have it in that more visceral format now.
For those who might not be aware of your life and career, could you talk about the circumstances at the time that led you to write and record the songs for the album? If I am correct, were you living in New York City around the album's recording?
I was living in Williamsburg, Brooklyn—a homely, rugged place bearing no resemblance to the Williamsburg of today—not because I wanted to live in Brooklyn, but because it was affordable and only one subway stop from Manhattan. Living in Manhattan had been my dream and I'd been there almost 15 years (I grew up in Pittsburgh and came to New York City in 1976 [to] attend Parsons School of Design), but having a kid meant adapting my artist life to parent life. I'd played in bands in the city for over a decade, first Last Roundup, who put out a record on Rounder, and then the Shams, a girl group who'd released an album and EP on Matador. Diary was my first solo record, the songs felt too personal to do in a band setting. It was my statement about what it felt like to juggle all the elements of life I never imagined an artist would have to do—making a living, having a relationship, housework, being a parent—with trying to create something worthwhile.
I don't know if the term "mid-life crisis" would apply, but as you implied in the album's original liner notes, your definition of a mod housewife is someone who was reaching the point of settling down but at the same time still wanted to rock. Were you experiencing that sense of conflict within, and if so, was making this record something cathartic for you?
The conflict came from having no precedent for doing what I and others around me were trying to do—there were few examples of women who were working artists and mothers. I'd grown up with a father who worked, a mother who stayed home with the kids. Even Patti Smith who I'd looked up to as a performer had retired from music to raise a family and was only just talking about coming back to performing. There were books and magazines and movies in the Eighties into the Nineties about this Superwoman who did it all: kids, husband, and a fabulous career, but no one told you what to do if your career or calling didn't actually pay the bills. How did you justify being an artist? Was it selfish to put time and energy into work that may or may not amount to anything besides a chance to express yourself? But doing that work was the only way I knew to be myself. I think the album spoke to other people who were going through a similar thing. We were the first generation to grow up and face growing old through rock music. Neil Young and Dylan were in their mere fifties back then, the Who and Rolling Stones too! It was a joke, the thought of old punks blasting through their hits into their sixties and seventies, and did anyone think the Replacements would reform?
This album was produced by Elliot Easton, who is best known for his work with the Cars. Did you know Elliot before recording the album? What was he like as a producer?
I was introduced to Elliot by Barry Feldman, who was working at the record label that signed me. He was in L.A. and I was in New York. It was exciting to me to work with a great guitarist who'd made hit records and yet shared a lot of the same musical influences (country, '60s British invasion). We had a fun working relationship. Elliot's a super-creative guy and the songs were so written in my soul. I just enjoyed the process of putting them down to sound appealing but raw enough that the honesty could come through
There are definitely folk, country, and pop influences on the record. Were there any particular artists you were listening to then that perhaps shaped the sound of the record?
I've always loved Bob Dylan, the Byrds, the Kinks and garage rock. I know there's some Petula Clark and Nancy Sinatra in there, Jeannie C. Riley—pop and country music—but the music that told me I could do this too. The outsider stuff like Raincoats and the Shaggs, is always there for me.
I would love for you to riff or talk what comes to mind about some of Diary's songs. I believe "Time For Me to Come Down" was the first single off the record, which is a great song. What inspired that?
That was just as it says, a drive. I was struggling with my marriage and going to meet up with my husband at the time, vowing to make it work, get out of my head. I like that it can be interpreted as the rush of new love as lots of people have told me that's what it feels like to them. Something I love about pop music is the way anyone can fit their details and lives over the writer's.
I love the charming story line in "Knapsack." Was that inspired by a real-life event?
That was my lunch hour in lower Manhattan. There was the first Barnes & Noble superstore on Broadway, three stories and a cafe—that kind of environment was new back then. New York was still so crime-ridden in the early '90s, you weren't allowed to bring your bag into a store but had to check it at a door. I imagined it as this humble story but pictured myself as Petty or Springsteen when I sang it, making the mundane epic, like at any desk in any office building in the city. A worker would spring up and strike a chord, "Hey, here's what happened to me today..."
"20 Questions" definitely sounds something out of Bob Dylan's Highway 61 Revisited or a track Nancy Sinatra might have recorded. Were they intentional influences for that particular song?
The arrangement for sure, that was Elliot's idea, and it brought out the desperation and hysteria.
The theme of "The Good Girls," which certainly the hearkens the '60s pop sound, seems so prophetic being that the glass ceiling is what women still face in society.
I was working as an office temp in Manhattan for many years - sometimes riding the elevator at Sony with managers and agents I knew through my music life but I'd be wearing my one black skirt and carrying an interoffice envelope, trying to hide so they wouldn't know I had to answer phones for other people. Now I look back and think it was cool and noble and I should have been proud—"Yeah, I work to make ends meet. It gives me real stuff to write about." But back then it was a source of shame for me. So "The Good Girls" came out of that frustration. I felt like the fourth woman in 9 to 5.
"Beer and Kisses" is a duet with Wesley Stace, a.k.a. John Wesley Harding. How did that collaboration come about?
I'd met Wes when my girl group the Shams opened for him at the Bottom Line and had sung a song or two with him, and noticed in the L.A Weekly that he was playing in town the week we were recording, and I needed a duet partner who sounded like a real person. It was fun picking him up at his hotel and driving him up through Laurel Canyon to the studio in North Hollywood, like Carole King and James Taylor.
The reviews for the record at the time were really enthusiastic. Were you surprised by the positive reaction it garnered? Did it represent a turning point for you?
I'd been playing in bands, performing, recording and touring for over 10 years and so I guess I just thought, "At last." Now I look back and can see how naive and/or deluded I always was but those can be helpful attributes, believing from the start that what you're doing merits other people's attention! I believed that the honesty had to connect to somebody. At the same time, I was going through the breakup of my marriage and all the interviews, photo shoots and shows were a helpful distraction. When I look back at pictures of myself from back then, I see what a wreck I was—I mean, I cut off all my hair and bleached it platinum blonde, a look never to be repeated! But I was overwhelmed and overjoyed by the response—yet was back at a temp job a year later, typing up song lyrics in the law department at CBS and trying to come up with a title for my second album while answering the general counsel's phone.
You went through some major life changes since the release of Diary of a Mod Housewife—you're married to musician Eric Goulden, whom you've collaborated with musically. Has your point of view about love, romance and the trials and tribulations of middle-age that were presented on the record changed now?
I still process things through writing—songs and my blog and other types of writing I've kept working at. I think I've become more appreciative of where I am, every show I get to do, song I write. It's been a huge experience playing with Eric, he's taught me a lot about performing, guitars, sound and equipment and I admire him immensely as an engineer and producer and artist. My daughter's the age I was when I made my first record and she's so much more realistic and at ease than I was with life as a musician... at the same time it's still hard (or harder than it ever was) and in some ways I'm going through the whole thing again through her!
Are you working on any new music following your last solo record, Little Fugitive, from 2005?
Eric and I made three albums together in the last decade, and in 2017 I'll have my first solo album since Little Fugitive, lots of new songs recorded and a few more to do. Looking forward to more touring too.
Twenty years later, why do you think Diary of a Mod Housewife still resonates with people?
Part of it was the time it first came out in—a nostalgia for the end of the twentieth century. The Nineties feel like the last time true sincerity was possible, pre-social media. It was easier to make an impression and I think what I was going through then echoed the lives of my peers, female and male, who'd grown up post-Woodstock and witnessed the energy and immediacy of punk firsthand. And now, as a document of one woman's struggle or rallying cry it holds up because those are still rare. It ain't particularly pretty to work these things out, but it needed to be done and I'm still kind of amazed I had the nerve to do it, and got the help I needed --a label, publisher, etc.—to make it happen.
Popular in the Community