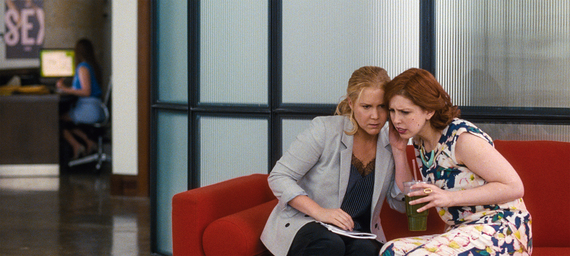 Amy Schumer's Trainwreck introduces us to a new kind of mainstream film heroine: blunt, thoughtless, more interested in being gratified than likable, one whose boundless appetites are played for fun rather than derision. As a magazine writer whose family history leads her to reject monogamy and fantasies of conventional romance, Schumer seems at first to be the polar opposite of the earnest hardworking nice-girl leads of most contemporary rom-coms.
So how did her bold comic adventure deteriorate into a retrograde tale of fake romantic bliss?
I have a theory, and it goes like this: Judd Apatow.
Apatow, of course, is responsible for bringing Lena Dunham to the masses, something for which many of us are grateful (others not so much, but that's a zillion discussions for another day). He was smart enough not to tamper with Dunham's voice, if comparisons between her early films and the Apatow-produced Girls are any indication. Yet he's also the man who gave us Knocked Up, in which Katherine Heigl's supposedly driven career woman forgoes her lifelong dream without missing a beat after getting pregnant by an unappealing stranger (Seth Rogen) on a drunken night of celebration. A breakthrough success for Apatow, Knocked Up provides more character development for the fetus than for its adult female heroine; meanwhile Heigl's newswoman-in-training, finally offered the break she's hungered and worked for, doesn't even consider any possibility but baby raising and amour with the barely functional Rogen.
Apatow's input on Kristin Wiig's Bridesmaids reportedly included not just the infamous diarrhea scene that helped make the film a blockbuster but Wiig's degrading treatment by John Hamm, ostensibly played for comedy in scenes that undercut any empathy we might feel for a heroine too weak, self-loathing or stupid to jettison such a heel. (And don't even get me started on This Is 40.)
Am I wrong to see Apatow's hand in Schumer's debut feature, in which an iconoclastic heroine initially surprises and delights us, only to renege on the promise of her character and betray everything that made her so enjoyable?
The film, which slowly deflates in a turn for the reactionary, has undeniable pleasures. It won't surprise followers of Inside Amy Schumer that the actress is comically nuanced in her first big-screen role, and the euphoria of her early scenes creates considerable goodwill. Yet entertaining narrative moments are increasingly outnumbered by contrived plot turns and limp gags. The film is peopled with appealing actors: Brie Larson shines in an underwritten role as Schumer's sister and Bill Hader is appealing despite the implausibility of nearly every aspect of his plot-device character, that of selfless magic boy who transforms our heroine into a real girl. But for every actor who is well used -- like an unrecognizable Tilda Swinton, who nearly walks off with the movie as Schumer's heartless boss, or a bitingly silly Randall Park -- ten more are wasted, like Marisa Tomei and Matthew Broderick in two of the film's many unsuccessful gimmicks. (Note to director Apatow: Hader may be talented enough to persuade us to overlook his character's unlikely actions and motivations; Marv Albert is not.)
Like the casting, the writing is a mix of hilarious, poignant and cringe-worthy. A scene in which Schumer's character eulogizes her deeply flawed father shows the film's ability to thwart expectations, to both moving and comic effect. But if the script initially upends tired clichés by blending crude humor and genuine emotion, it soon buckles under the weight of too many false notes. The stunt casting of athletes and other celebrities in various roles only highlights the failure of numerous scenes that, intended to push the envelope in matters of race and (homo)sexuality, instead fall flat, leaving a queasy aftertaste.
Schumer's brazen gifts perhaps distract us from the fact that the only story she considers worth telling is about the, er, dude she can catch any time she wants. Yet in her first movie script her heroine goes from rebellious to whipped, declaring herself "broken," offering (sort of) apologies for behaving badly, and then getting rewarded with the kind of happy ending the woman we so enjoyed meeting at the film's start would consider a death of the soul. And so will any audience member who doesn't buy the conventional package of female self-definition/self-worth still being sold, sadly, even by those who claim to break the mold.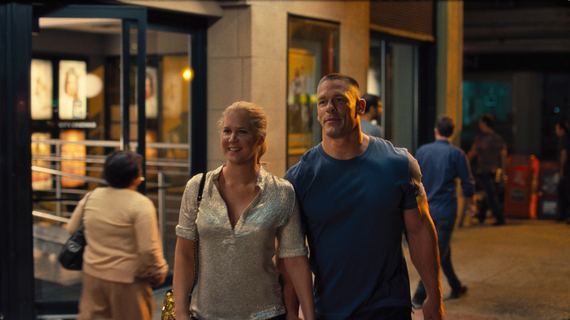 (Amy Schumer with Vanessa Bayer; Schumer with John Cena; photos by Mary Cybulski courtesy of Universal Pictures)
Calling all HuffPost superfans!
Sign up for membership to become a founding member and help shape HuffPost's next chapter