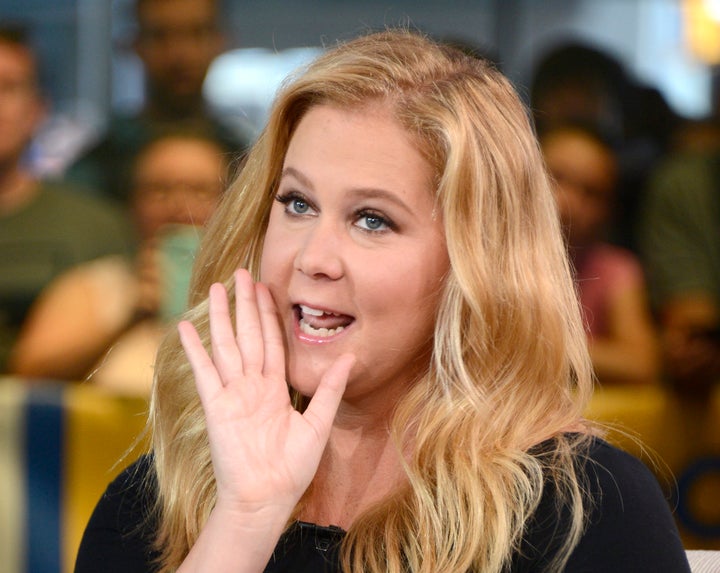 Once upon a time, Amy Schumer dated a guy who turned out to be gay. 
Before the book hits shelves on Aug. 16, a story titled "My Only One-Night Stand" describes how a fateful airport encounter with "a six-foot-two-inch strapping strawberry blond of about thirty-five years" helped Schumer come to terms with a past relationship.
The two met on a morning flight to Tampa, Florida, and immediately hit it off, despite Schumer describing her appearance at the time as a cross between "Beetlejuice — the Michael Keaton character" and "a tight end for the New England Patriots."
The connection was so strong ("My clitoris was thumping like the Tell-Tale Heart") that she and the gap-toothed redheaded sailor had a one-night stand ― a first for Schumer ― in her hotel room later that night. 
I really needed a boost of sexual confidence during that time of my life. I'd recently learned that a guy I'd been in love with and had dated in the past was gay. Even though it had been a while since we had dated, it still broke my heart when he came out to me. And it made me begin to question myself. This person who made me feel beautiful and sexy for so long was attracted to men. When you get older and wiser, you get your confidence from within, not from the person you are having sex with. But finding out someone I'd dated was gay at that moment in my life was giving me a hard time. I was having trouble feeling like a sexual being and was wondering about my own worth.
Although she urges readers not to use one-night stands as a cure-all for broken hearts or a self-esteem boost, in this instance Schumer says the hook-up helped her learn how to have "fun" sex again. 
"Coming off the depressing discovery that a guy I'd had a lot of sex with was attracted to men," she writes, "It felt incredible to have this heavenly being take me in his arms and make me feel both wanted and beautiful."
Head over to Vogue to hear more from Schumer. 
REAL LIFE. REAL NEWS. REAL VOICES.
Help us tell more of the stories that matter from voices that too often remain unheard.
BEFORE YOU GO
PHOTO GALLERY
13 Amy Schumer Quotes That Make Us Proud To Be Women