Comedienne Amy Schumer and her cousin, U.S. Sen. Chuck Schumer (D-N.Y.), have joined forces in a new push for laws that crack down on gun violence. 
The "Trainwreck" star made an emotional call for gun control reform during a Monday morning press conference in New York that introduced the senator's three-part legislative gun control plan.
"We're here today to say 'enough is enough' to mass shootings in our schools, our college campuses, our military bases and even our movie theaters," Amy Schumer said. "These shootings have got to stop. I don't know how else to say it."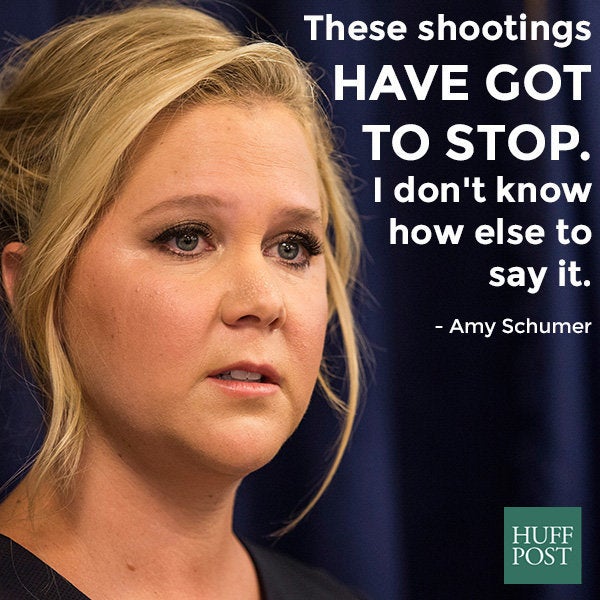 Amy Schumer's comments come roughly two weeks after a man named John Houser allegedly shot two women to death and then killed himself during a screening of "Trainwreck" at a movie theater in Lafayette, Louisiana. In the days since, Schumer hinted she would be pushing for greater gun control. 
She refused to even say Houser's name during the Monday conference, and noted, "This man shouldn't have been able to put his hands on a gun in the first place."
Amy Schumer said her cousin's legislation "deserves unanimous support," and supported it as a common-sense approach to gun control.
"The critics scoff and say, 'There's no way to stop crazy people from doing crazy things,' but they're wrong," she said, noting, "These are not extreme ideas."
Sen. Schumer's proposed legislation would set up monetary rewards for states that submit all necessary records into the background check system and penalize states that don't. The plan also calls for Congress to improve mental health funding and funding for substance abuse programs 
After mentioning Jillian Johnson and Mayci Breaux, the two women killed in the Lafayette theater shooting, Amy Schumer recalled being "completely devastated" by the news of the shooting -- but also angry. 
 "We'll never know why people choose to do these painful things, but sadly, we often find out how," she said of her cousin's proposal. "Today's push makes so much sense because it addresses the 'how.'"
As Deadline notes, Amy Schumer is slated to appear Monday night as one of Jon Stewart's final guests on "The Daily Show" and is expected to talk more about gun control then. 
"These are my first public comments on gun violence," she said. "But I can promise you, they won't be my last."  
PHOTO GALLERY
Pivotal Moments In The U.S. Gun Control Debate
Calling all HuffPost superfans!
Sign up for membership to become a founding member and help shape HuffPost's next chapter