Move over Martha Stewart -- Amy Sedaris takes crafting to a new level.
I'm not a crafter -- I think I swallowed too much paste as a kid -- but Sedaris, along with frequent conspirator Paul Dinello, delivers a hilarious new read in Simple Times -- Crafts for Poor People. It's a funny book, yes, but it's also pretty informative. Why, on page 17, Sedaris explains to readers what "crafting" actually is and asks them: "Is Crafting Right For Me?" Meanwhile, in the "Craft Yourself Homely" chapter, she warns of the soullessness found in some of today's modern "homes" before explaining the joys of hominess and nosalgia.
(That Sandpaper Rug idea caught my eye.)
Other chapters are perky, festive and downright fun: "The Joy Of Poverty," "Safety Meeting," "Pet Talk," "Shut-Ins" and "Sausages" sizzle. But honestly, her "Crafting For Jesus" chapter is, well, heaven-sent.
Sedaris, like her famous brother, David, manage to pluck the most unusual things from their eclectic imagination and bring them to life in the most inventive way. Somehow, they strike a chord with audiences. Amy began turning heads with her outlandish turn in TV's Strangers With Candy -- it later became a film -- but guest spots on hit shows like The Closer and The New Adventures of Old Christine -- not to mention her numerous talk show appearances -- keep the buzz buzzing.
Simple Times, she says, was inspired by her other coffeetable book, I Like You. I recently caught up with Sedaris to get the lowdown of the book's origins. (And to learn more about glue, of course.) I also managed to get crafty with a behind-the-scenes peek video (below, followed by a Q&A with Sedaris) at a recent booksigning event at the celebrated Bookshop Santa Cruz, in Santa Cruz, California, where the clever lady opened up even more. Dive in:
Greg Archer: Stellar book. Can't wait to reread the "Crafting For Jesus" chapter -- divinely inspired! But first, tell me who was the biggest crafter in your home growing up? You? David? Your Mom? The neighbor?
We all crafted growing up, but when I say "crafted" I mean we all like projects, making things.
Love that you tell us to stretch before crafting? Are you speaking from first-hand experience? Nothing bad happened to you, did it?
I was talking to a woman who does seed art and she said it was really hard on her neck and shoulders. Crafting can be so hard on you physically --i t made sense to put something about it in the book. I also pulled a muscle in my tongue yelling at someone wanting them to work faster.
What turns you on more? Cutting? Gluing? Or Hammering?
Taping, stapling, grinding.
What would you tell a crafting virgin?
I would encourage them to relax and, most importantly, lower expectations. This first crafting experience will never live up to the way it was fanaticized about. What you had hoped would be a tender and beautiful night of felting turns out to be an aggressive slap-dash affair primarily motivated by alcohol and no one from the crafting circle even had the decency to call me the next day!
Any helpful hints on glue choices? What would happen, say, if instead of using "tacky with furry" as you write, that I accidentally mix Gloppy with Furry? I won't go to hell, will I?
I can't really tell you whether or not you will go to hell. I don't know what other sins you have committed. But I can tell you this, accident or not, gloppy with furry will always result in clumpy and matty and that's a promise.
On a more serious note... This is truly an inspired marvel. Good for you. Can you tell us what inspired you to create this book?
I had a small craft section in my other book, I Like You and I wanted to expand on that.
Did you ever picture yourself as a bestselling author? What sort of ripple effect did your last book have in your life ... And when you look at this book, are your proud or do you see things you would have done differently?
I still don't think of myself as a writer. I'm good at coming up with an idea and fantastic when it comes to telling people what to do so I can get what I want. I like creating books for people who can't read, and I like to inspire, so, hopefully, this book will trigger an idea or two. I like Simple Times a lot -- and I am very proud of it.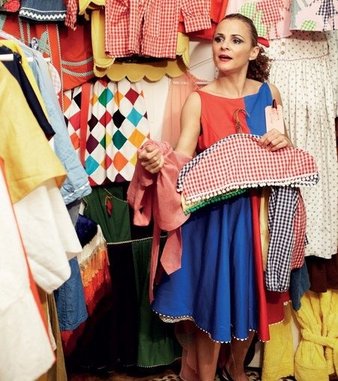 Photo courtesy of Grand Central Publishing/Hachette Book Group
Any stellar crafters out there in history that you just couldn't help be inspired by?
I really like naive art. I'm inspired by the poor and the ugly.
Thoughts on Martha? As in... Stewart?
You don't have to specify which Martha you are referring to -- she has reached the level of a Madonna, Gaga, or Rasputin. She is my hero. I thought she was a wonderful catalogue model. Not sure what she did after her modeling career, but does it matter?
Who would you say was your biggest inspiration growing up, and why?
All my brothers and sisters and my parents were very inspirational, and a concrete toadstool we had in our backyard. Mr. Mushroom was his name.
Who makes you laugh most? Why?
Anderson Cooper. I just love the way he delivers the punch lines, when he talks about the planet peril.
What pisses you off most?
People walking down the street punching buttons on their phone or iPods. I always stop and let them run into me. Idiots. I also have a hard time with people just sitting in a rocking chair and not rocking.
Is this a fact? I love seeing the people who come to the events that I am involved in... that's the only way I can see people care. I'm always shocked to see people, I always think nobody is going to show up.
Best advice you've been given about life lately?
Only boring people get bored.
What's the most interesting thing you've been learning about yourself these days?

That I am happiest when I am alone.

Many thanks. I'm buying glue tonight.
Calling all HuffPost superfans!
Sign up for membership to become a founding member and help shape HuffPost's next chapter