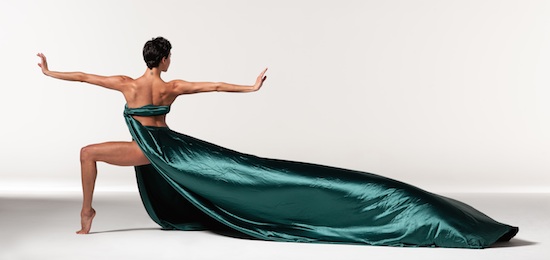 Sarah Griffin of Amy Seiwert's Imagery. Photo: David DeSilva.
Amy Seiwert's Imagery, a tiny company of eight dancers, is making a bid to corner the market in female ballet choreographers, employing 20 percent of the world supply for their upcoming performances at the ODC Theatre in San Francisco. That the actual number of choreographers represented is only three should surprise no one familiar with the ballet world, in which women dominate as dancers but not as dance-makers.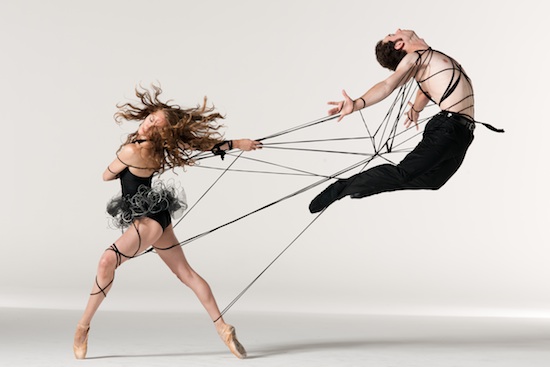 Katherine Wells and Ben Needham-Wood of Amy Seiwert's Imagery. Photo: David DeSilva.
A timeline of the great women ballet choreographers would fit on a Post-it: Bronislava Nijinska, Agnes DeMille, Twyla Tharp -- all three of whom took some heat in their time for stretching the genre. (DeMille herself dismissed Tharp's choreography as "tiresomely neurotic.")
The fragments of this program on display at a rehearsal last weekend underscore Seiwert's impeccable curatorial taste. All three choreographers are classically trained and made names for themselves first as ballerinas with well-known North American companies, and all three are stretching the ballet vocabulary, particularly supported pointework, in new and startling ways. They seem to care little for tramping the well-worn neoclassical path first blazed by Balanchine and now tended by his disciples including Chris Wheeldon and Wayne McGregor, nor do they explore the gorgeous, opaque realms architected by Alonzo King.
Unlike King, who pretty much ignores his music in the pursuit of pretty shapes, Gina Patterson, whose work will be performed in San Francisco for the first time, and Seiwert, who has been the resident choreographer for Smuin Ballet, take us deep into their music and give their dancers a language of intimacy with a distinctive movement grammar. Patterson has the women in The Inconstant launch themselves repeatedly into turning jumps, to be caught mid-air by the men --- movements that are not only breathtaking in their technical difficulty, but that also convey a great poignancy, a sense of frustrated longing. Seiwert's In the Time, set to deceptively sweet and simple a capella songs by boy/girl duo Ramon and Jessica (to be performed live), explores similar emotional terrain. The men place their hands very carefully in different positions on the women's bodies, they support the women in promenades that are mostly off-balance, and the dancers lean against each other while moving across the floor. The audience is witness to a series of intense, private exchanges between the dancers, who radiate both vulnerability and power.
Julia Adam's Sleep Sketches differs markedly from the other two. This is a witty, whimsical riff on how we fall asleep or tune out at critical times when we absolutely need to be awake and alert (like when we're in the middle of partnering a ballerina). Dancers execute chaîné turns with their faces planted into a pillow; a ballerina nudges her dozing partner with a thrust of her pointe shoe but only succeeds in rolling him over. What makes this more than a delightful piece of fluff is the sly commentary on a sleep-deprived society, and the inspired engagement with the music of Chopin, Satie and Stravinsky. Adam injects a good deal of classical vocabulary, especially in her steps for the men, who explode into big sissonnes, entrechat sixes and pas de chats - and she doesn't twist the classical shapes, they spring organically as expressions of the dancers' emotions.
Ironically, Seiwert plants a flag for female ballet choreographers in the birthplace of Isadora Duncan, the celebrated dancer and rebel who despised ballet, proclaiming it "an expression of degeneration, a living death," and whose insurrection profoundly influenced two men who went on to substantially shape ballet in Britain, France and America today -- Michel Fokine and Sergei Diaghilev of the Ballets Russes. Within these works by Seiwert, Patterson and Adam there remains a reverence for the classical genre; they may not be behaving badly like the rebels of yesteryear, but they're quietly storming the citadel.
SKETCH 2: The Women Choreographers will be presented at the ODC Theatre at 3153 17th St. in San Francisco on August 2-4, 2012. Tickets available here.
Amy Seiwert's work will also be presented as part of Smuin Ballet's program at the Joyce Theatre in New York on August 13-18, 2012. Tickets available here. Watch footage from 2011's SKETCH program:
Popular in the Community