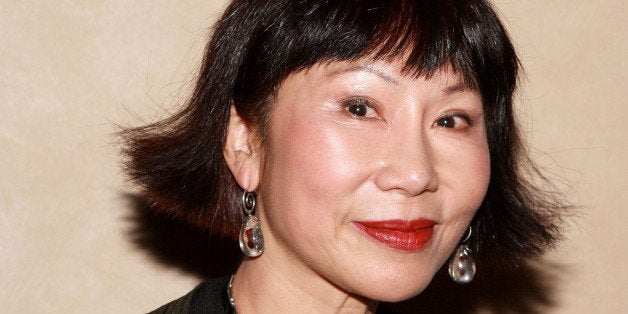 You've likely never heard of one of my favorite writers: Edith Grossman, an award-winning Spanish-to-English translator, who translated many of Mario Vargas Llosa and Gabriel Garcia Marquez's works into English, including Death in the Andes and Love in the Time of Cholera. (Gregory Rabassa did 100 Years of Solitude.) To me, "good writing" is diction (word choice) and syntax (word arrangement): It sounds like it; it feels like it. I've read Garcia-Marquez in Spanish: it does not move me as when I read "him" in Grossman's English.
Back from a hiatus of eight years, Amy Tan has just released her latest novel, The Valley of Amazement. 
The main narrator, Violet, lives in Shanghai with her mother, Lucia Minturn, an American who runs a top house of courtesans ("beauties"). Violet is half-American (mother's side) and half-Chinese (father's side), a fact that sets her in full-on identity crisis 4LYF when she realizes. It's 1912 and the Qing dynasty collapses; the environment is hostile to foreigners, and due to a moustache-twirling villain, Violet is left behind when her mother sails back to San Francisco. Another house takes her in, and she trains and becomes a courtesan.
Growing up around sex, working with sex, bargaining through sex: The Valley of Amazement is about sex, but it is not sexy. Through rambling multiple POV prose (from Violet; her mentor Magic Gourd; Lucia [three flashback chapters at a pivotal denouement!], and her daughter Flora, plus Major Monologuing by other characters), my brain made excuses for Tan's stilted and often curious figures of speech by translating what they'd sound like in the characters' "original." (FYI, Tan writes in English.) My question is, if I were the Chinese-edition translator, how would I deal with the triple-cross of an ostensibly Chinese narrator communicating in English communicating in Chinese?
Here's a warm-up if you want a head start:
Threading the Needle, Entering the Pavilion, Rousing the Warrior
Double-Winged Bird, Seagull Wings on the Edge of a Cliff, Pair of Swooping Eagles
... the Bucking Horse, the Swaying Bamboo Shoots, Tigress Meets the Dragon, Oyster in the Turtle Shell
I have a deficiency in in-the-original classical Chinese erotica, so I wouldn't get the allusion, although notorious pillow-book 金瓶梅 (Jin Ping Mei/The Plum in the Golden Vase) is referred to when one of Violet's "suitors" persuade her for a reenactment. If anything, the descriptions follow the idea that intonations will turn something like typing on my keyboard into something suggestive. Good luck, audio book narrator!
My personal favorite simile:
          ... their bodies moved like thrashing fish ...
Tan's team knew what's up and published the most potentially "lurid" chapter (where Magic Gourd, a former courtesan, imparts advice to Violet) as the e-book single 
Rules for Virgin
s in 2011.
          Here, we don't go back and forth on the price. It is three dollars for a party, and it does not include riding on the stem.
          We'll simply have to call in Vermillion's maid once a week to keep your little mound a white tigress.
          I will give you a pearl polisher and a lotion called Gates Wide Open.
And, apparently, women who love women are called "reincarnated nuns." The awkwardness stops when Violet leaves the occupation, but resumes when she's tricked to go to Anhui by A Very Bad Man, who shows up in every Amy Tan. (The earlier one was a red herring.)
I have a complicated relationship with Amy Tan. Reading The Joy Luck Club as a pre-teen, I didn't really relate to the chess-playing genius or the woman stuck in her unhappy marriage, but I thought the overwrought story important for delving into the turbulent, painful history of China (the Chinese Revolution; the Second Sino-Japanese War) and of mothers and daughters (haha!). Many of my parents' and grandparents' generations don't like to talk about their past. While young, I didn't think deeply about it or knew enough to ask why, but being a voracious reader since I was young -- i.e., loving stories -- and during the process of maturing -- from a narrow, necessarily selfish child's view to one of empathy and awareness -- I was bound to loop back into my family's personal history because it's a part of my own. Reading Amy Tan, and even the melodrama, I felt like I was being let in on a secret: Maybe this is what they were hiding from me.
The Joy Luck Club was published in 1989, and 24 years later, Tan's still repeating her themes (identity, mother/daughter/female relationships, the fecklessness of men and arduous trips-- this time, Violet escapes from her fear of the future, as opposed to advancing Nationalists/Communists), set against the growing pains of emerging modern China in the early 20th century. Props are due where they're due: For readers of Chinese-American authors, what did you have in the 1990s? Maxine Hong Kingston? Wild Swans? Iris Chang, Rape of Nanking, and her tragic suicide?
Tan has been accused of exoticizing the culture and affirming patriarchy and sexism, but I feel like the biggest critique about her is that of ethnic writers being praised, and subsequently boxed in, for writing ethnically. Can you imagine if Junot Diaz moved away from New Jersey and the Dominican Republic and came out with a book about a nobleman's daughter in Elizabethan England?
REAL LIFE. REAL NEWS. REAL VOICES.
Help us tell more of the stories that matter from voices that too often remain unheard.