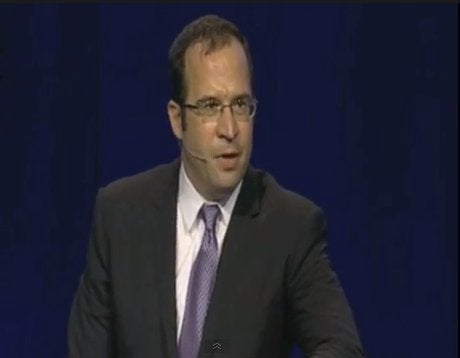 The College Board, the organization best known for bringing you the SATs and Advanced Placement exams, is trying to branch out -- into civil rights work.
The SATs were first created to help level the college admissions playing field for students from all backgrounds and incomes. But critics contend that the goal has been sullied by test-preparation opportunities that benefit wealthier students.
Now, David Coleman, the organization's recently installed president, told The Huffington Post that he's creating a new position called a "senior fellow for social justice," which will function as a "strong internal and external advocate."
"The resources will be substantial," Coleman said Wednesday. Although he didn't offer a precise dollar figure, he said "it is to be counted in the millions."
The new direction comes as the College Board redesigns the college entrance exam to "align it more deeply with the work [that] kids are doing in school so there doesn't need to be last-minute preparation outside the schoolhouse," Coleman said. "We must be very cautious that forces like test preparation or other forces do not unequal this playing field."
Amy Wilkins will be filling the new position. She served as vice president for the Education Trust for 16 years and has worked at organizations such as the Children's Defense Fund, the Peace Corps and the Democratic National Committee. Wilkins is a prominent education and civil-rights lobbyist and advocate, having launched campaigns on saving Pell Grants and shaped aspects of the Higher Education Act and No Child Left Behind.
"For me, it is a perfect place to be to advance an agenda about low-income kids and kids of color," Wilkins said. "They [the College Board] touch them more directly than I was ever able to ... at EdTrust."
Wilkins said she'll need some time to work with her new colleagues to develop her specific plans, but for now, there are clear issues of inequity she's targeting. "I want to find black kids who should be in AP classes but aren't and get them in," she said. "There's lots in that data that needs to be acted on. If they're in the mood to act, so am I." Eventually, she said, she wants to work with Coleman to create metrics of success for the College Board around closing some of these gaps.
"These students are within our care, and we observe patterns that are unequal," Coleman said. "We are going to act to ensure that these kids have the opportunities they need."
Wilkins' last day at EdTrust was Friday, and she anticipates her new job will be a huge change. "For all of my life [I've been] trying to make government behave in different ways vis-a-vis poor kids and kids of color," she said. "This is about unleashing the power of another institution. It's the first time in my life I won't be trying to shove government around."
"I may have a little bit of lobbyist's withdrawal," she added.
Rep. George Miller (D-Calif.), the ranking Democrat of the House Education and Workforce Committee, offered praise for Wilkins. "Low-income kids are always at risk of being left out of the policy conversation, but Amy has made sure that they aren't forgotten," he said in a statement. "Hers is a distinctive voice for an essential cause."
Wilkins is so outspoken that at her EdTrust goodbye party last week, she was sent off with a presentation of "things only Amy Wilkins can get away with saying," sources said. The presentation included quotes from her about the way the White House has approached education, something she previously discussed with HuffPost.
"The Bush administration established a new federal state relationship in education," she said in an earlier interview. "It's a little bit Nixon goes to China, having a Republican, number one, expand the federal role, but number two, do it on behalf of poor kids and kids of color. [With] Obama, you have another moment where political stereotypes don't work. He's a Democrat, he's an African American, and what does he do? He returns a lot of control to the states. He does what he might expect Bush to do, Bush does what we might expect Obama to do. We've had a huge swap in education stereotypes."
Calling all HuffPost superfans!
Sign up for membership to become a founding member and help shape HuffPost's next chapter
BEFORE YOU GO
PHOTO GALLERY
U.S. State Capitol Buildings