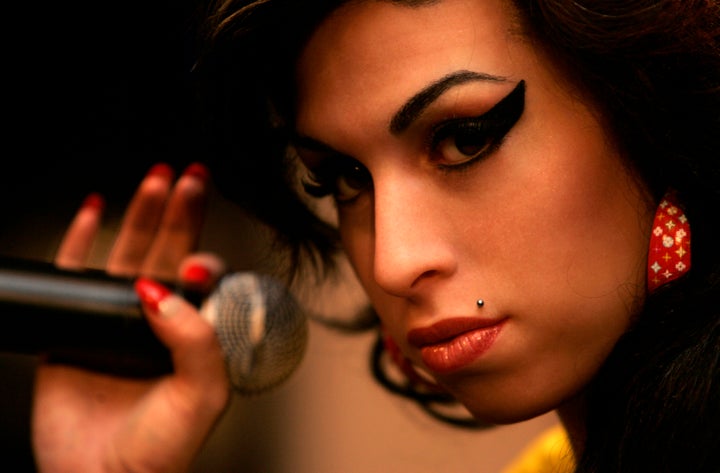 Amy Winehouse died on Saturday, at 27 years old, the same age that has mysteriously claimed a few other talented-yet-troubled musicians, from Jim Morrison and Jimi Hendrix to Janis Joplin and Kurt Cobain. Her death is probably one of the least surprising tragedies in recent memory, given that we've been witnessing her slow-motion decline for, well, ever since we've known her.
But then again, it's one of the most surprising, because we've been witnessing her slow-motion decline ever since we've known her. It's the only way we've ever known her, so none of her self-destructive antics leading up to this were really all that surprising when they occurred. Winehouse punched a fan? Poor fan! She's lost a frightening amount of weight? What a druggie. She got booed off stage in Serbia? Man, is she a joke. The saddest thing about this tragedy is that Amy had to die to finally surprise us.
When Winehouse was first introduced in the U.S. in 2007 with her single "Rehab," off her album Back to Black, her darkness felt like a schtick -- it was a new, edgy reinvention of the 50s girl group dynamic, and a singer using her bad-girl appeal wasn't any cause for alarm. This was Winehouse's year -- she cleaned up at the Grammy Awards in 2008, snatching Record of the Year for "Rehab," Best New Artists, and Song of the Year for "Rehab."
But critical acclaim aside, Winehouse had built her image as one defined by drugs, alcohol and general misbehavior, and what came in the four years following Back to Black fit nicely into that image. Besides, who really worries about a rock star who does drugs, starts fights and gets wasted? This created an odd dynamic where her behavior was indirectly encouraged and ridiculed -- keep doing what you do, and we'll pay attention to you... for a little while at least.
To be fair, not everyone shrugged off the warning signs. Back in 2007, many began sounding off on Winehouse's decline, suggesting it would end in tragedy and likening it to a "slo-mo car crash." But the novelty of her behavior soon wore off, as did the concern. Winehouse acting out just became expected. After all, did she really "deserve" our attention in a constructive way? She hadn't given us a record since Back to Black, so why should we care if she makes a fool of herself on stage -- again -- even if she is clearly on some substance? The most recent incident in Serbia just became more fodder for ridicule instead of a real cause for concern.
Aside from Frank -- Winehouse's 2003 debut album that broke her onto the UK scene -- and collaborations with other artists, Back to Black was all we really had of her, and it remains a more honest portrait of her than what we've witnessed all these years. We can likely expect an album -- of the songs that were expected to be released on an album in January of this year -- will surface sometime soon. But for someone with such limited contributions, Winehouse's influence has still been felt, with the likes of Adele crediting her with making her path to fame "a bit smoother." For now, it's Back to Black.
Calling all HuffPost superfans!
Sign up for membership to become a founding member and help shape HuffPost's next chapter