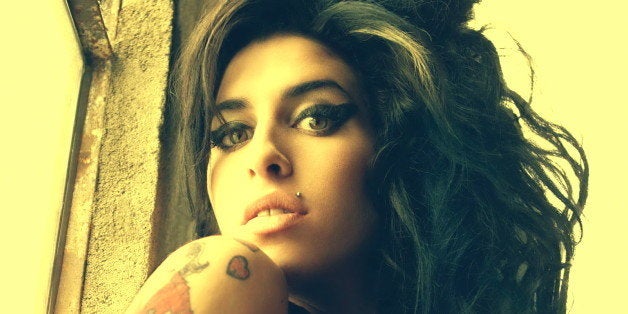 I watched Amy, the Amy Winehouse documentary, yesterday. What an unbelievable spirit she was. What a beautiful and unique presence! The film's depiction of the unfolding tragedy of her addiction haunted me through last night's quasi-sleep.
There was a moment in the doc where Amy has just won the Grammy Award for Best Song for "Rehab." Everyone is celebrating this unbelievable achievement, but Amy confides in a friend that "this is all so boring without drugs." The irony is not lost on anyone.
I'm sitting there thinking, Dopamine. Dopamine. DOPAMINE!!! Her brain is damaged from alcoholism and drug abuse and she cannot feel much of anything without the artificial dopamine boost that drugs such as crack cocaine can give her.
Go back and pore over Rehab's lyrics and you will quickly understand why this song, with it's (you'll regret this someday) chorus, would become her noose. Amy sings, "They tried to make me go to rehab. I said, "No, no, no!"
Two of the most important aspects of Amy's addiction, her bulimia and codependency, are present throughout her adult life and using. And they are addictions which, while less in your face, contributed as much to her demise as her drug and alcohol use.
The bulimia just seems to be this ubiquitous, yet unaddressed reality. The codependency is absurdly evident during the one moment where Amy agrees to go into rehab. She is willing to go only with her lover and fellow addict, Blake. And so off they go to this private rehab island (couldn't make that up), and somehow the treatment doesn't take.
This is that phenomenon we see often today where a person of means heads off to a rehab that costs more money in one month than most people in the world will ever see in their lifetime. Of course, they are actually paying for the right not to change themselves in any significant way. For in order to change, you would have to...well...change.
As is most always the case in the life of an addict, Amy's parents, managers and friends are confused at best, complicit at worst. Addiction flourishes in an environment of ignorance, secrets and shame. And I have tremendous compassion for all of them because until you know what you're dealing with and someone loses their life over this, it's just so hard to grasp.
This is really the point. Addiction is rampant in our society, but few seem to know what to do about it. First one needs to understand it. Addiction is a condition with certain characteristics. Different addictions manifest in different ways and we will need to obey certain specific protocols for the healing process from any particular addiction.
For example, people who take crystal meth or do cocaine are going to experience a period of time in early recovery where they don't feel so good. As their brain heals from a severe dopamine imbalance, they will lack motivation, joy, incentive to do much of anything. Even big events like winning a Grammy award will not do the trick.
If you are an addict or someone who works with addicts, that is important information. You need to know what you're dealing with and how to naturally boost a person's dopamine levels through yoga, exercise, diet, connection and love.
It's also important to realize that very often underneath one's main addiction, there lurks this other more core issue called codependency, which addiction recovery expert, Nikki Myers, calls "the disease of the lost self". Ultimately, this is the driver of the main addictive disorder and it is going to have to be addressed by people who understand it and can treat it.
Yes. Addiction can be treated and overcome. It takes spiritual, psychological and physical protocols to heal from it. One can benefit greatly from an addiction-savvy medical doctor, a therapist, a yoga and meditation teacher, a nutritionist and a wise sponsor in a 12-Step program. But all you really need to begin is willingness to ask for help from someone around you who cares and who is not themselves invested in you remaining sick.
An addict especially needs to know that the joy, connection, love and purpose they've always sought is waiting for them still and has nothing to do with drugs or alcohol. The creativity they have always longed for and the freedom to live according to their heart (rather than at the mercy of their mind) is a real and true outcome on the path of recovery from addiction.
Of course, it's difficult to treat someone who doesn't want help or at least the kind of help you're offering. In those situations where a person is hurting themselves and cannot see it, leverage will be needed. Gather together friends and family, and under the guidance of a professional help your loved one stuck in addiction to get appropriate help and to choose life.
One final thought here: Since addiction affects basically everyone in our society, it behooves us all to understand it, to recognize it and, once seen, to treat it. As for celebrities, there can no longer be an excuse for a manager or an agent to continue to employ a client who is obviously very sick. When a person's addiction is paraded across the media for all to see, will people continue to make jokes about it, sneer at it, judge it, or will we finally wake up and see that one of our brothers and sisters is dying in front of our eyes and needs help.
More people are dying now from addiction in the United States than ever before. We live in a perfect storm that invites addiction in and then nourishes it. We must now realize that addiction is among the most serious and costly diseases we face. And in order to change, we are actually going to have to change the way we understand it, the way we relate to those who have it and the ways we treat it.
Tommy Rosen is an addiction recovery expert, author of the book, Recovery 2.0 (Hay House 2014) and facilitator of the Recovery 2.0 Coaching Program for people in recovery from any and all addiction. For more info: http://thriveinrecovery.com.

_________________________
Need help with substance abuse or mental health issues? In the U.S., call 800-662-HELP (4357) for the SAMHSA National Helpline.
Related